The Takeaway
A Defiant Optimist Creates a New Kind of Stock Exchange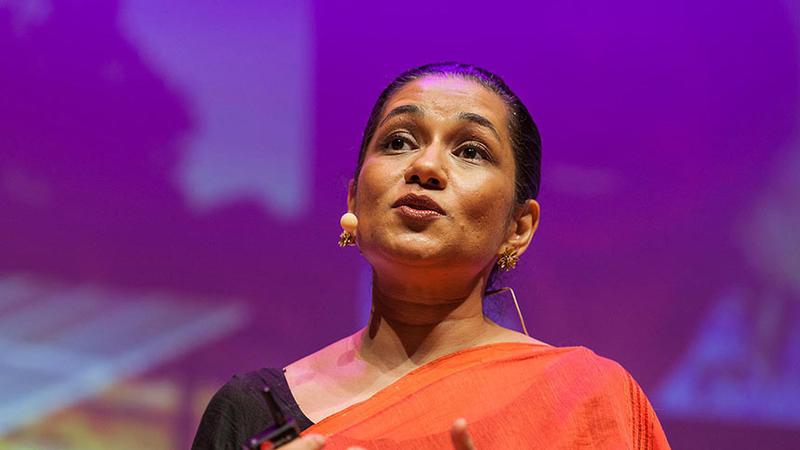 Click on the 'Listen' button above to hear this interview. 
Durreen Shahnaz calls herself a "defiant optimist." She's the first Bangladeshi woman to graduate from the Wharton School of Business and to work on Wall Street, and she's spending her life coming up with new ways to invest in social capital.
Back in 2013, Shahnaz launched the Impact Investment Exchange Asia (IIEA). This social stock exchange is going strong today and has funded a number of projects in places like Bangladesh, Cambodia, and The Philippines.
"We initially spent a lot of time trying to find these entities [to invest in] who were out there doing this great work but could be financially viable," she says. "Now we are at a stage where they come to us because we have had a lot of success."
In all, the IIX says it has positively impacted 12 million people throughout Asia since its inception. How does it work? Shahnaz says an entrepreneur with a socially-focused business or organization will approach the IIX and ask for assistance in reaching "the next stage."
"We spend quite a bit of time getting them what we call 'investment ready,'" she says. "We also work with them in terms of calculating the social impact that they're creating. The whole financial and the social calculations go hand-in-hand, and then we basically put it up in front of our investors."
In addition to helping social entrepreneurs and communities in need, Shahnaz says the IIX is "changing the behavior of investors." Once an investor sees that an initiative is making an impact, many comeback to contribute more, Shahnaz says. And the projects that the IIX funds aren't just helping people, they're yielding financial returns, too.
"It is social and it is about doing good and using finance to do good, which is really nice," she says. "For once we are seeing what finance should be doing — working very holistically."
Check out Shahnaz's full TED Talk on the IIX below.