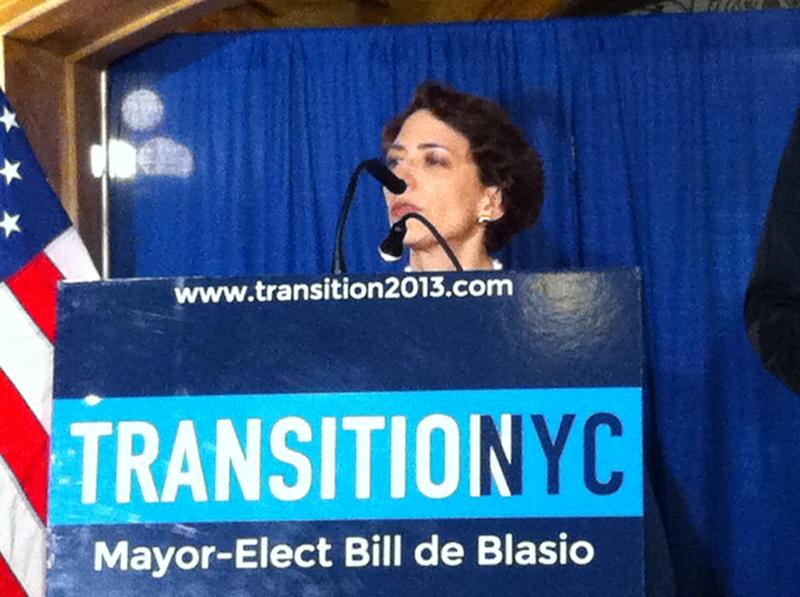 The city's new commissioner of the Department of Transportation is Polly Trottenberg, whom Mayor-elect de Blasio called "a true and patriotic New Yorker" while announcing her appointment at a press conference on Tuesday.
Since 2010, Trottenberg has worked at U.S. Department of Transportation, where she championed urban priorities such as mass transit.
Speaking at the announcement, Trottenberg said her priorities would be improving outer borough bus service for underserved residents and carrying out de Blasio's 'Vision Zero' traffic fatality goal.
"Saving the lives of people who use our streets every single day is going to be a passionate mission," she said, "at the forefront of everything we do."
Anther priority: access. She added that one of her core beliefs is that "transportation is central to providing improved social and economic mobility."
The U.S. DOT website describes her as a principal adviser to Transportation Secretary Anthony Foxx, "assuring that ideas coming out of Congress are supported by the Obama administration." Trottenberg has also worked on "altering funding for highway systems" and "creating subsidies for fuel-efficient vehicles." In a previous role at the department, she worked on surface transportation, high-speed rail, and freight policy.
Before joining U.S. DOT, Trottenberg was a transportation adviser to Democratic Senators Charles Schumer, Barbara Boxer, and the late Daniel Patrick Moynihan. She has also worked for the Port Authorities of New York and New Jersey, and Massachusetts. Her appointment delighted one of her former bosses, who tweeted:
Polly Trottenberg has all the traits needed to be an A+ transportation commissioner - smarts, savvy, moxy & a love & knowledge of NY. -cs

— Chuck Schumer (@SenSchumer) December 31, 2013
Prior to serving in government, Trottenberg was the executive director of Building America's Future, a non-profit organization promoting infrastructure investment that was founded by former Pennsylvania Governor Edward Rendell, former California Governor Arnold Schwarzenegger, and New York's Bloomberg.
She is a graduate of Barnard College and has a master's in Public Policy from Harvard's Kennedy School of Government.
Trottenberg replaces Janette Sadik-Khan, who was transportation commissioner for more than six years and known for large-scale re-workings of the city's streetscape, including the installation of an outdoor plaza at Times Square and the launch of a bikeshare program in parts of Manhattan and North Brooklyn.
Trottenberg's appointment drew praise from advocates. Gene Russianoff, who heads the Straphangers Campaign, said in a statement: "With Polly's great knowledge of how Washington works and how to get projects moving, she's right for New York. We look forward to working with her on achieving de Blasio's vision of faster and more reliable bus service around the city."
Transportation Alternatives also applauded de Blasio's pick. The group's executive director, Paul Steely White, called her "a demonstrated leader in progressive transportation."
And even though her first day on the job is technically not until Wednesday, she's already fielded her first question on bike lanes and pedestrian plazas. "This administration is going to be committed to expanding the use of bikes," she told reporters. "And we're going to take a look also at pedestrian plazas -- but we're going to make sure that we do it in a respectful way, working closely with the communities and stakeholders that care."