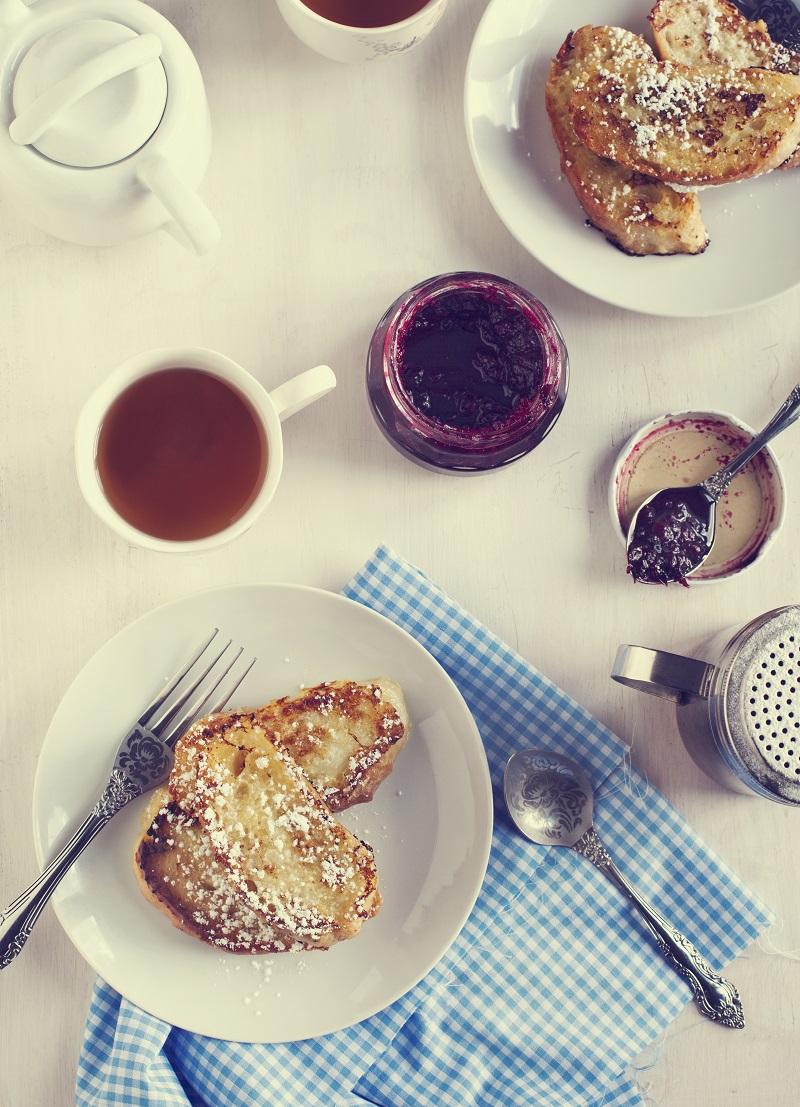 Deb Perelman, creator of the award-winning "Smitten Kitchen" cooking blog and author of The Smitten Kitchen Cookbook, stops by for the latest installment of our Food Fridays breakfast series to talk about bread-based breakfasts with tips and recipes - from classic French toast, to bagels, croissants and savory stratas.
Event: Deb Perelman will be in conversation with Julia Turshen, author of Small Victories, at the 92nd Street Y on Thursday, Sep 15th at 7 pm. For tickets and information, click here.
Recipes
Corn, Cheddar and Scallion Strata
(Adapted from Gourmet's 2003 Spinach Strata)
I buy whole wheat sourdough in quarter loaves (which clock in at about or just under 1 pound) from the Le Pain Quotidien chain or Balthazar, inexpensively. Balthazar distributes to many grocery stores, as well. A baguette or country bread will also work here. You could deliciously replace the parmesan with a crumbly salted cheese such as feta, ricotta salata or queso fresco; use just 1/2 to 2/3 cup instead. In the spinach strata, 2 tablespoons smooth Dijon mustard are whisked into the egg mixture and it's wonderful. But I (hangs head in shame) couldn't resist replacing it here with a less earnest ingredient — mayonnaise. Obviously, if you loathe mayo, you should skip it or just use the Dijon. But if you like it, you probably already know how good it is with cooked corn and cheese.
Yield: 6 to 8 servings
1 tablespoon butter
3 cups fresh corn (cut from 3 small-to-average cobs)
1 1/2 cup thinly sliced scallions (both white and green parts from a 4-ounce bundle)
8 cups whole wheat, country or French bread in 1-inch cubes (weight will vary from 10 to 14 ounces, depending on bread type)
2 cups (6 ounces) coarsely grated sharp cheddar
1 cup (2 ounces) finely grated parmesan
9 large eggs
2 tablespoons mayonnaise (optional, see Note up top)
2 3/4 cups milk
1 teaspoon table salt or 2 teaspoons of a coarse sea salt
Freshly ground black pepper
Generously butter a 3-quart baking dish (a lasagna or 9×13-inch pan works well here too). Toss corn and scallions together in a medium bowl. Combine cheeses in another bowl. In a large bowl, gently beat eggs and mayo together, then whisk in milk, salt and lots (or, if measuring, 1/2 teaspoon) of freshly ground black pepper. Spread one-third of bread cubes in prepared baking dish — it will not fully cover bottom of dish; this is fine. Add one-third of corn, then cheese mixture. Repeat layering twice with remaining bread, corn and cheese. Pour egg mixture evenly over strata. Cover with plastic wrap and refrigerate for at least 8 hours or up to 1 day.
When ready to bake, heat oven to 350 degrees F. Bake strata, uncovered, until puffed, golden brown and cooked through, about 45 to 55 minutes. Let stand 5 minutes before serving.
Do ahead: Strata keeps baked in the fridge for 4 days or longer in the freezer, wrapped well. It reheats wonderfully, either from the fridge or freezer and holds up well in lunch boxes.
First published September 3, 2014 on SmittenKitchen.com | © 2009-2016 Smitten Kitchen
Whole-Grain Cinnamon Swirl Bread
(Bread dough adapted from Peter Reinhart; Filling adapted from King Arthur Flour)
Yield: 2 2-pound sandwich bread loaves (in 8.5×4.5-inch or 9×5-inch loaf pans)
Bread
5 cups (635 grams) white whole-wheat or regular whole-wheat flour
Approximately 1 1/4 cups (160 grams) mixed whole grains (see suggestions at end)
2 teaspoons (14 grams) table salt or 1 tablespoon kosher salt 4 tablespoons (about 50 grams) granulated or brown sugar, or 2 1/2 tablespoons honey or agave nectar
1 large egg
1/4 cup (55 grams) vegetable oil or melted butter, cooled to lukewarm
1 1/4 cups lukewarm water (about 95 degrees; err on cool side if you don't have a thermometer)
1 1/4 cups (300 grams) lukewarm milk
1 1/2 tablespoons (about 13 grams) instant yeast
Filling
1/2 cup (100 grams) granulated sugar
1 tablespoon cinnamon
1/2 cup (85 grams) raisins or currants
2 teaspoons (5 grams) all-purpose flour
1 large egg beaten with 1 tablespoon water
Make bread dough: In the bottom of large mixing bowl, combine water, milk and sugar or honey, then whisk in yeast until dissolved. Add egg and oil and whisk until combined. In a separate bowl, whisk together flours, grains and salt, then add this to the yeast-egg mixture. If mixing with a machine, combine with paddle attachment at the lowest speed for 1 minute. If mixing by hand, use a large spoon and stir for 1 minute. The dough will be wet and coarse; do not fret. Let it rest for 5 minutes.
If using a mixer, switch to the dough hook and mix the dough on medium-low for 2 more minutes. By hand, do the same with your spoon. The dough will seem firm and more smooth, ideally supple and sticky, but if it's still very wet, add a bit more flour, a spoonful at a time. If it seems excessively stiff, add a little more water, a spoonful at a time. Continue to mix with dough hook or by hand for 4 minutes.
Scrape dough out onto lightly floured counter. Knead a few times, then form the dough into a ball and let it rest, covered by the empty bowl upended over it, for 10 minutes. Repeat this process — kneading a few times, then resting for 10 minutes — two more times.
Proof dough: Transfer dough to lightly oiled bowl with room for dough to at least double. Cover with plastic wrap and let proof at room temperature for 60 to 70 minutes, until doubled in bulk. Dough can also be fermented overnight or up to 4 days in the fridge. If proofing in the fridge, remove the dough before the fridge about 3 hours before you plan to bake it.
Prepare filling: Combine the sugar, cinnamon, raisins or currants, and flour in a food processor or blender, processing until the fruit is chopped.
Fill bread and form loaves: Turn out onto a floured counter and divide it into two equal pieces. Roll each into a long, thin rectangle, about 16-x-8 inches. Brush the dough with the beaten egg and water mixture. Sprinkle half the filling evenly over the egg. Beginning with a short edge, roll the dough into a log. Gently press the side seam and ends closed, and place the log in a lightly greased loaf pan. Repeat with remaining dough and filling.
Proof bread again: Cover the pan with lightly greased plastic wrap, and allow the bread to rise for about 1 hour at room temperature, or until it has crowned about about 1-inch over the rim of the pan, about 45 to 60 minutes. About halfway through, heat oven to 350°F.
Bake bread: For about 40 minutes, rotating the loaf once for even color. When done, it will sound a bit hollow when tapped and the internal temperature will read 190°F.
Notes:
• About this bread: I'm long overdue to share a 100% whole wheat sandwich bread with you and this is a great one. [I shared a Light Wheat Bread with a mix of whole wheat and white flour nearly five years ago and promised to come back with a full-grain one but then I went and had a kid and then a cookbook and my brain hasn't really worked right since.] You could entirely forgo the cinnamon swirl and make a lovely loaf, perfect for sandwiches. But why would you do a thing like that?
• About the cinnamon swirl: From King Arthur's baking blog, I learned a great trick — brushing egg, instead of melted butter, over the rolled-out dough to adhere the cinnamon filling. While butter causes separations in the spiral, egg helps it stay together once sliced. They found that grinding the filling a bit helped it adhere, as well.
• Whole wheat versus white whole wheat flour: Either can be used here. I opted for the regular, darker stuff, but if you're new to whole wheat baking, white whole wheat which is from a paler, more delicate variety of wheat, leading to less gritty, more delicate baked goods. I usually use King Arthur Flour's version.
• Which whole grains to use: Peter Reinhart suggests any of the following for the 160 gram (he recommends measuring grains by weight) portion: rye flour, rye meal, rye flakes, cornmeal, cooked grits or polenta, rolled oats or oat flour, amaranth, uncooked ground quinoa, cooked whole quinoa, quinoa flakes, whole or ground flaxseeds (he recommends limiting this to under 30 grams of the mixed), or cooked brown rice, bulgur or barley.
• My whole-grain mix: For the whole-grain portion of the recipe, I used about 2/3 of the weight (100 grams) in 7-grain cereal mix and 1/3 the weight (60 grams) in dark rye flour. Standing in the grocery aisle, I'd been plagued by indecision about which new grains to buy, not wanting to further stuff the cabinet with ingredients I may not use up quickly, when I spotted the 7-Grain Hot Cereal from Bob's Red Mill and had a "a-ha!" moment. Containing whole grain wheat, ryes, oats, barley, brown rice and oat bran finely enough ground that it could be added to a dough without precooking (it requires all of 10 minutes on the stovetop, cooked as cereal), this will be my new way of bulking up bread with whole grains without having to actually invest in 8 additional canisters, and it tastes great here.
• Recipe weights: Peter Reinhart uses slightly different weights for his ingredients than I do and I default to his here, in case you were the type of person to notice these tiny discrepancies. I tested the recipe with his; they work as perfectly as you'd expect.
• To halve this and make one loaf: Halve each ingredient. The only part that will be a headache is the egg. Beat it until loose and fluffy and carefully pour the first half into the bread dough. You can use the second half to for the filling portion.
• To make this without milk: Just use water in its place, or soy or rice milk. However, the milk makes the bread more tender and golden, so only skip it if you must.
First published March 28, 2014 on SmittenKitchen.com | © 2009-2016 Smitten Kitchen.