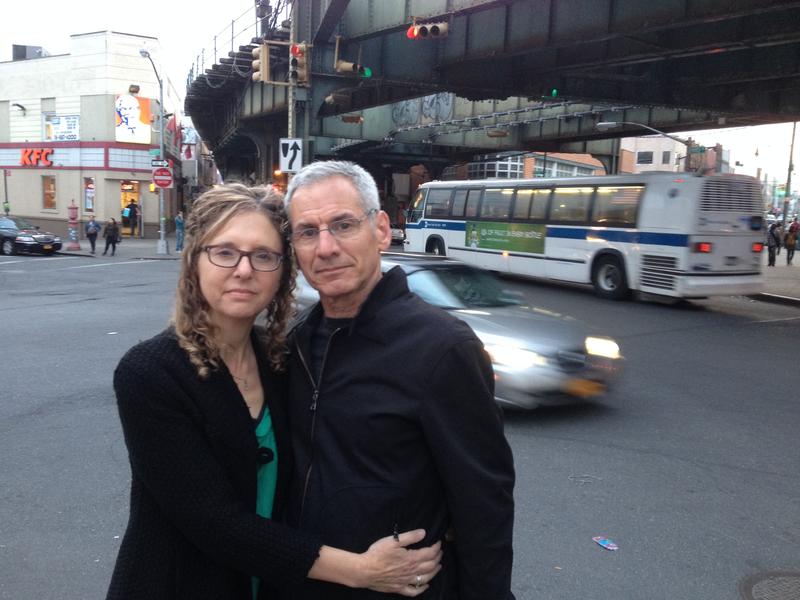 Judy Kottick and her husband, Ken Bandes, recently stood on a corner at a hectic intersection on the border of Brooklyn and Queens. The couple have a keen interest in the spot: It's where their daughter, 23 year-old Ella Bandes, was struck and killed by a city bus in 2013. Each time they come here and see how 25 lanes of traffic converge from six directions in the gloom beneath the elevated tracks of the M train, they wind up asking themselves two questions. Why didn't the city redesign the intersection to be safer after a crash killed a pedestrian there in 2009? And, if the city had done that, would Ella still be alive?
"It's the worst nightmare that you can't imagine will ever happen to you," Kottick said of the phone call she received at home in Montclair, New Jersey, late on the night of January 31, 2013. "It was the police saying, 'Your daughter's been in a terrible accident, come to the hospital immediately.'"
As Kottick spoke, evening rush hour traffic pulsed through the intersection behind her, where Myrtle Avenue, Wyckoff Avenue and Palmetto Street converge. Buses and cars, cabs and trucks were bulling their way through the spot's contested and vaguely marked patch of asphalt. At the same time, on the sidewalks around her, commuters streamed down from the M and up from the L train to enter the fray.
Kottick says it's still hard to accept the fact of the crash when she thinks about how Ella's adult life was just beginning. "She was a dancer, a musician, an artist," Kottick recalled. "She was applying to grad school for a PhD in clinical psychology and working in a psychology lab. She was a beautiful person."
Ella moved to Ridgewood in 2012 with hopes of becoming a psychotherapist, like her mother. On the night Ella died, she stayed late at her internship. Then she stopped off in the East Village to visit friends before hopping back on the L train and heading home.
Ken Bandes can describe what happened next because he's read the police report, as difficult as that was. He says that as Ella exited the Myrtle-Wyckoff stop in Ridgewood, she turned and moved toward the curb to cross Myrtle Avenue. It was dark and maybe a train clattered overhead, making it hard to hear an approaching vehicle, even a bus.
"She would've been crossing and we know, actually, that she was not on the phone or texting because we have her phone," Bandes said. "We think that she was probably aware but presumably didn't expect the bus not to stop."
The police report says an MTA bus was turning onto Myrtle Avenue as Ella stepped into the street. The driver, 35 year-old Andrele Colvert, had been on the job less than a year. Colvert later told police that as she made the turn, she checked her rear-view mirror to make sure the bus didn't hit a cab parked near the subway. When Colvert looked forward, Ella was in front of her. Colvert hit the brakes ... too late.
Ella went under the bus. She was taken to Wyckoff Hospital but died four days later.
Her parents have since learned that the Myrtle-Wyckoff intersection was known to be unsafe. In the five years before Ella Bandes' death, 29 crashes occurred there. Four of them caused serious injuries. And in 2009, a pedestrian died. With those numbers, Myrtle-Wyckoff compares to some of the city's most dangerous intersections.
Ken Bandes said he's also heard from Ridgewood and Bushwick residents who say they agitated with the city for improvements but got nowhere. "If they had been successful then I think that there's a good chance that Ella would be alive,"  he said.
Since the crash, the New York City Department of Transportation has added LED lights under the elevated tracks. And it has proposed giving the Myrtle-Wyckoff intersection a safety makeover. The plan includes widening curbs with yellow paint and flexible posts, adding more crosswalks, and repainting existing crosswalks that are so faded they're almost invisible. DOT is also thinking about banning five vehicle turns, although buses will not be affected.
Ryan Russo, DOT's assistant commissioner for traffic management, says the most dangerous intersections must be fixed. But he cautions that it's only a start to solving the problem of crashes at intersections — because those crashes happen everywhere in the city. "There are about 1,800 severe pedestrian injuries a year and you'll rarely find an intersection with more than three or four in an individual year," he said.
Russo says that if you could eliminate every death and serious injury at the 52 most dangerous intersections, you'd reduce the citywide total by only four percent. So the department is lowering speed limits and upgrading intersections on extended stretches of city streets, or corridors, that range from a mile to eight miles long. "We've done a significant amount on corridor street redesigns and we continue to do that work," Russo said.
Mayor de Blasio's Vision Zero initiative will create 25 slow zones by the end of the year in corridors with high crash rates. And the DOT has a goal of re-engineering 25 dangerous intersections per year.
Mike King, an expert in street design, joined Kottick and Bandes at the Myrtle-Wyckoff intersection, where he cast a critical eye on what he saw. "Why do you have to put people in these positions where they have to constantly be vigilant?" he asked. King thought a good first step toward improving safety at Myrtle-Wyckoff would be simplifying the traffic flow and timing the lights to give pedestrians a head start at crossing the street.
"We're watching buses turn here," he said. "The buses are making these obtuse turns, they're honking at people who are crossing with the light, in the crosswalk, saying, 'Get out of the way because I've gotta get through.' The buses, the drivers they want to get through. But the people coming out of the subway, they want to get home."
Of course that's what 23 year-old Ella Bandes wanted as she came out of the subway that January night and headed toward Myrtle Avenue: she wanted to get home. 
Watch a video version of Jim O'Grady's report, with Andrew Siff of News 4 New York: