Death Beds: Too Little, Too Late for Many New Yorkers Seeking Hospice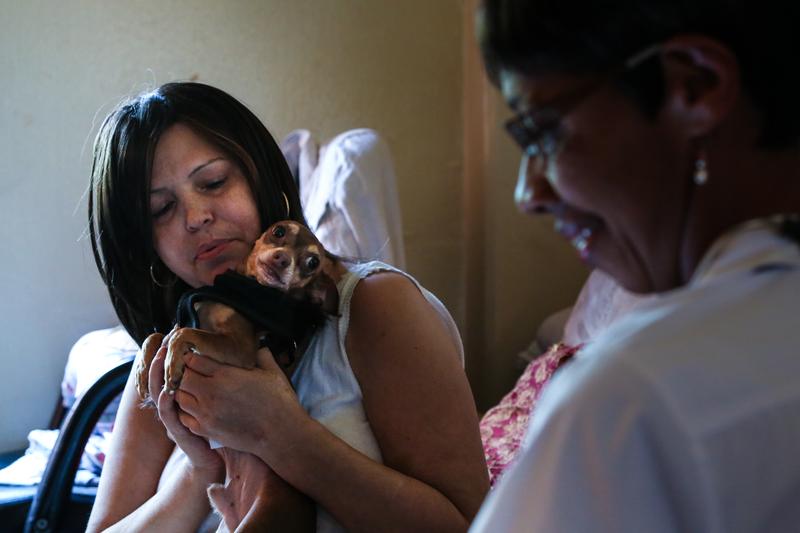 Sandra Lopez has tumors in her pancreas and one of her breasts and arms from the end-stage malignant skin cancer that has been slowly spreading. To help her manage pain, a hospice nurse visits once a week, backed up by a 24-hour nurse-staffed phone line that Lopez often calls.
"Some days the pain is so excruciating that the pain overrides the medication," Lopez said, sitting on her couch in the Sheepshead Bay Houses in Brooklyn.
Before her oncologist told her about hospice care, she frequently called 911 for an ambulance to take her to the hospital, where she would be admitted and spend days at a time. Lopez said this happened "dozens and dozens of times" in the year before she signed up for the home hospice program of Metropolitan Jewish Health System, or MJHS.
"Now, if I have a problem, I call them, and they tell me how to adjust the medication, and they'll even send someone to help me right away, to keep me out of the hospital," she said. It allows her to stay at home and not worry about finding someone to look after her 15-year-old daughter Aunjenin.
But despite evidence that hospices can extend life and save money, and despite a generous hospice benefit available to the elderly and terminally ill through the federal Medicare program, and to low-income New Yorkers, like Sandra Lopez, through the state Medicaid program – relatively few people here take advantage of it, compared to elsewhere in the country.
Hospice care mostly takes place at home, but it can also occur in freestanding hospices, nursing homes or designated areas of hospitals. To receive the care, a doctor must  predict a patient is in the last six months of life without hope of improving. Patients can get re-certified if they outlive that prediction. Some stabilize and go off hospice care – and then return later when they start declining again.
About 25 percent of metro-area New Yorkers use hospice care in their last six months of life, compared to close to 50 percent nationally. State-wide, the rate is closer to 30 percent, but that still makes New York 50th out of 51 states and the District of Columbia, according to the 2011 Dartmouth Health Atlas, the most recent year available.
"Eighty-five percent of people say they would prefer to die at home or in a home-like environment," said Dr. David Goodman, from the Geisel School of Medicine at Dartmouth. "New York lags behind other places in moving care into the community, and this is particularly important with regard to providing patients with the environment they want at the end of life."
The hospice referral rate at several New York City-area hospitals is among the lowest in the country, including Brookdale (9 percent), New York Community Hospital (9 percent), Jacobi Medical Center (12 percent), Coney Island Hospital (13 percent) and Kingsbrook Jewish Medical Center (13 percent).
Local academic medical centers, known for cutting-edge research, do better, but still lag behind the rest of the country in their referral rates. At NYU-Langone, 38 percent of dying patients are admitted to hospice, followed by St. Lukes-Roosevelt (32 percent), Lennox Hill (30 percent), Northshore University (30 percent), Beth Israel (26 percent), Mount Sinai (25 percent), New York-Presbyterian (25 percent) and Montefiore (20 percent). One exception closer to the national average is Memorial Sloan Kettering (44 percent), which almost exclusively treats cancer.
Further, most hospice referrals here are for brief stays – a week or less – two-and-a-half times shorter than the national average. Szoa Geng, a consultant from the firm Strategy& who works for the Visiting Nurse Service of New York, said when hospitals move patients onto hospice with just a few days left to live, patients can benefit from the pain and symptom management – but they don't get the full hospice experience.
"They're not getting the psycho-social support, and their families are not, either," Geng said. "It can be a time of closure, and coming to peace with a lot of things in your life, and none of that can happen if you come onto hospice with a day left."
The reasons for this local gap are complicated, but experts focus on what they call medical culture or practice pattern, which can vary dramatically from region to region. According to this theory, the metropolitan area is dominated by medical specialists, sub-specialists and institutions that put a premium on treatments and tests. Even more than other places, the goal is to cure patients and not just care for them..
Doctors and administrators at Mount Sinai Hospital have been trying to expand hospice use for at least 20 years. Dr. Jeremy Boal, chief medical officer of the hospital and six others in the Mount Sinai Health System, said changing the medical culture at his and other local institutions has been difficult – but in recent years, things are slowly starting to turn around.
Under the Affordable Care Act, hospitals increasingly are responsible for patients' overall well-being and can no longer bill for every treatment and hospital visit. Hospitals are penalized by Medicare for repeated admissions, and administrators can track what doctors and nurses do via electronic records. With all this going on, Boal said he is hopeful hospice and palliative care will finally gain traction.
For instance, some patients are now being allowed to pursue hospice care and traditional curative treatment, simultaneously, from the time of diagnosis.
"Because those conversations are starting earlier, they're also creating opportunities for the patient to actually elect for more of a palliative approach," Boal said, "or an approach that's at least equally focused on comfort and dignity as on aggressive care.
Programs like these have long been in place at some hospitals around the country, particularly at several in Arizona, Utah and Florida, where up to 75 percent of dying patients take advantage of Medicare's hospice benefit. In this region, a handful of institutions in New Jersey are beginning to approach those ranks, including Monmouth Medical Center and Ocean Medical Center (both 67 percent).
Jeanne Dennis, senior vice president of hospice and palliative care at the Visiting Nurse Service of New York, said in those places, hospice has become the default end-of-life care in a way that has yet to come to this region.
"It's like going to the dermatologist for a rash," she said. "It becomes the normal thing to do."
Hospice has not been a panacea for Sandra Lopez. The weekly nurse visits and the hotline have reduced, but not completely eliminated, trips to the hospital, when pain has become too unbearable for hospice care to mitigate. And at around $210 a day, Lopez's hospice care is costing Medicaid tens of thousands of dollars — probably less than her revolving-door trips to the hospital, with all their multi-night stays, but still a lot of money.
Lopez knows at some point her body will start shutting down, but she would not say how much time her doctors estimate she has, because she is "not dwelling on that." She said she's at peace and can stay that way — as long as someone is with her at home, at her bedside, helping subdue her pain.
"I stopped worrying – like the worry box I used to be," Lopez said. "I just live my life normally, like everybody else, because worrying will just probably get me more sick."