Death Beds: Living Wills Slowly Take Root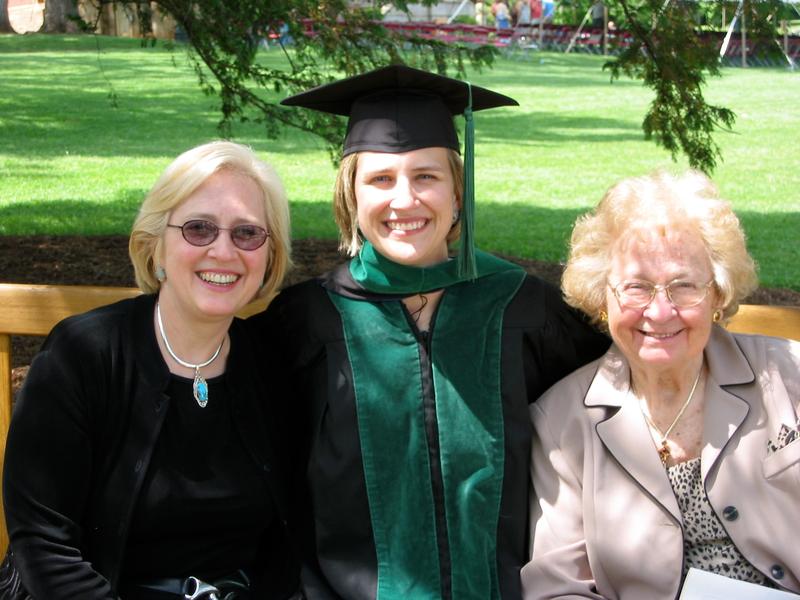 As a geriatrician helping elderly patients navigate the final stages of life, Dr. Patricia Bomba knew what she was doing when she set out in 1992 to help her mother, Sophie Bomba, write up a living will. Dr. Bomba knew how to talk to people about creating a document that lays out their values and priorities to guide whatever medical care they might need  — or seek to avoid — toward the end of her life.
But Dr. Bomba felt she could not help her mother without additional assistance.
"It became clear it would be important for our family to all discuss this," she said. "The first time it was tough, but over time, it became easier."
With family members dispersed with busy lives of their own, Bomba hit on a solution for getting everyone together for a frank discussion: do it at Thanksgiving. And so, after the turkey and stuffing and pies were cleared, the adults in the family sat back down and talked about Sophie Bomba's wishes for medical care at the end of life.
She lived another 15 years, and the conversation became an annual after-feast ritual — not just for the family matriarch, but for everyone. And it is a tradition that has continued, in one form or another, since Sophie died in 2007.
"We review our individual Advance Care Planning documents to make sure they reflect our current feelings," said Dr. Bomba. "We talk about how life has changed in the past year and if it impacts our documents. We have blank forms handy in case new documents need to be completed and witnessed."
Since the year 2000, Dr. Bomba has been a medical director focused on end-of-life care at Excellus BlueCross BlueShield, the nonprofit insurer that dominates the Rochester, NY area. She believes everyone should have a living will, also sometimes called an advance directive, because tragedy can strike at any time. Close to 75 percent of people above age 60 have them, up from about 50 percent in the year 2000, but living wills are much less common among younger groups. By various estimates, between 18 and 36 percent of the entire adult population have them.
About half the adults in the Rochester area have designated health care proxies, according to one 2008 survey. The survey only covered upstate New York, and there are no state-wide figures, but, anecdotally, Dr. Bomba said, fewer people appear to have proxies and advanced directives downstate.
Living wills can provide guidance about whether patients want to be resuscitated or put on life support, including breathing and feeding mechanisms. But they also can be misplaced, or not handy when people need them, in a hospital.
When people are at home, and an ambulance is called, advance directives cannot help. Once emergency medical technicians are on the scene, they are legally obliged to preserve life, even if patients have codified in a living will their desire not to be resuscitated.
People, however, can create more robust documents, called Medical Orders for Life-Sustaining Treatment, that EMT's are required to follow. These orders are created by health officials in many states to be downloaded. Bomba has a website explaining how they and other elements of advance care planning work. New York is in the process of creating an electronic registry of both medical orders and living wills, so that doctors and emergency responders will be able to determine whether patients have put their desires in writing, even if the documents cannot be located.
Loosely speaking, a "MOLST" could be considered an add-on to a living will, a form of succinct and concrete guidance for healthcare providers: not just whether or not cardio-pulmonary resuscitation should be attempted, but whether people would like to receive antibiotics to treat infections or IV fluids should be administered for nutrition. A spokesman for the state Health Department said the form has been downloaded almost 23,000 times in the last year — though it's impossible to know how many people have filled them out.
Unlike living wills, these documents are not intended for the general population; they were conceived with the elderly and terminally ill in mind, and in order to carry the weight of a doctor's orders, they require physician consultations and signatures.
After years of annual after-turkey conversation, Dr. Bomba's mother Sophie certainly had all her end-of-life paperwork in order and her intentions well-known. Wherever she went, she brought her MOLST documents with her, just in case. When she went into the hospital in October of 2007 with severe abdominal pain, she made sure doctors could see in writing that she had checked Do Not Resuscitate, Allow Natural Death and Do Not Intubate — but that this did not mean Do Not Treat.
She was discharged to her daughter's house, enrolled in a hospice program and died peacefully on December 16, 2007. Dr. Bomba said all the ongoing advance care planning gave her mother and her family peace of mind.
"When she died, it helped us as a family to grieve, because we knew we were doing what she wanted," Dr. Bomba said.