'Dear Elizabeth': A Deep Friendship, Told in Letters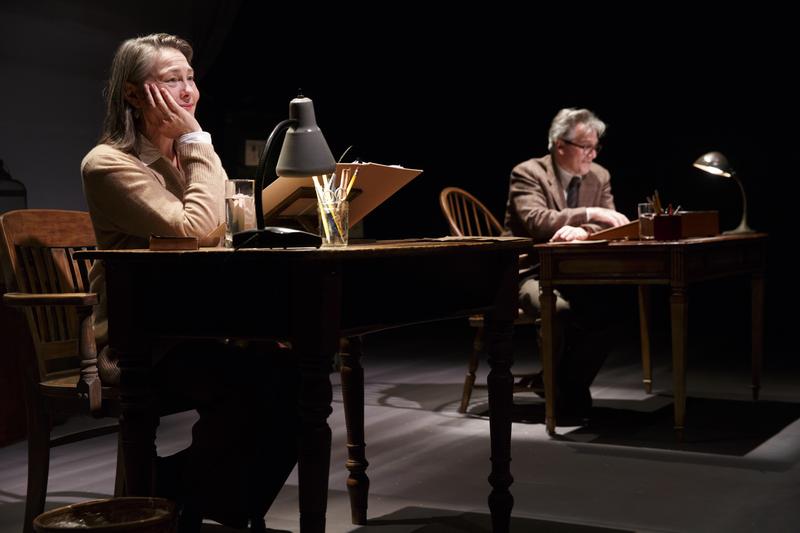 Elizabeth Bishop was a reserved, New England poet and short story writer who prized honesty. She was also an alcoholic. 
Robert Lowell was a confessional poet who believed in emotion over facts; he married three times and suffered from manic depression. 
These two writers met in person only a few times — and yet they carried on an epistolary friendship over 30 years that delved into every aspect of their lives, from the harrowing to the joyful. They critiqued each other's writing. They consoled each other. They worried about each other. They talked frankly about their own relationship. 
It's unusual to have a play that takes friendship seriously and treats it almost like a romance. And yet, that's what playwright Sarah Ruhl has done in "Dear Elizabeth," a moving two-hander at Women's Project Theater. Her play is taken entirely from Bishop and Lowell's letters and poetry. We hear them reflect in their own voices on their fallibilities and their groundless hopes. Their vulnerability to each other is almost shocking in its raw need. 
Bishop spent 15 years living in Brazil with her partner, and Lowell, at one point, wrote, "I think about you continually — you and your studio and your Brazilian world. I'm sure you are as happy as you sound. But I don't approve at all. Like a rheumatic old aunt, I would gladly spoil all your fun just to have you back."
Director Kate Whoriskey's staging is simple, just two battered desks, a stage manager (Peggy Noonan) who reads location prompts and a stack of antique suitcases filled with the odds and ends of their lives. The cast rotates each week — the night I went I saw David Aaron Baker and the incomparable Cherry Jones. Jones, of course, is a wonder: watching her silently respond to Lowell's letters tells us more about Bishop than an academic biography. But what really captivates here is the ravishing language of Bishop and Lowell. Ruhl's play is well-constructed, and it allows the two poets' intelligence and humanity to shine.