De Blasio's Confession: 'I Am A Fiscal Conservative'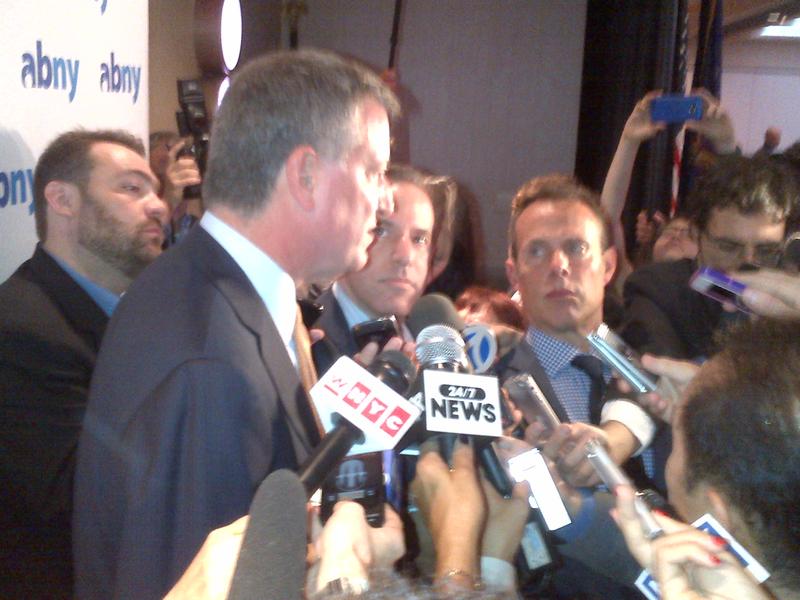 Bill de Blasio did not back away from his progressive agenda in a speech to the Association for a Better New York on Friday. He hit on his familiar themes, like taxing the wealthy to pay for pre-K and expanding paid sick leave, but de Blasio did have one surprise for the pro-business audience.
"I want to pleasantly shock the room and say I'm a fiscal conservative," de Blasio quipped, quickly adding, "I'm a progressive, activist fiscal conservative. But I'm still a fiscal conservative."
His comment came in response to an audience member who asked whether de Blasio would commit to not raising the hotel tax. De Blasio declined saying he needs to understand the city's complete fiscal health before making those kinds of commitments. He also criticized his opponent, without mentioning Joe Lhota's name, for his plan to cut taxes using the same rationale.
Joe Lhota sent out a statement calling de Blasio's fiscal conservative comment "delusional" and said he was pandering to get elected.
The majority of de Blasio's speech was a reiteration of the policies he's talked about throughout the campaign. But as the clear frontrunner, de Blasio also veered occasionally off-script, like when he talked about preserving the film industry in New York, instead of losing it to a place like Prague in the Czech Republic.
"We are not going to lose that industry to Prague. Just wanted to say that. Game on, Prague," joked de Blasio.
The speech ended with a standing ovation. Steve Spinola of the Real Estate Board of New York said at this point, people are trying to figure out how they'll work with a de Blasio administration, perhaps because, in two polls this week he led Republican Joe Lhota by 50 points.