SchoolBook
De Blasio Wants NYC Grads to Fill Local Tech Jobs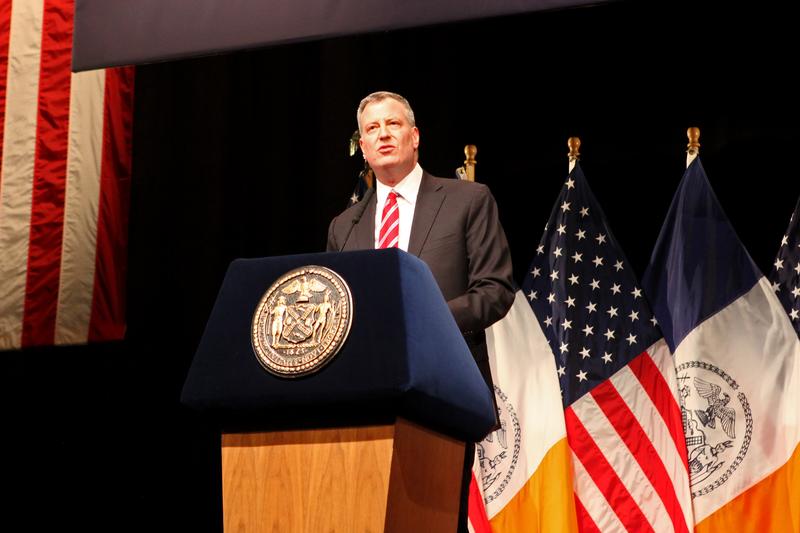 Expanding his education agenda beyond pre-kindergarten, Mayor Bill de Blasio said he would work with the City University of New York to create a new Science, Technology, Engineering and Math program for New York City high school graduates looking to land jobs in the city's growing high-tech sector.
In his first State of the City speech on Monday, de Blasio said he hopes that within eight years a majority of skilled technology-related jobs in New York City will be filled "by those educated in the New York City schools," many with two-year associate degrees in addition to their high school diplomas.
STEM education got a lot of attention from the Bloomberg administration. The former mayor partnered with CUNY to open more STEM-related high schools offering six-year programs in the sciences, along the lines of Pathways in Technology Early College High School or P-Tech. 

De Blasio also said he wants to scale up Career and Technical Education programs like the Bronx's Health Education and Research Occupations High School, which opened under Bloomberg.
Andrew Rasiej, chairman of the New York Tech Meet-Up, called de Blasio's announcement "a two-for" because it dovetails with the mayor's goal to help more New Yorkers enter the middle class, while also addressing the city's economic engine.
"It needs far more engineers than what we currently produce from any of the private universities," he said.
But Rasiej cautioned that this will require improving science and math teaching in the city's public schools at a time when teachers feel underpaid because they've been without a contract for four years.
As expected, de Blasio also used to speech to lobby for his plan to raise taxes on those making over $500,000 a year in order to expand pre-kindergarten and after-school programs.

"This is about our children of New York, and just how strong a commitment we are willing to make to their futures and our own," he stated.

But his plan met with continued resistance in Albany. Dean Skelos, the Republican co-leader of the State Senate, stood by Governor Andrew Cuomo's refusal to raise any taxes.

"This isn't just a home rule issue," Skelos said, in response to the mayor's claim that the tax hike should be approved by the legislature because it's something most city residents want. He said the constitution gives the legislature oversight for a reason, and there are ramifications beyond the five boroughs

"The last thing we need is to see high earners leave New York State, because then we lose their tax dollars," said Skelos, who represents part of Long Island.

De Blasio also pressed Albany to fully fund the city's public schools, as defined by a Court of Appeals ruling which found the city's schools were shortchanged in state education aid.