De Blasio Basks in Support of Staten Island Mosque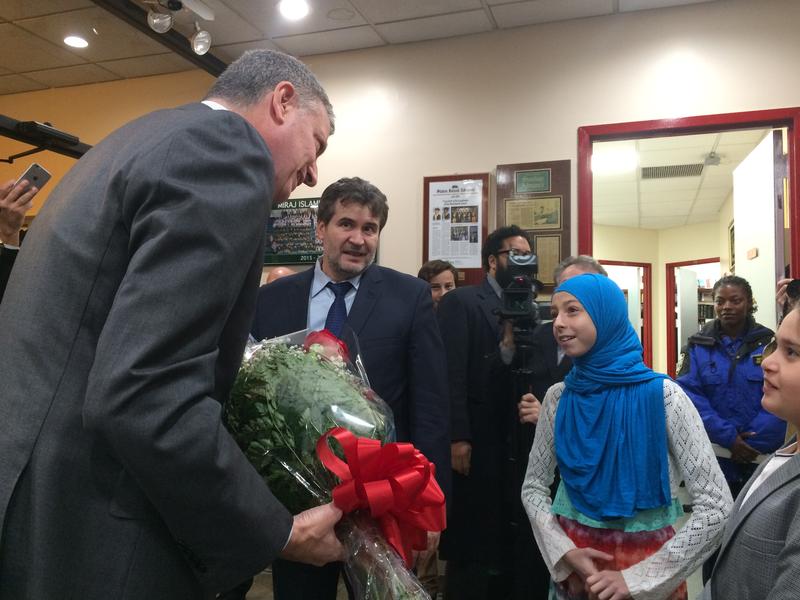 As authorities report a rise in hate crimes since the election, Mayor Bill de Blasio visited a mosque on Staten Island Sunday and called New York City a model of inclusiveness for the rest of the world.
The mayor spoke briefly to the dozens of men, women and kids gathered for Sunday prayers at the Albanian Islamic Cultural Center. He told the group that everyday in New York City, people of all stripes get pressed together on subway cars. And for the most part, they display an attitude of live and let live. But there are those who don't. And the mayor promised the city would crack down on hateful attacks.
"Any threat, or hate speech, or violence will be confronted by the NYPD, by the city government and there will be consequences for anyone who violates our laws and commits bias crime," the mayor said to applause. 
De Blasio, who recently started to shift into re-election mode, is popular at the mosque and Islamic school, which enrolls roughly 230 children. The congregants also applauded when an Imam reminded them that it was the mayor who agreed to close public schools in observance of two Muslim holy days.
Danus Muslic said that by visiting the mosque, de Blasio helped to break harmful stereotypes of Muslim people.
"We need more from the official government to see that we are not what we hear in the newspapers and tv's," Muslic said.
Administrators at the Albanian Islamic Cultural Center said they've had no complaints of any bias incidents since the election. But the Imam of the mosque said over the summer, someone tried to attack him with a piece of pipe. That person was arrested.