Can De Blasio Govern From the Grassroots?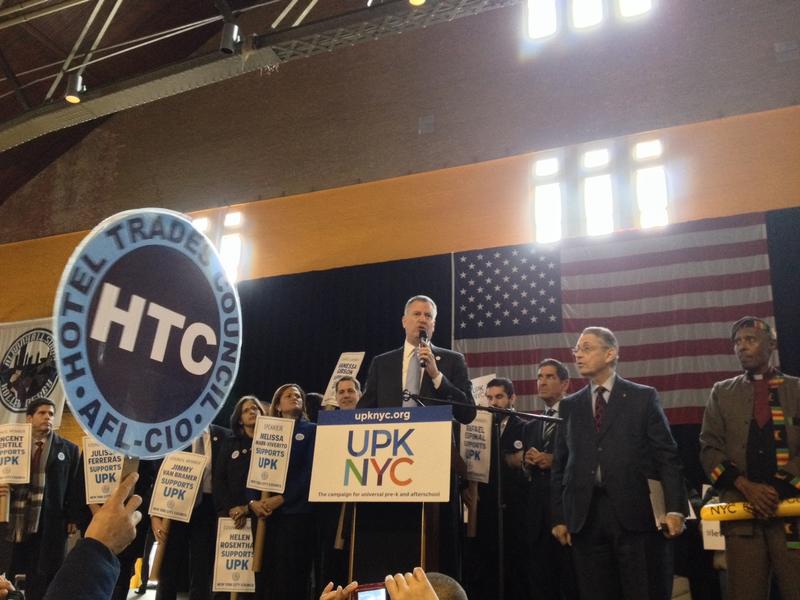 Mayor De Blasio says he governs with single-minded focus, but his critics call it a lack of vision. Despite busloads of support from activists and workers, he left Albany empty-handed this week — out-organized by charter school parents and undermined by Governor Cuomo. It was a vivid demonstration of the perils of governing from the grassroots.
State Senator Tony Avella, D-Queens, recently broke with the majority of Democrats and joined the Independent Democratic Conference, which runs the chamber along with Senate Republicans. He is still on the fence in the debate over how to pay for universal pre-kindergarten and after-school programs.
"You know, I've supported the Governor's plan because we don't have to raise taxes but I'm open to discussion. I'm not that far away from Mayor de Blasio's plan," Avella told WNYC on Tuesday, at the end of a day when thousands of demonstrators descended on the Capitol to lobby for two different education policies.
De Blasio needs state lawmakers like Avella on his side to pass his education plan and a host of other initiatives that need state approval.
But Avella said he has never met with the mayor about the legislation; he's only met with de Blasio's staff. Avella was visited by parents in town for lobby day, but he said at certain point the lawmakers themselves need to sit down together and negotiate.
"I have always believed that if you're really interested in an issue you should have personal meetings, so that's an open invitation for the mayor to meet with me personally," he said. "I think that would be helpful for him to meet personally, not necessarily just with the Governor or with the leaders or each conference. It would be helpful to meet with individual legislators." 
In addition to meeting with Cuomo and other legislative leaders, De Blasio rallied with hundreds of union members and activists bused in to support his programs. He talked about the importance of early-childhood education to struggling families, how they help improve graduation rates and ensure every child in New York City starts off on a strong footing.
But De Blasio was out-organized by the charter school supporters, who turned out thousands more people, including Cuomo. He relied on the grass roots, the community leaders and the advocates to help him get elected, but supporters and critics alike say that strategy, which served him so well in November, may not be serving him so well now that he's in office.
"You have to govern, and governing is very different from popular mobilization," said David Elcott, a professor at New York University's Wagner School of Public Service. He said de Blasio needs to understand the limits of his power, especially when it comes to Albany, where he needs to persuade reluctant lawmakers more than rally current supporters.
"It's hard to imagine that New York City could mobilize in a way that could convince Republican senators in the exurbs or in the rural areas to support policy they don't want to support," said Elcott. "They have no reason to do that."
Peter Ragone, a senior adviser to the mayor, said the administration has no reason to change its strategy.
"I think you continue on the road we've been on," he told WNYC. "I think that there's a variety of different ways that you communicate with the public and the elected officials of the state of New York.
"The political talk is that this has to be a food fight, and from my perspective, we're going to fight for kids. We're not going to participate in the conventional wisdom political dialogue," Ragone said. "What's striking to me is everyone keeps talking about the adults when we should really be talking about the children."
Except it's the adults who make the decisions. De Blasio has until the April 1st budget deadline to convince them to support his plan.