SchoolBook
De Blasio Says to Tackle Inequities, School Kids Must Go Back to the Basics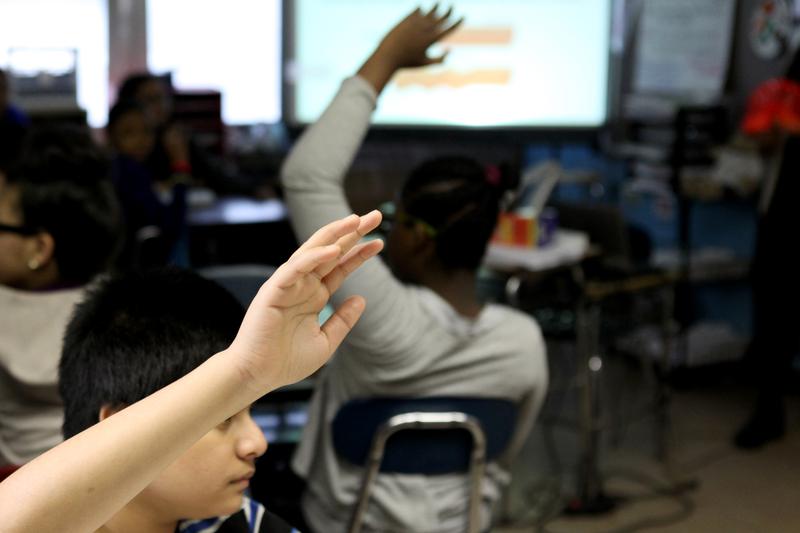 New York City Mayor Bill de Blasio on Wednesday laid out his priorities for raising the bar across the public school system and meeting ambitious benchmarks by 2026, like making sure all kids can read by second grade.
In an orchestrated rollout that included a speech to supporters and an online chat with students, the mayor said he wanted all schools to have high-level classes, excellent teachers and opportunities that would help students find work and thrive after graduation.
And he set benchmarks, albeit for his successors to meet: within 10 years 80 percent of city students should graduate from high school on time, up from 68 percent; two-thirds should be "truly college-ready," and all students should complete algebra no later than ninth grade, the mayor said.
"Each and every child in each and every classroom deserves a future that isn't limited by the zip code of their birth," de Blasio said. "These reforms take tools proven to drive success and make them the new standard for every student and every school. These are the building blocks that will ensure our students and this city can compete in a world that demands more education than at any time in our history."
According to the mayor's office, the full rollout would cost an additional $186 million every year. 
One initiative applies across the system: students from kindergarten through high school would learn the fundamentals of computer science, like coding, robotics and web design.
The effort builds upon a pilot program that brought computer science to 2,700 students in 18 middle and high schools across the city last year. It's estimated to cost $81 million over 10 years, half of which will be covered by support from private and corporate foundations. 
"For companies like AT&T, the skills gap is real and likely to grow as our core technologies become more sophisticated," said Marissa Shorenstein, New York State President of AT&T. "We see this as a smart investment in our company's future."
Building on his pre-kindergarten expansion, de Blasio said the elementary school years were a critical time for students to master reading. Currently just 30 percent of third graders are proficient readers. To improve that number, the mayor proposed hiring 700 more reading specialists by 2018 to get students reading on grade level by the end of second grade. English language learners and students with disabilities would receive support to stay on track with their peers.
For middle schoolers, the mayor's focus was on math. He said all students should complete algebra by ninth grade, clearing the way for higher-level math and science courses. By 2021, all students would have access to algebra in eighth grade, up from 60 percent now.  
As part of the college readiness component of the mayor's plan, he said every high school student would have access to a range of Advanced Placement courses. Low-income students and students of color take fewer AP courses than their peers, the mayor said, adding that there are nearly 40,000 high school students currently enrolled in schools that don't offer any AP courses at all. 
This effort also is set to begin next fall. It's part of a college prep focus to the mayor's plan that includes programs to help students with the college application process and give extra support to families in two historically low-performing districts, District 7 and District 23, where the city would assign a dedicated counselor to every child to guide them from middle school to college.
The mayor also committed to a new partnership that would pair charter schools with district schools, based on common practices and areas of strength, with an initial focus on instruction for English language learners and math instruction.
Initial reaction to de Blasio's announcement was positive, but even supporters had questions, particularly about where all the high-quality teachers, specialists and counselors would come from and how to pay for it all.
Evan Stone, the co-founder and co-CEO of Educators 4 Excellence, said he wanted to hear more of a strategy for chronically under-served schools.
"In far too many schools, disorder, distrust and a revolving door of teachers contribute to a cycle of low achievement and expectations," he said. "We need policies that do more to support great leaders and educators who currently have little incentive or professional support to teach in our lowest performing schools for the long-term."
To that point, Schools Chancellor Carmen Fariña said her department would "ensure our educators have the proper training and resources to support our students."