In de Blasio Speech, All About Inequality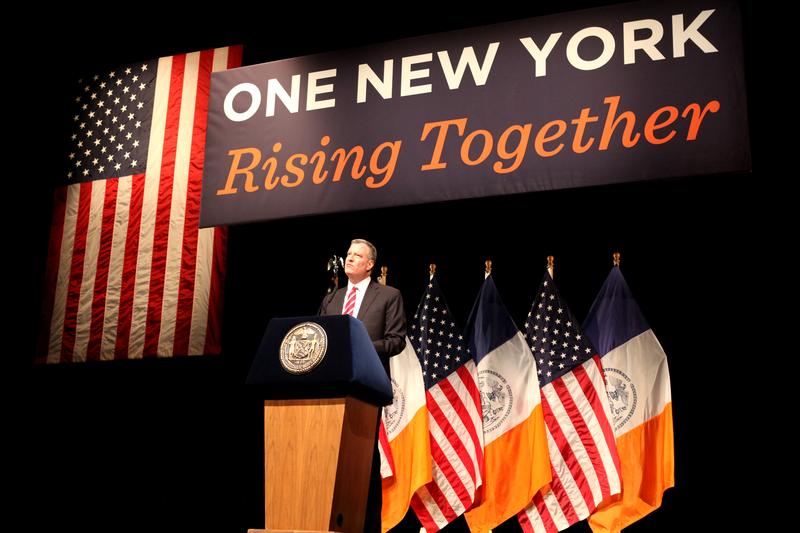 New York Mayor Bill de Blasio used his first State of the City speech to pound home his signature campaign theme of income inequality, summoning the spirit of Depression-era Mayor Fiorello LaGuardia to the present-day battle against poverty and the struggles of the middle class.
Addressing elected officials and supporters at La Guardia Community College in Queens, de Blasio promised to use all the machinery of city government to make progress on the issue, even if the state and federal governments won't.
On education, housing and wages, he offered a menu of proposals, some of them new and others that came straight from his campaign playbook. He said he would seek authority from the state legislature to raise the minimum wage in the city and, without providing specifics, said he would move forward a stalled effort to provide a living wage for "tens of thousands" of New Yorkers.
And he again pushed Gov. Andrew Cuomo and the legislature to let him raise taxes on the city's rich to pay for universal pre-kindergarten instead of paying for it with state funds. He said the state already owes the city billions of dollars in education funding under a decade-old lawsuit.
The mayor did not address the problem of homelessness, which has put more than 50,000 New Yorkers in city shelters in recent years. But he promised a plan to address the affordable housing crisis by May 1.
"We understand that allowing the income gap to stretch further isn't simply a threat to those at the bottom — but to every New Yorker," the mayor said. "And we also know this: New York's personal commitment to tackling inequality knows no boundaries of geography and income."
The mayor had praise for city workers, especially the uniformed services who helped the city through a recent spate of snowstorms. But he failed to directly address the city's most pressing fiscal uncertainty — looming contract negotiations with its 300,000-member workforce.
"We are in the midst of a budgetary challenge that is unprecedented," said the mayor, who is scheduled to release his first preliminary budget proposal in two days. "We will navigate toward a future that is progressive and fiscally responsible."