De Blasio Seeks to Change Conversation After Prosecutors Decline to Bring Charges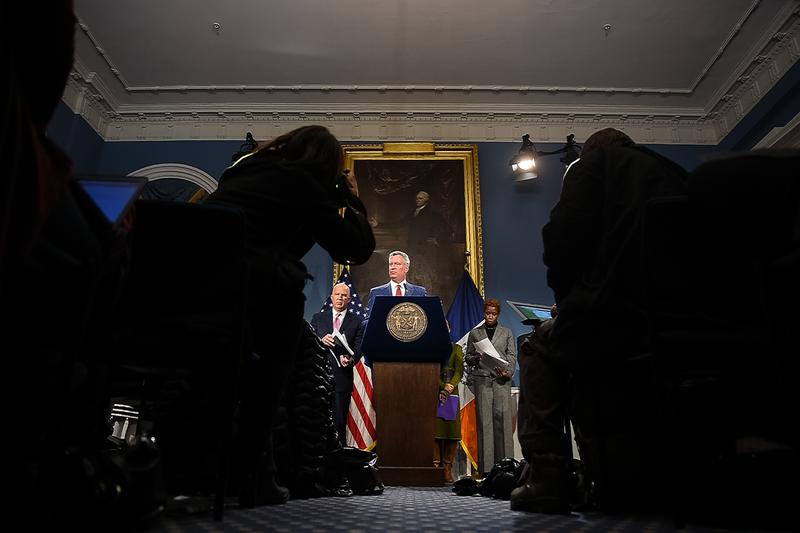 It should have been a feel-good day at City Hall. State and federal prosecutors announced Thursday that they were not bringing charges against Mayor de Blasio or his associates after two parallel, year-long investigations into his fundraising. But the mayor was more interested in another conversation.
At City Hall, the mayor stood flanked by his top commissioners —seven on the left and six on the right. And he had a purpose.
"I want to talk to you about President Trump's budget proposal," said de Blasio.
The proposal includes hundreds of millions in cuts for New York City. And de Blasio pledged to bring the fight to the Trump administration between now and the October deadline.
But the topic reporters were more eager to ask about was the sudden statements — from the Manhattan District Attorney's office and the United States Attorney from the Southern District — announcing no charges would be brought against de Blasio and his associates. On a day when the mayor could breathe a sigh of relief, he struck a solemn tone and reiterated the position he's held since the start of the investigations.
"My staff and my colleagues and I have acted in a manner that is legal and appropriate and ethical throughout," said de Blasio.
The timing of the prosecutors statement is critical. It's six months until the Democratic primary. So far, de Blasio is the odds-on favorite.
Republican State Senator Marty Golden is a de Blasio critic. He's hoping a potent challenger will emerge, but he's not optimistic.
"I guess the Democrats will stay home to a degree, so if they get a real Republican out there, there's a shot" said Golden, "if not Mr. de Blasio will serve another four years as the mayor of the city of New York."