De Blasio: 'Sanctuary City' Split with Trump would Cost NYC Millions, Not Billions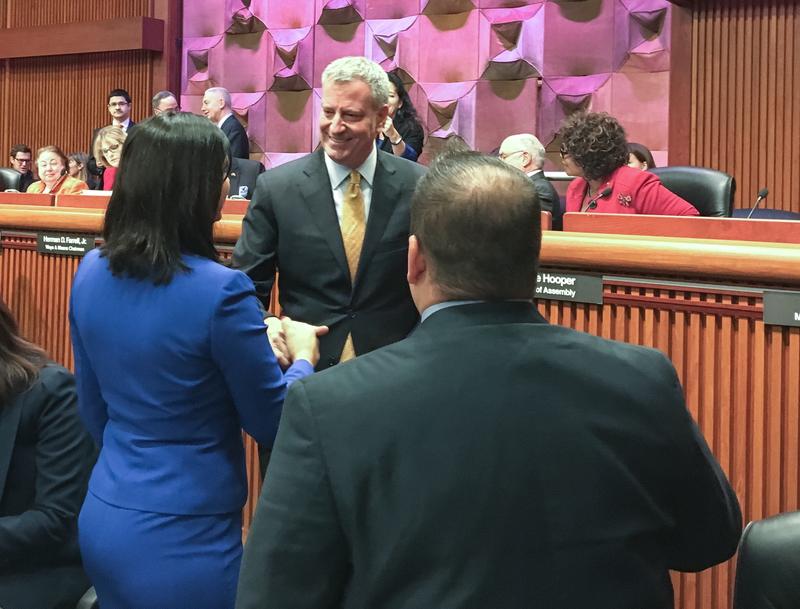 Mayor de Blasio came to Albany Monday to ask state lawmakers for more money for education, public health and affordable housing. He also came to defend various policies — including the city's designation as a "sanctuary city." 
Staten Island Assembly members Nicole Malliotakis and Ron Castorina, both Republicans, tag-teamed the mayor on behalf of President Trump. They questioned de Blasio's pledge not to help the new administration deport undocumented immigrants en masse.
"Why dig in your heels?" Castorina said.
He said de Blasio should appeal to Trump to forge a "path to citizenship," instead of risk losing billions of dollars in federal aid.
"Why not focus resources in that direction, instead of this face-off?" Castorina said.
De Blasio said he had discussed immigration reform with President-elect Trump before he took office, and would continue that appeal. In the meantime, he said, there are moral, economic and security reasons to resist mass deportation.
"If we are cutting off communication between police and immigrants,  it has very dangerous ramifications for public safety," de Blasio said.
But Malliotakis said it's de Blasio who's endangering lives — by declining to hand over criminal suspects to federal law enforcement.
"Why would you protect individuals who are here illegally committing these crimes, instead of protecting your citizenry first and foremost?"
De Blasio said the city does cooperate with Immigration and Customs Enforcement on 170 violent crimes. But he said people shouldn't be deported for "low-level" offenses such as marijuana possession. He also said the money that federal government would withhold would NOT be billions of dollars, but much less — around $100-150 million — and his legal advisers believe the city could successfully fight back in court.