De Blasio Pushes Fairness for 65,000 Fast Food Workers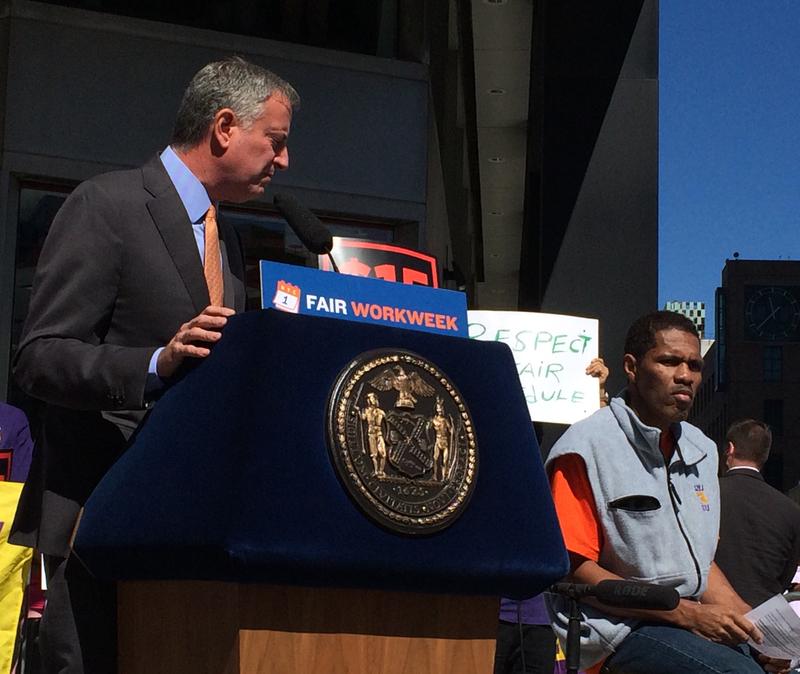 An event to launch a new policy initiative for the city's fast food workers on Thursday doubled as a preview for Mayor Bill de Blasio's upcoming re-election campaign.
Standing in front of a McDonald's on the corner of Flatbush Avenue in downtown Brooklyn, de Blasio outlined the bones of new legislation that would ensure the city's 65,000 fast-food workers are informed of their schedule at least two weeks in advance.
The goal, says the city, is to help people like Alvin Major. The 50-year-old is the only breadwinner in a family of six — he works five days a week at a KFC in Brooklyn. As an activist, he fought to increase the minimum wage for fast food workers. Now he's joined this fight to protect his time, since he says his employer can change his schedule at a moment's notice.
"If I need a day off at my job, I have to give two weeks notice," Major said. "Why can't you give me two weeks — at least — notice that I'll be working?"
De Blasio's proposal would do just that. It would also require extra pay for last minute changes and for shifts with less than 10 hours between closing and re-opening.
The mayor was joined by City Council allies Corey Johnson and Brad Lander, who said they'll try to push it through, building on progressive wins like the city's paid sick leave law.
A statement from City Council Speaker Melissa Mark-Viverito's office struck a decidedly less enthusiastic tone.
"The Council has been examining the issue and expects the legislation will be introduced," said Council Speaker's press secretary Eric Koch.
Similar legislation is already in place in San Francisco, Calif., and is expected to be introduced in Seattle, Wash., soon.
With de Blasio up for re-election next year, the event felt like a campaign warm-up, particularly since Public Advocate Tish James trumpeted his achievements.
"Here we are today," said James, "another promise of Mayor de Blasio. A promise made and a promise kept."
Asked if workers' rights will be a theme of his upcoming campaign, de Blasio said he will be unveiling a vision for the next four years very soon, adding, "It is going be about addressing income inequality. It's going to be about how we take further steps to end the Tale of Two Cities," said de Blasio. "That mission continues."
"It's troubling that fast food restaurants, which are really a local franchisee-run small business, have been singled out yet again," Melissa Fleischut, President & CEO of the NYS Restaurant Association said in a statement. She said she hoped the city would work with the industry on the legislation to ensure it won't cause an undue burden.