De Blasio Makes $20 Million Available to BOE to Implement Reforms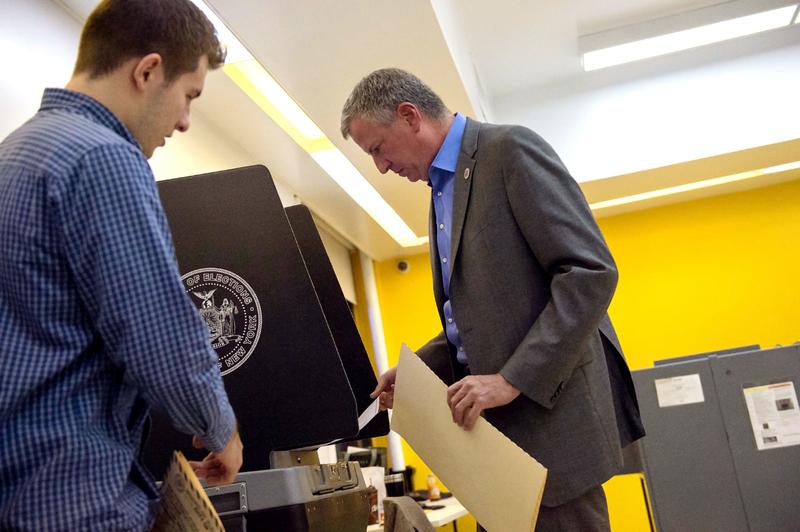 Mayor Bill de Blasio announced Monday he'll make close to $20 million in "incentive funding" available to the City Board of Elections — if the agency agrees to implement a series of reforms he's proposing.
The announcement comes after WNYC's Brigid Bergin found thousands of Democratic voters in Brooklyn had been dropped from voter rolls after poll workers fell behind on maintaining voter data. Widespread complaints were then reported during last Tuesday's election by voters who said they were turned away at their polling station.
"These common-sense reforms will bring much-needed transparency, modernize practices, and help ensure we do not experience an election day like this week's again," Mayor de Blasio said in a written statement. 
The mayor said he will make $1.5 million available to the BOE to "promptly retain" an outside consultant and develop a panel of elections experts to "identify and rectify systemic challenges within the organization." 
The Board of Elections would have to sign a binding agreement with the city by June 1 in order to receive $10 million to improve poll worker training and to increase poll worker salaries. Another $8 million would be made available to improve voter communication — adding email and text notifications for voters, and hiring professional record-keepers and a logistics specialist. 
"The Board of Elections is an outdated organization in dire need of modernization," de Blasio said. "And we need to make these changes now. We cannot allow a single voter to be disenfranchised because of the Board of Elections' outdated operations."