De Blasio Investigation "Fact Sheet" Leaves Many Unanswered Questions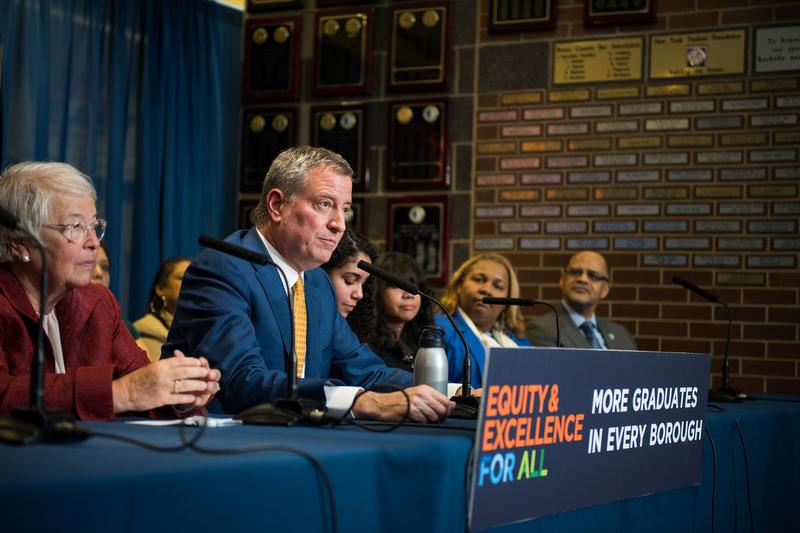 Mayor Bill de Blasio is trying to get ahead of questions about the multiple investigations into his administration. But his office's latest strategy fell flat on Friday.
Prosecutors from the Manhattan District Attorney and the Unites States Attorney's office are both reviewing the conduct of de Blasio and his administration.
Just before the mayor's only open-topic press conference this week, his office sent out a fact sheet listing all the information it was willing to make public about the investigations. The implied intent was to short-circuit a line of questioning that has dogged the mayor for weeks.
It didn't work.
First the mayor was asked whether he had met yet with the office U.S. Attorney Preet Bharara, a meeting he said his own legal team initiated. The mayor has already held a similar conversation with District Attorney Cyrus Vance's office last year.
De Blasio deferred to the fact sheet.
"That is the definitive, your frequently asked questions, the definitive answers," said de Blasio.
He added that when he meets with the the US Attorney, "I guarantee you when it happens we will tell you when it's done."
But more questions remained — particularly related to the cost city taxpayers are bearing in connection with these probes.
The mayor has said no taxpayer dollars will be used to fund his personal defense.
"The mayor's lawyers will be paid with outside funds from an account that has yet to be established or funded," according to the fact sheet. But city employees "involved in compliance related to their official work are entitled to receive counsel procured by the city," it states.
So far, the city has authorized $11.6 million to pay for legal fees related to these investigations. De Blasio said that the money is not all allocated to these investigations.
"The dollar figure for the legal cost was not just about these particular issues," de Blasio said, "it was a general allotment for city legal expenses."
But in an email after the event, press secretary Eric Phillips confirmed that all $11.6 million is authorized for costs related to these probes.