De Blasio Inches Towards Pre-K Compromise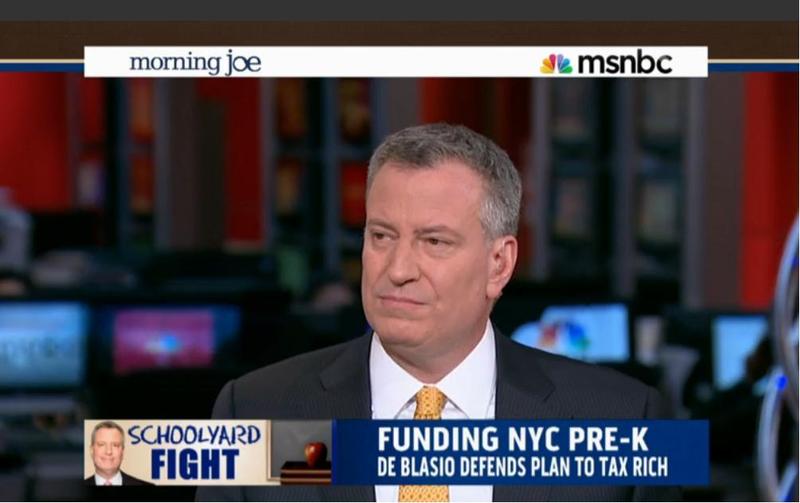 Mayor de Blasio has cracked open the door to a possible compromise on his per-kindergarten and after school plan as Governor Cuomo sharpened his attack against the mayor's proposed tax plan.
On MSNBC's Morning Joe Monday, de Blasio continued to stress that his tax was the "best way" to pay for the programs but added, "I'm absolutely open to an alternative that gets the job done."
At the same time, de Blasio criticized the "vagaries of Albany" and said he's skeptical lawmakers will be able to come up with enough "consistent" funding as his proposed tax hike on New York City residents who make more than $500,000.
That plan also requires approval from the state. But Governor Cuomo is not giving up any ground.
Speaking on The Brian Lehrer Show, Cuomo said he would make his funding plan work for New York City as well as the rest of the state — without a tax hike.
"If we passed a tax this year for the city of New York, which is what the mayor asked for, we could undo it next year. So the quote, unquote vagaries would continue," Cuomo told WNYC. "There is nothing that says if you pass a tax, you can't undo the tax."
De Blasio wants more than $500 million a year for five years to expand pre-k and after-school programs for middle school students in the city. The governor has offered much less than that for the entire state, but he said the state will fund the programs as quickly as cities can set them up.
"Forget the numbers," said Cuomo. "We will pay for the need of pre-K because we want to do it."
Meanwhile, First Lady Chirlane McCray's trip to Albany Tuesday to lobby for de Blasio's pre-K and after school tax plan has postponed indefinitely.
A spokeswoman tells the AP it is not clear when the trip will be rescheduled.
With reporting from the Associated Press