De Blasio Pledges 'Reform' With 4 New Criminal Justice Picks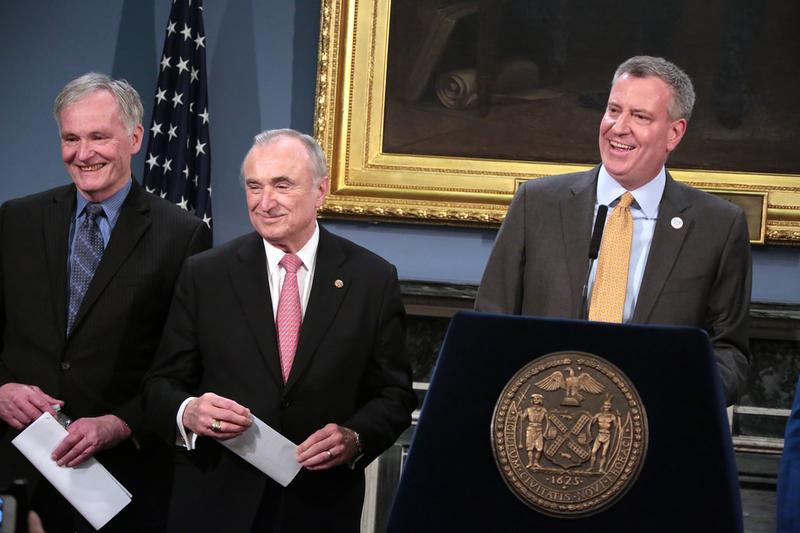 Stressing the importance of reform and collaboration, Mayor Bill de Blasio filled four top posts across the city's criminal justice system Tuesday, appointing the commissioners for the Departments of Correction and Probation, and two positions in the Mayor's Office of Criminal Justice.
While de Blasio often touts the local bonafides of his many New York City-based appointments, he went outside the city and the state to bring in Joseph Ponte, currently the commissioner of the Maine Department of Corrections, to lead the city's Department of Correction.
Ponte is known as a reform-minded progressive who has opposed the excessive use of disciplinary measures like solitary confinement. In Maine, the department also set up a tracking system to log all inmate injuries as possible assaults.
"In Maine, I take all emergency calls personally," Ponte said over chuckles in the City Hall Blue Room. He will be leaving behind a department that serves approximately 2,200 inmates statewide for the city's vast and sprawling correction system that has an average daily population ranging from 12,000 – 17,000 inmates across all five boroughs, according to data from both departments.
Ponte added "I won't do that in New York City."
But he said the size of the city's correction system is less important than how it functions.
"What you're seeing in corrections across the country – not just here in New York but in Maine, in Mississippi, in Colorado – is really a debate on how we do business," said Ponte.
For years, that business relied on strategies like isolation, segregation, and solitary confinement. But Ponte, who reduced solitary confinement in Maine by two-thirds, says those strategies don't necessarily help offenders or the officers who work with them.
Advocates say his appointment could mean real reform to the city's troubled Department of Correction, particularly when it comes to the use of solitary confinement and the use of force to control inmates.
"I think you really need someone who is willing to risk some chance of failure to really try to turn things around and do things differently," said Jennifer Parish, Director of Criminal Justice Advocacy at the Urban Justice Center.
But Parish said reform won't be easy. She pointed to the recent job action by the correction officer's union where they stopped all buses from taking inmates to court, allegedly to keep a witness from testifying against a couple of officers accused of abuse.
"They have complete solidarity within their membership including the people who are brutalizing others,"said Parish. "That's a big culture to come up against."
When Ponte faced a similar challenge in Maine, he took a "fearless approach to firing staff" who were not open to using new techniques with inmates, said Ellen Yaroshefsky, Director of the Youth Justice Clinic at Cardozo Law School.
"He was very clear that if staff could not adapt to the new systems that they were no longer going to be there."
Among de Blasio's three other appointments, he named Ana Bermúdez as Commissioner for the Department of Probation. She served as the department's Deputy Commissioner for Juvenile Operations since 2010. De Blasio said during her tenure, the annual rate of re-incarceration among juveniles dropped by 25 percent.
De Blasio said he also knew Bermúdez personally, after serving together on the school board in Brooklyn and coaching little league.
"You know, I don't know any more unruly group than a little league players," said de Blasio explaining how hard it was for him to get the kids to pay attention. "Ana was substantially more effective, I want to say."
Liz Glazer will serve as the Director for the Mayor's Office of Criminal Justice. She had worked for Governor Cuomo as the Deputy Secretary for Public Safety, where she helped implement the Close to Home Initiative, which keeps youth offenders in their home communities as opposed to sending them to detention centers upstate.
Glazer will be a senior advisor on criminal justice policy to Mayor de Blasio and First Deputy Mayor Anthony Shorris, as well as all city agencies.
Vincent Schiraldi will serve in the Mayor's Office of Criminal Justice as a senior adviser.