De Blasio Fills City Hall Steps For Immigration Reform And Optics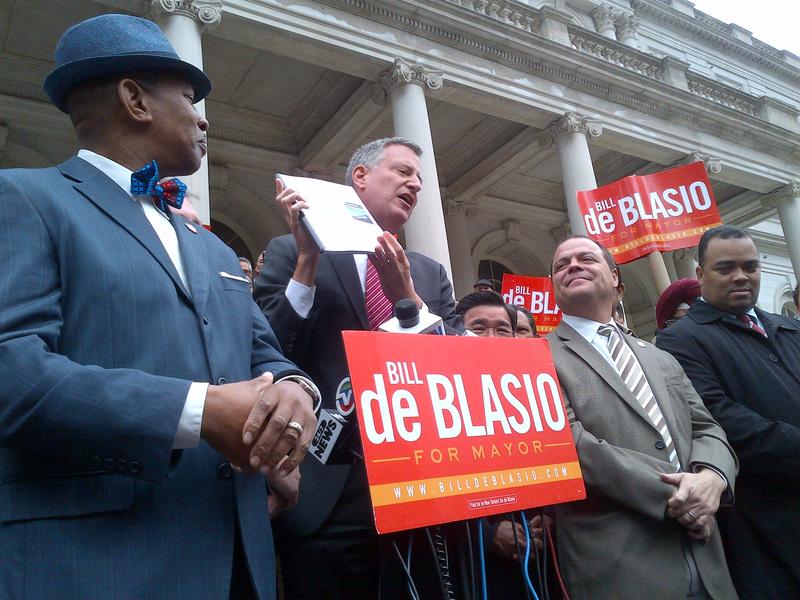 A day after a feisty mayoral debate, Bill de Blasio hit the stump Wednesday unshaken. The Democrat held a rally at City Hall on Wednesday to advocate for comprehensive immigration reform. But the event was less about the issue and more about the optics.
Joe Lhota may have flexed some muscle during the Tuesday evening debate. But Team de Blasio hit back en masse holding a well-attended press event that served as a not-so-subtle reminder that when the leading mayoral candidate calls, people show up. With less than two weeks before the general election, the ability to turn out supporters is key.
Former candidates, Christine Quinn and John Liu were there along with Council members, advocates and so much media, a podium nearly tipped over from the weight of all the microphones.
Ironically, Lhota and de Blasio agree on the need for immigration reform.
"That's good. It's a kumbaya moment," joked de Blasio, reprising a moment from their contentious debate the night before.
But de Blasio was also on the attack, lumping in his Republican rival with a dysfunctional Congress, and for using a Giuliani-era playbook that he expects voters will reject.