De Blasio's Creative Plan to Fix Affordable Housing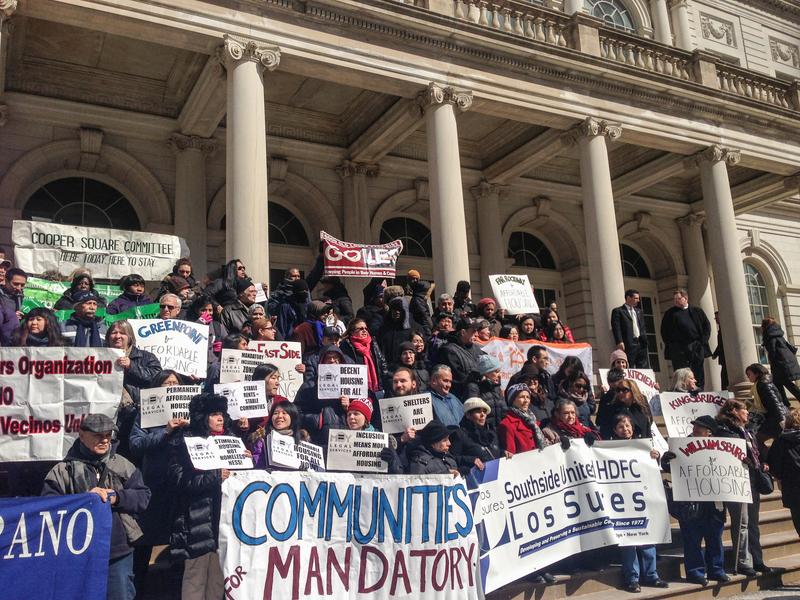 Low and middle income families are hoping Mayor Bill de Blasio will come through on his promise to create or preserve 200,000 units of affordable housing in New York City.
Creating enough housing for those without millions of dollars to spend has been a perpetual issue for several New York City mayors. 
During the last mayoral campaign, new mayor Bill de Blasio promised he would end "big giveaways" to corporate developers, and ensure that people in neighborhoods where new development takes place can actually afford to live in those new buildings.
"We must set tighter standards that ensure subsidies meet the needs of lower-income families and are distributed equitably throughout the five boroughs," said de Blasio in his campaign literature.
One component of de Blasio's affordable strategy is expected to include mandatory inclusionary zoning: That could require developers to set aside up to 30 percent of new construction as affordable units.  It might also require this in all new residential buildings, not just those that require a city approval.
"It's a way of using land use to say [to developers], 'You're building something new, you're putting up this residential development that's market rate in this neighborhood, that's going to impact rents in the surrounding area. So as a part of doing business in New York City, you have to build affordable housing,'" said Barika Williams, policy director at the Association for Neighborhood and Housing Development, ANHD.
But developers are wary of mandates that would force them to build affordable units.
"I don't know how that would work, so I can't say if it will work," said Douglas Durst, chairman of the Durst Organization. He added that a mandatory policy might lead to lengthy lawsuits which could delay construction of new residential buildings.
The Durst Organization is well known for its marquee commercial buildings like the Bank of America tower at Bryant Park. It also owns and manages about 400 units of affordable housing and is currently building another 200 units.
"My father started saying this 30 years ago. You can't just concentrate on affordable housing, what's needed is more housing," added Durst, noting that in decades past, the city would build up to 40,000 residential units a year, whereas now, it's closer to 5,000, and that's in a good year.
The developer wants de Blasio to add 100 positions to the New York City Department of Buildings to cut wait times for construction permits. He's also calling for changes at the City Planning Department to enable new projects to get approvals faster. 
Housing advocates, however, point to the Bloomberg years as proof that the "build more of everything" strategy failed.
"Even if you were to knock down the entire city and rebuild it to a higher amount, you would still have a chronic under-supply of housing and affordable housing," said Benjamin Dulchin, executive director of ANHD.
The details of de Blasio's affordable housing plan are expected to be released May 1st. 
Some affordable housing advocates have already expressed impatience with the new Mayor. At a rally a few weeks ago on the steps of City Hall, Nalida Godfrey asked,  "Where is de Blasio? Why is he not here?" Godfrey said she's been priced out of her West Village home and restaurant, Lima's Taste, and that her landlord is evicting her.
"Two months ago when he [de Blasio] needed us, we were all there for him," she added, noting that she voted for de Blasio.