De Blasio Claims Underdog Status as He Picks Up Third Union Nod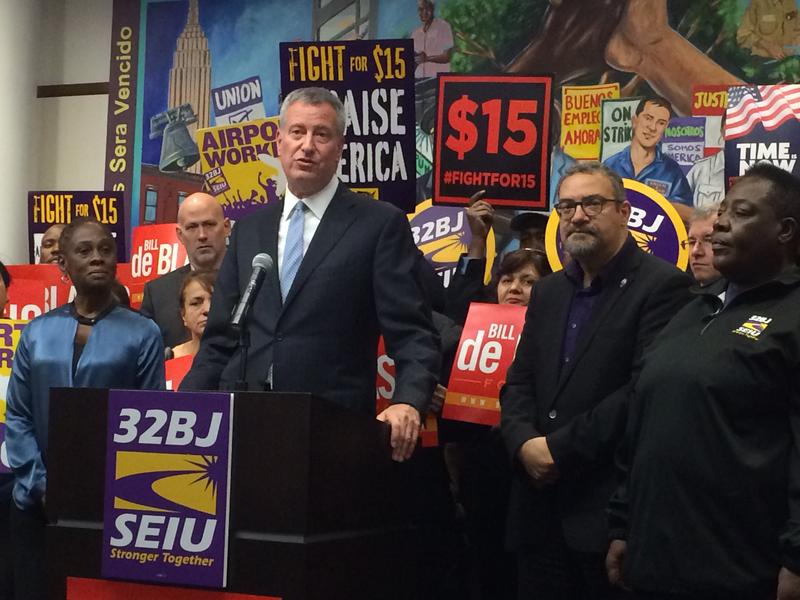 Mayor Bill de Blasio picked up his third union endorsement this week on Thursday, this time landing the support of the building workers union, 32 BJ SEIU.
The unions for sanitation and retail workers each announced their endorsements of de Blasio earlier this week.
It's a significant shift from from 2013, when all three unions backed other candidates. The support also comes before any official challenger with comparable name recognition has announced a run against de Blasio in the primary or general election.
Asked if the recent endorsements were intended to scare off potential opposition, de Blasio said he's taking this election year very seriously.
"I've always been someone who was an insurgent. I've always been an underdog in every election I've been in. We're going to work that way," said de Blasio.
That approach may be necessary. De Blasio still faces tepid poll numbers according to the latest Quinnipiac poll, with a split approval rating of 47 to 47 percent. His administration also is facing ongoing investigations.
Still the mayor said he's focused on running the best race regardless of who jumps in. He said he never assumes what other people will do. "Other potential candidates will make their choices." said de Blasio.
"I said this when I was a Little League coach to Dante, 'Don't worry how the other team plays, play your game the right way, go out there and play your game hard,'" said de Blasio. "That's what we intend to do."