SchoolBook
De Blasio: School Decisions Remain Under City Control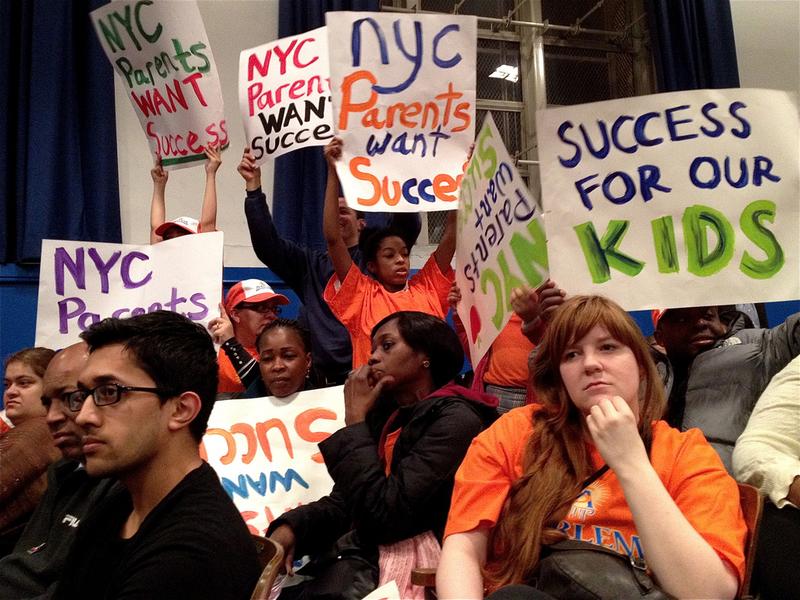 In a roundtable interview with radio reporters on Tuesday at City Hall, Mayor Bill de Blasio took a wide range of questions about the first three months of his new administration. WNYC's Brigid Bergin asked him about new protections for charter schools in the state budget, and the recent controversy about his decision to block three Success Academy charters from moving into buildings with regular public schools.
Here are excerpts.

Bergin: Is it fair to say that you underestimated the political consequences of trying to shut down or block those three charter schools, given how much organization and money that poured into that effort?

De Blasio: First of all, I put forward a vision last year of how we would handle education in general. And I think the central notion was the status quo of education in the city was unacceptable and we had to make very substantial changes. Obviously what we've done in terms of pre-k and after-school is the foundation of those changes. So I'm thrilled about that. But when it came to the charter schools, I tried to put forward the notion that we have to find a better way of bringing all the pieces together.

For example, the co-location process really was very troubled in the previous administration. A lot of parents felt that their needs were not addressed, particularly if they were in one of the schools receiving a new school into the building. And it was a very unfair process, it was not a very transparent process.

So I think the steps we took were logical given those realities. I think there also was something that we, we thought would be understood differently — that when we made the decision on the 45 proposed co-locations from the Bloomberg years. Look, those clearly were rushed by the previous administration that wanted to get them in under the wire. And we said from the beginning last year, those were all going to get reviewed and we'd come up with an objective set of criteria. I think when I came out with 36 of those 45 having been approved, 14 of the 17 charters, having been approved, five of the eight Success Academy schools having been approved, I think people, I thought people would see that as balanced. I was surprised at some of the response.

But the bottom line is now, look, despite some of the drama we got the fundamental things done that we set out to do. We got the full funding for the pre-K for five years, we got funding for after-school for five years, we were able to make a lot of progress on other fronts in Albany. So that the end result feels very good, very strong. And we will make those reforms to the co-location process. Anything that's happened in Albany doesn't change the fact that we will make those co-location reforms, we will make decisions about space in the D.O.E. buildings. And by the way, at the same time another reform was put in place that has not gotten as much attention. There will now be an audit process for charter schools, treating them just the same as any other public schools, which was the right thing to do.

Bergin: There was language, though, that went into the budget regarding charters that does make it harder to move them if they're in an existing school, more expensive. Do you feel like Gov. Cuomo and the state leaders are stepping on mayoral control at all?

De Blasio: I obviously have some disagreements with other state leaders about the vision for public education and I think, you know, that there's some things I would've done differently. But that being said, I think the fundamentals are clear. We control our own schools, we will have a reform that we need in co-location. I mean, this is the central point. I came here to fix this process to put the voice of parents into the co-location process, to treat all the schools more fairly. We're going to do that. And there's a lot of steps, you know, what was determined in Albany involves a lot of different steps. It's not a snap your fingers kind of thing. The action resides at the Department of Education like it always has, the city Department of Education like it always has.