De Blasio Campaigns Where Reality Meets Expectations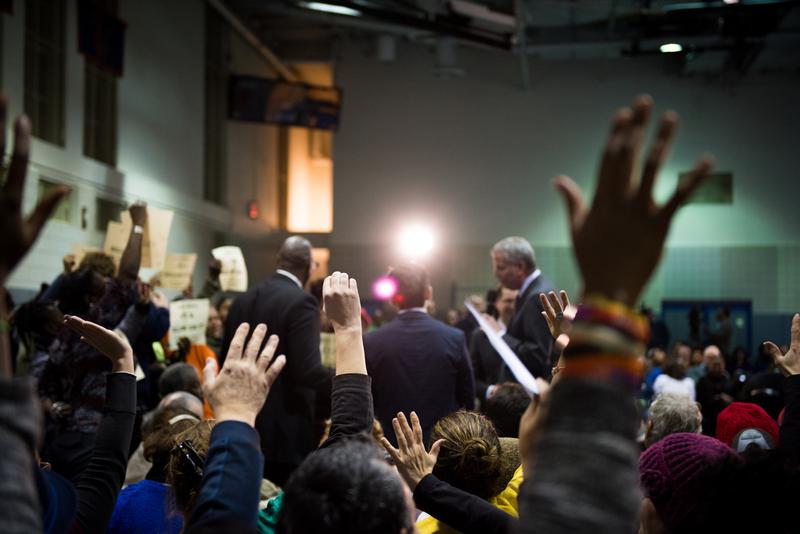 As the race for mayor starts to heat up, Mayor Bill de Blasio's biggest challenge so far is the unmet expectations of his supporters.
He spent two-and-half hours taking questions at a town hall meeting on the Upper West Side last week. On a frigid Thursday night, the gymnasium at West Side High School was packed with people eager to confront the mayor.
Carmen Quinones, who runs the tenant association at the Frederick Douglass Houses, a public housing development in Harlem, has known the mayor for more than 20 years. After a round of pleasantries, she rattled off half a dozen other groups that previously supported de Blasio — asking the members of each one to stand up.
"These are all the people who have worked very hard on getting you here," Quinones told him. "We want you to know that we are suffering in public housing. We have about had it."
They're fed up, she said, with the mold, leaks and crumbling conditions at their apartments. The groups have formed a coalition with 40 other New York City Housing Authority tenants' associations, led by the non-profit group Community Voices Heard. They want the mayor to put up one billion dollars towards repairs in next city budget, and they asked for a commitment at the meeting.
"So, I want to be real with people..." de Blasio said.
The reality is that it would actually take nearly $18 billion to make all the repairs that NYCHA needs, mostly due to decades of disinvestment and mismanagement. While de Blasio said he would consider their suggestion as part of his budget process, he pointed out that his administration has boosted funding for NYCHA well beyond his predecessors. He's eliminated back taxes and the cost of policing, and boosted the agency's capital budget.
Still, this disconnect between expectations and reality illustrates the challenge de Blasio faces as he approaches his re-election. People who saw the mayor as their advocate in 2013 are now asking tough questions about his performance on core issues since then — and the answers are leaving them cold.
State Senator Bill Perkins backed the mayor when de Blasio was running fourth in the polls in his first mayoral campaign.
"It's sort of strange, almost counter-intuitive, that the housing tenants movement would be at odds with him," Perkins told WNYC when he dropped by a separate organizing meeting.
Perkins, who is planning run for a newly open City Council seat in Harlem next year, said he is hearing from people in his district about the mayor and they're not happy.
"I would like to see him catch up and be what people were expecting him to be," said Perkins.  "Right now, while the developer community is feeling its oats, I believe. And for some reason I would not have expected that under a de Blasio administration."
Is #CLOSERikers the Stop and Frisk of 2017?
That sense of unmet expectations — and being out of sync with the grassroots — cuts across different issues.
On criminal justice reform, de Blasio was a leader in 2013 when the conversation was about stop and frisk. Today, the use of the tactic is down 97 percent from its high in 2011.
But new debates have emerged, like closing the jail on Rikers Island.
"Anyone who is running for mayor and using a platform of criminal justice reform to gain the momentum they need to gather votes needs to be held accountable," said Glenn Martin, head of the nonprofit Just Leadership USA, a leading proponent of the idea.
The mayor has called it "a noble concept," but he has said it would cost $5-to-$7 billion plus a lot of political capital to convince neighborhoods to take smaller jails.
Martin said those excuses aren't good enough. So he's spending time with people who support his goal.
Earlier this month, Comptroller Scott Stringer met with Martin and a handful of advocates at their brand-new, street-level JustUSA offices in Harlem.
"When you look at Rikers, it's a money pit," Stringer told the group. "I think it's critical: We should shut it down. Just shut it down."
Stringer hasn't ruled out challenging de Blasio and he's allied himself with the close-Rikers movement, speaking at rallies and even taking a logo T-shirt as a thank you gift from the group.
Martin has already signed on 110 organizations and has staged the kind of large-scale protests that became synonymous with the movement to reduce the use of stop-and-frisk. Martin said nearly 1,000 people turned out for a protest at the bridge to Rikers Island in September; hundreds showed up for a vigil outside Gracie Mansion earlier this month; and his campaign to close the jail will really kick into high gear next year.
"We know what our work looks like to get to the finish line. But we're going to be kicking ass and taking names in 2017," Martin said.
"Me, too," said Stringer.
The Homelessness Problem
There's no issue that puts de Blasio on the ropes like homelessness. Back at start of his administration, he vowed attack the problem once and for all.
"We have the highest number of people of people in shelter in the history of our city, the highest number in the city run shelter system ever. The highest number of people who are homeless in any sense since literally the Great Depression. And it simply can't continue," de Blasio said as he announced the appointment of former Deputy Mayor Lilliam Barrios-Paoli during his transition in  December 2013.
But the problem has grown worse. Exacerbated by the ongoing affordability crisis, there are a record 60,000 people in shelter -- and the city still needs more space. When they've turned to hotels or cluster site apartments, there have been tragic outcomes. And Barrios-Paoli resigned in disagreement with the mayor's policies.
State Senator Tony Avella, a Democrat from Queens, seized on the frustration when he launched his bid to oust the mayor on Sunday. He chose a hotel in Queens that's become a flash-point in the debate over the mayor's homeless policy.
De Blasio's senior campaign adviser, Phil Walzak, said the city is taking an aggressive approach to fighting homelessness — pointing to rental subsidies, tenant eviction legal services, and a ramp up in shelter repairs.
He said the mayor has other important accomplishments that will be at the heart of his campaign: 70,000 new pre-kindergarten seats, record low crime and a plan to build or preserve 200,000 units of affordable housing. There's also the growing coalition of union support and a growing list of elected officials who have already endorsed de Blasio's re-election.
Walzak also said de Blasio hasn't stopped fighting — even when it comes to living up to people's expectations.
"No one here is taking victory laps or resting on laurels," said Walzak, "we know there is more work to do."