De Blasio and Police Union Reach a Deal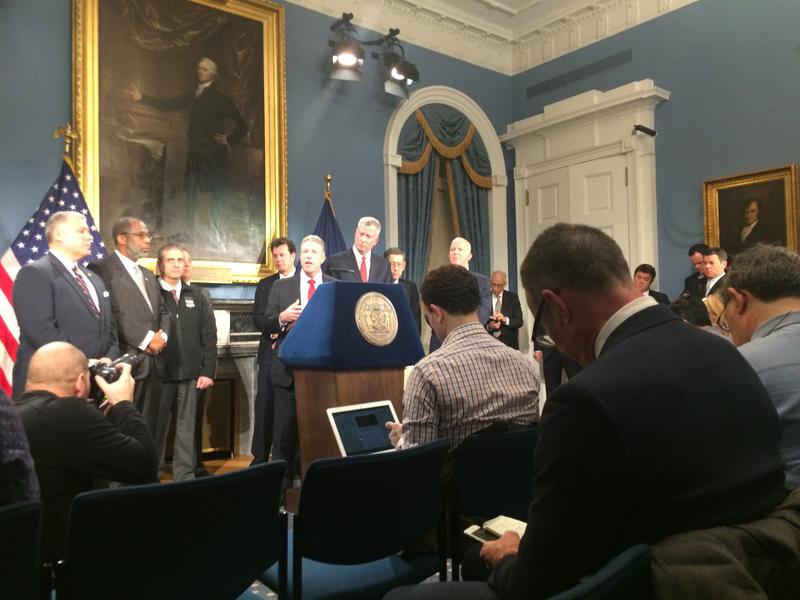 It's an election year miracle. Mayor Bill de Blasio reached a tentative contract agreement with the city's largest police union — he shook hands with a major antagonist, Patrolmen's Benevolent Association President Patrick Lynch, at a press conference announcing the news. The photo-op came a little more than two years after Lynch stood on a hospital ambulance ramp suggesting the mayor had blood on his hands after two officers were murdered.  
If the deal is ratified, the city's 24,000 police officers will get an 11 percent raise over seven years, the same as other uniformed services. But the deal also includes a sweetener — a 2.25 percent raise for the roll out of neighborhood policing. And in news the mayor can tout during his campaign, the union agreed to plan to have all patrol officers equipped with body cameras by the end of 2019. 
"This is one of the last elements of our fiscal picture that had to be addressed and resolved," de Blasio said.
The agreement follows months of acrimony, including a trip through binding arbitration. The Patrolmen's Benevolent Association spent months protesting at the mayor's events, showing up outside to chant and wave signs. Union president Patrick Lynch said they wanted the mayor and his staff to focus on the contract and it worked.