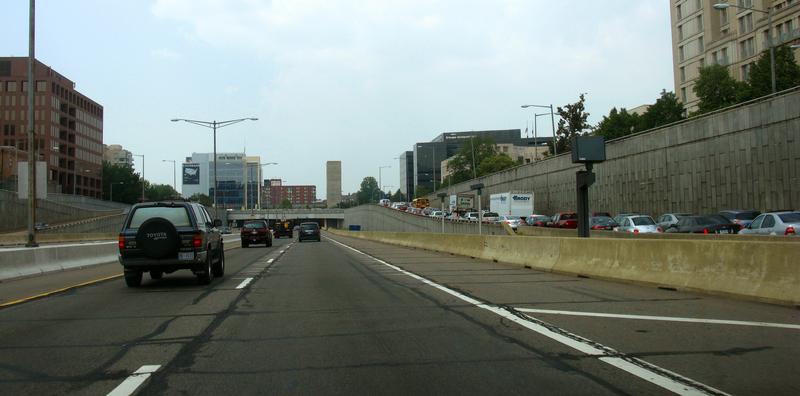 WAMU - Washington —
D.C.'s speed cameras are successfully slowing down drivers and reducing crashes and related injuries, according to a study of 87 existing camera locations by the District Department of Transportation.
The D.C. Council charged DDOT to complete an analysis of any relationship between traffic cameras and safety amid public concerns that the primary motivation behind the city's speed cameras was revenue-driven.
But D.C. says the proof is in the outcome. Drivers' average speeds exceeded the posted speed limit in only 13 of the 87 locations. Crashes fell by 16 percent and injuries by 20 percent.
"There is a safety benefit in the deployment of speed cameras as it relates to traffic calming within the District," said James Cheeks, the department's chief traffic engineer.
DDOT performed a before-and-after study of the camera locations by examining drivers' speeds and crash data in the three years prior to a camera's installation and the three years since.
"Before they were installed, we had a total of 2,240 crashes. And then after they were installed, those crashes went down to 1,863," Cheeks said.  The number of crashes involving injuries fell from 841 to 673 (20 percent) and the total of number of injuries dropped from 1,251 to 996 (20 percent).
DDOT will use the study's findings to pinpoint areas where enforcement by the Metropolitan Police Department, which administers the automated speeding tickets, is necessary. The study examined average driver speeds at 169 proposed speed camera locations; 42 locations (21 percent) recorded average speeds higher than the posted speed limit.
Critics of D.C.'s speed and red light ticket program, which generates about $100 million annually for the treasury, said the study assuages public concerns that the cameras are placed in spots to punish drivers without regard to safety.
"It now proves a nexus between the existence of the cameras and traffic safety," said John Townsend, a spokesman for AAA Mid-Atlantic. "We've always believed there is a role and a place to automated traffic enforcement. It should be an adjunct to law enforcement, not the primary source of traffic enforcement."
"More people lose their lives to traffic crashes in this country than are murdered and that should be one of the highest priorities of police departments. But to treat it robotically or automatically is not the best approach. The one thing that really changes the driving behavior of motorists is to be slapped with a ticket by a uniformed police officer who pulls the person over," Townsend said.
Follow @MartinDiCaro on Twitter