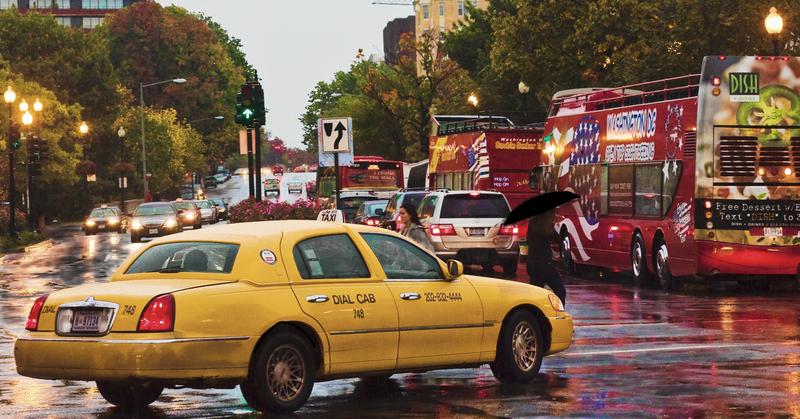 As D.C. regulators prepare to unveil proposed rules for the smartphone-based vehicle-for-hire services, they are considering an unprecedented move for Washington's metered taxicab fleet of nearly 7,000 vehicles: deregulation.
Keeping cabs competitive
For the first time since switching from zone to metered pricing in 2008, Washington cab drivers would be able to charge passengers fares independent of the meter (currently $3.25 base/$2.16 per mile) under a proposal to be considered by the D.C. Taxicab Commission, said commission chairman Ron Linton.
Since popular, tech-driven transportation options infiltrated the Washington market (see: Uber), drivers of regulated, metered taxis have complained the newcomers get to play by a different set of rules: they operate under relatively few regulations and can charge flexible rates. Linton's plan would offer D.C. taxis some of that flexibility by allowing drivers to charge passengers different fares set by the tech startups — but only for rides booked online or ordered digitally via smartphone app. The proposal would not apply to street hails. Individual drivers would not set fares.
Presently, five companies are approved to potentially partner with taxi drivers to charge non-metered fares based on time and distance: Hailo, MyTaxi, Royal1 powered by Taxi Radar, Taxi Magic, and Yellow Cab. Of the five, only Yellow Cab is an actual cab company with its own fleet of vehicles. The others are tech startups whose apps serve as a connection between the passengers and the cab driver.
"We are going to have a metered cab that is deregulated when it gets certain kinds of rides, and whenever it gets an electronic call for service the meter is not going to be employed to determine the cost of that ride," Linton said.
If approved, the proposal would open the door to "surge pricing" for regular taxicabs, a practice Uber frequently employs when demand for its premium black sedan service outstrips the supply of vehicles on the road, often on weekend nights or during storms.
"If they want to raise rates because there is a scarcity of vehicles and a high demand of use just like Uber does, they can do it. They can all compete with each other on the same basis," Linton said. "And they will tell you before you book what the estimated cost will be."
Changes approached with caution
The proposal may be presented at the scheduled meeting of the D.C. Taxicab Commission on Wednesday, starting the regulatory process that will include an extensive public comment period.
If some view the emergence of tech-driven transportation options as signaling the obsolescence of metered taxi cabs, they might be reminded that roughly 17 million of the 20 million annual vehicle-for-hire transactions in D.C. result from street hails, according to taxicab commission figures. Still, Linton's proposal is another step toward a more open marketplace where traditional cab drivers will face increasing pressure to innovate. The taxi industry hopes the commission proceeds cautiously.
"The cab industry traditionally serves people of all income levels. We serve all areas. We serve the disabled. We serve everyone. Having that [pricing] uncertainty invoked into the system, I am not sure how that is going to work out on a long term basis. So it will really need a lot of thought," said Yellow Cab general manager Roy Spooner, whose company could benefit from the changes.
"Those who require more premium services, we will then layer into our company's pricing. As a matter of fact, we are about to launch a black car service because we have a lot of corporate clients who want that type of service," he said.
Spooner said maintaining transparency in pricing must be a priority.
"The only purpose a meter serves is transparency," Spooner said. "A consumer can see the fare as it evolves."