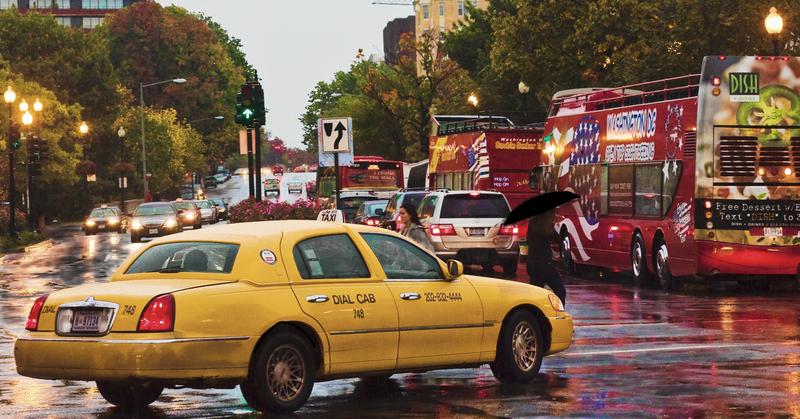 And then there were five: of the eight payment service providers D.C. approved to supply credit card systems to city taxis, three have faced significant problems. Now, the lawsuits are beginning.
At least three Washington cab companies say hundreds of their drivers lost work days and income because of a dispute with a company approved by D.C. regulators to install credit card payment technology in their vehicles. The company, Chicago-based Gleike Taximeters, has sued two of the cab fleets, Grand Cab and Diamond Cab, for breach of contract, claiming the fleets failed to meet installation schedules before an Oct. 1 deadline.
The contract disputes make Gleike Taximeters the third payment service provider (PSP) in the first month of universal credit card acceptance to face significant problems in Washington. Only eight were approved to operate in the District.
As WAMU 88.5 first reported, the tech startup Hitch was swamped by drivers' complaints that their credit card fares were not showing up in their bank accounts. On Wednesday, Hitch was fined by the D.C. Taxicab Commission for failing to pay drivers, according to commission chairman Ron Linton. Details on the amount of the fine were not available on Wednesday, and Hitch CEO David Miller did not respond to an email seeking comment.
Earlier this week, U.S.A. Motors canceled its contract to provide payment processing to more than 900 cab drivers. The hardware U.S.A. Motors installed in taxis frequently failed and its business model collapsed.
Gleike versus Grand
At Grand Cab headquarters in Northeast D.C., manager Negede Abebe alleged Gleike Taximeters utterly failed to follow through on plans to install credit card readers in his fleet of 650 taxis, leaving drivers unable to use their vehicles. He said Gleike's manager, Patrice Berthome, completed only about 100 installations before canceling the contract on Sept. 19.
"He has to pay us $182,000," Abebe said. "I don't want to go in detail because that is in a court case. The fact is that, we signed a contract. We paid him $182,000 to execute the contract. He didn't perform."
In an email to Abebe obtained by WAMU 88.5, Berthome explained why he canceled the contract.
"The drivers are not cooperating with installations because YOU have misinformed them on numerous issues. You are doing everything to interfere with the installation progress in practice, but then complain about the progress via emails. I have no idea why you are doing what you are doing, but I have to say that I have never encountered such shameless attempts at deception," Berthome's email said.
In an interview, Berthome said he sued Grand Cab for nearly $300,000 in Chicago court. "They are in breach of contract. They need to pay me my damages." Berthome said Gleike has shut off the taximeters in about 100 Grand vehicles because the drivers are required to return the equipment.
As the legal dispute proceeds in court, Grand Cab and two other companies say their drivers are still recovering from lost work days related to their disputes with Gleike.
"As a result of his breaching the contract, almost all those drivers [650] and those who associate with me lost businesses from September 13 to September 30," Abebe aid.
Multiple disputes
Similar stories were told at Diamond Cab and Challenger Cab, which has two fleets under its name, Wonder and Camel. Both companies allege Gleike signed on to install credit card payment technology in their fleets -- only to back out days before the deadline, because Berthome failed to acquire adequate garage time for the installations.
"To this day we have drivers who are still struggling," said Diamond Cab supervisor Abebe Abadi, who said all 400 drivers in his fleet lost work hours. "[Berthome] didn't perform the job. He just ignores us. He doesn't respond (to) phone calls. He doesn't do the job."
At Challenger Cab, board member Zecarias Berhe said dozens of drivers were dumped by Gleike on short notice, leaving them scrambling to sign new deals with another PSP. If an installation date could not be secured immediately, the drivers could not take their vehicles on the road to pick up fares.
"Our drivers, they were stuck. They could not work for ten, twenty days. They were stuck at home," Berhe said.
A system plagued by complaints, defiance
Despite these problems, Gleike has its credit card processing system installed in more than 700 cabs across multiple fleets. But in social media postings, emails, and in-person interviews, some cabbies say Gleike's technology is flawed — and instead they use the mobile card reader Square, which is now illegal because it does not track trip data or collect the $.25 surcharge on all fares to fund the D.C. Taxicab Commission's operations.
"If you don't have [cell] service on the street, this device shuts down and this device shuts down your meter, so you can't start your meter, and you can't charge your passenger," said Kassaye Melke, an independent cab owner, who said Gleike's system crashes have cost him entire fares.
"I use Square three years. I never had any problem with Square," Melke added. "But the D.C. Taxi Commission, they don't let me use this." The problems with Hitch, U.S.A. Motors, and Gleike have cabbies asking how the companies were even approved to operate in Washington.
The eight PSPs (now seven with U.S.A. Motors' collapse) were required to demonstrate their technology worked in taxis by being able to accept credit card or smartphone-based payments through taxi-hailing apps. The technology must also track trip data and collect the $.25 surcharge. It is unclear if the taxicab commission weighed any company's managerial capacity or industry reputation during the approval process.