"Day Without Immigrants" Shutters Eateries In New York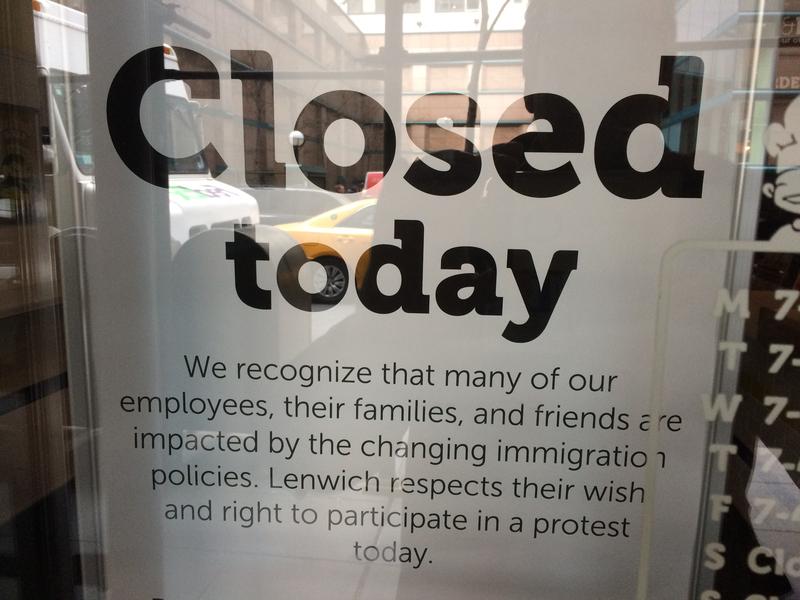 Some hungry New Yorkers found restaurants closed on Thursday in support of a nationwide protest called "A Day Without Immigrants." It called for immigrants to boycott their jobs and classes and to avoid shopping to demonstrate their importance to the national economy. The protest took place in major cities around the country, and came on the heels of a strike by New York bodega owners against President Trump's executive order on immigration.
Janet Moore works in a Midtown real estate office and was looking forward to eating the signature sandwich at Lenny's Restaurant on East 43rd Street. It's called the Lenwich, and she was able to list the ingredients by heart: "Corned beef and pastrami with coleslaw, melted Swiss cheese and Russian dressing. It's really good."

She was disappointed to find the restaurant closed with a sign in the window supporting the right of its immigrant workers to protest, but said she'd adapt. "I'll have it another day," she declared of the Lenwich. "I'm totally in support of the workers. They should get out, tell him what they think of him — Trump."
The protest is in response to President Donald Trump's crackdown on immigration, including a ban on nationals from certain Muslim-majority nations, his plans to build a border wall, and the government raids last week that resulted in the arrests of more than 680 immigrants who are said to be in the country illegally.
Only one person passing by Lenny's during lunch hour voiced opposition. A man glanced at the sign and said, "That's a load of b.s."
But most people felt the way Philip Broenniman did. "I'm absolutely in support of this," he said. "They need to demonstrate to the government and demonstrate to the people what immigrants mean to our society and economy, without question."
Broenniman said he'd be back for a Lenwich when the restaurant reopens, maybe in line behind Janet Moore.