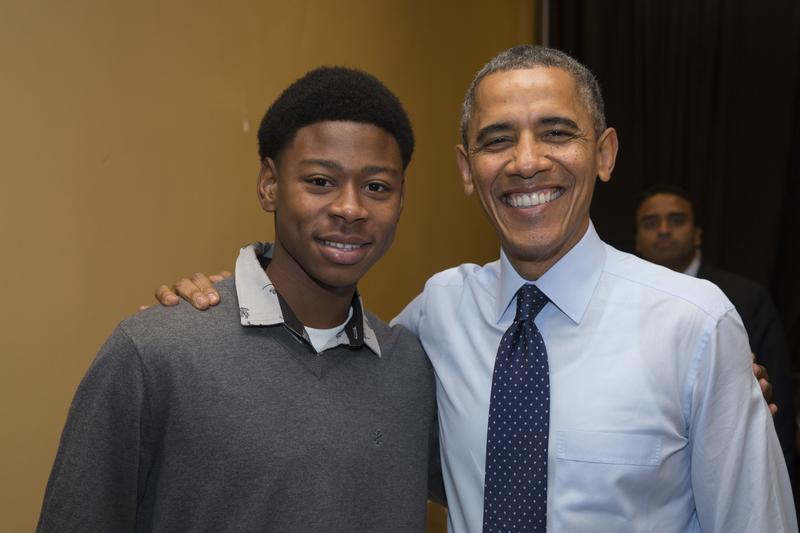 One thing I have learned from this school is that hard work pays off.
My name is Radcliffe Saddler. I am 16 years old, born in Kingston Jamaica, the oldest of three. Getting the opportunity to meet and introduce President Barack Obama was one of the greatest experiences I've had at school.
And it happened in a way that reminded me what makes P-Tech special: many people at school helped me prepare and gave me the strength to give the biggest speech of my life.
But let me step back and tell you about the day the president came to our school.
The morning of the Oct. 25 event felt like a dream. It hadn't settled in yet, the magnitude of what I was going to do. But on my way to school it was clear just how serious it was that Obama was coming. At the building's entrance I was scanned by security before going to class. During my fourth-period class my teacher, Mr. Ehrenfeld, was talking about President Obama. I was then called by a faculty member, Mr. Griffiths, to change my sweater because my mom brought me a better one.
After I returned to class Mr. Ehrenfeld put on a video of a speech by President Obama. While it was playing, I took out my speech to practice. My teacher noticed, and he gave me the opportunity to practice in front of the class. The class's reaction caught me by surprise:  they enjoyed my speech. The practice helped me feel what it would be like speaking to an audience.
When the event started I was escorted to my seat. I sat in the area with people like Mayor Michael Bloomberg and Brooklyn Borough President Marty Markowitz. I was excited that I was surrounded by people who were so influential. I remember introducing myself and getting to know some people around me.
Watching two of my peers perform before me made me more nervous. I was next. Soon enough I was escorted backstage where I practiced until President Obama arrived. Seeing him was a surreal moment for me. There were people surrounding him, people with cameras taking pictures. He approached me. I shook his hand and introduced myself. He said he liked the sound of my name. He then asked me what I wanted to do in life. I told him that after I got my associates degree from P-Tech I was planning to work with IBM before I started my own company. He gave me a look that said to me he liked the plan I had for my future.
President Obama said "let's take a picture" and we took a picture. I reached into my pocket and asked if he would sign my speech cue cards and ticket. He signed them.
Later, they announced my name and I could hear everyone cheering for me. I remember feeling courage rising over me as I walked to the stage. I stepped on stage, chose a point in the audience to focus on and began to speak. When coming to the end of my speech I tried to get the crowd excited to see President Obama. When I said "And now…" I could feel the anticipation in the air. When I said his name the crowd cheered. I took one step back from the podium and applauded. President Obama came on stage, shook my hand and gave me a half hug. He told me I did well.
I walked off the stage feeling so proud of what I had accomplished. I reflected on my speech and how I got to where I am.  The president's encouraging words to me meant so much but, really, I am most thankful for the P-Tech community and my family for making me feel like I can accomplish my goals.