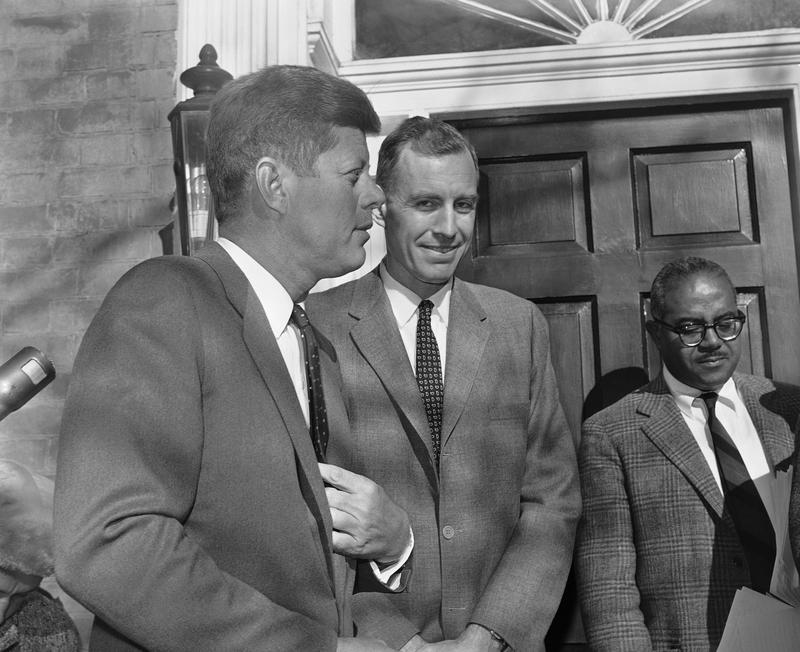 Summary
This episode is from the WNYC archives. It may contain language which is no longer politically or socially appropriate.
Barrett McGurn introduces Bell.

David E. Bell, Administrator for the Agency for International Development, director of the Foreign Aid program under Kennedy.

Bell talks about the likelihood of the continuance of the foreign aid program. He defends the programs, saying that it has been a success in Europe, Greece, and Japan in the post war years. He mentions many countries in which aid will be soon ending, but also speaks of nations that may require continued aid assistance, such as Vietnam. He speaks specifically about how Foreign Aid relates to the United States budget (some critics have made claims that foreign aid is costing too much). He also talks about aid offered by other nations, such as the UK. While other nations do offer money, they have been slow to make loans and their requirements of borrowers make loans difficult.
Audio courtesy of the NYC Municipal Archives WNYC Collection
WNYC archives id: 70482
Municipal archives id: T235
Transcript
This is a machine-generated transcript. Text is unformatted and may contain errors.
It's now. A very great privilege and honor for us of the Overseas Press Club to welcome one of the architects of the administration's. Economic Policy David Bell the director of current aid he needs know no introduction to us we have been following his work with fascination and it is a joy for us to have him here with us today. Thank you very much Mr McGovern ladies and gentlemen it's a privilege for me to be invited to come here with a group which has. Such an intimate and close understanding of events abroad around the world where the foreign aid program has its existence and impact I understand that the major purpose of these gatherings is to. Put the speaker on the spot and risk the spectum answer questions which I'll be delighted to do and that he is expected to keep it opening remarks very brief and I will do that I would like to raise with you by way of an introduction only one major question I think we have to ask ourselves this year whether. The future of foreign aid program in the United States. Is likely. Is the Congress of the United States prepared are the people of the United States prepared to continue to support programs of economic and military assistance for countries free countries in the underdeveloped. Parts of the world Latin America Asia and Africa. I don't think we would have had to ask that question any time in the postwar period. With the same urgency and sense of doubt that we have to ask it today since World War two under three presidents we have followed a strong program for biting help to countries around the world who wanted to establish themselves as independent free nations able to stand on their own feet to defend themselves against the various forms of communist aggression. We have had a. Strong effort of this type going first in Europe and later in the underdeveloped parts of the world but three weeks ago when the House of Representatives passed the authorization bill it made for the first time in all this post-war history a major reduction in the program as part of the authorization process there have been reductions in procreation and big ones on previous occasions but this action of the house was quite unprecedented and I think it raises real doubt as to the significance of that event. Is it something we should interpret as a. Casting a severe cloud on the future of a foreign aid program or is it something that represents special factors. Related to this year but not. Raising any serious question about the continuation of our efforts overseas. I think. The. Doubts which have been expressed in that house debate. Are not unknown to most of you here. There are those who supported the cut in the program by and large did so by offering several one of the following several reasons and I would like to comment briefly on each of them. And then come back to my first question one comment that was made very frequently in the House is essentially that the program has been getting nowhere we have been providing billions of dollars of United States assistance around the world and that goes out every year and spent over overseas and the results are not particularly impressive. I think the facts on this. Challenge are this question are relatively clear and I think the people in this room know them as well as anyone else in fact the foreign aid program of the United States has some very major successes to its credit not only in Europe and in Japan which are obvious apparent to everyone but in many other countries as well we are today coming to the end of the need for economic assistance in several very important nations we are preparing definite plans to end that aid in Greece and Israel and Taiwan in the Philippines Mexico and Venezuela these are all countries which are in the last phases of the requirements for the kind of help we've been giving. We have a number of additional countries for many of you know as well as I India Pakistan Turkey Nigeria countries which are well along making good progress making headway our aid is paying off very well indeed and we can expect to see continued strong headway in those areas we have as we've had since the end of World War two a significant number of places in which the problems are very difficult and none of us can claim at the moment to be achieving what we would like to achieve Brazil is an illustration in the nation as an illustration Vietnam is of course the most immediate most urgent most painful illustration this is nothing new we have continually had. Cases in which. The progress was not all that we look for and the question is whether the existence of such cases should be grounds for backing off or quitting. Or whether they simply are situations to be met as best we can to keep our objectives clear and to keep moving forward to in every way that we can. I think that. If you look there for at the facts over these years since the end of World War two. A Any fair minded observer would conclude that we have been getting. Places that we have been making very substantial headway I think it's important to ask ourselves why is it that many people in the United States think we have not been getting anywhere and if I may without seeming to be too pointed in this particular gathering I would like to. Suggest that. We consider the possibility that one of the reasons for that is that the reports we read in our newspapers and in our magazines are by and large concentrated on the obstacles and the difficulties and the setbacks and not concentrated on the successes and the achievements in the game I don't know that anything can be done about this I take it as a part of the life that we you gentlemen lead that you write necessarily for headlines you write of the current immediate problems that will catch people's attention. But I think this is a question that. Really should be thought about quite seriously and if there are ways and means of achieving a somewhat better balance. In the flow of information that goes into the United States from abroad as to how things are in fact progressing I think those. Possible ways a name should be should be followed up. I repeat I'm not suggesting that a program foreign aid program has been an unqualified success it obviously has not in many places in which the United States is struggling with great difficulties but on balance I think there is no question but what the program has been successful and overall success and I do not think that that is the impression that many people in the United States have. There's another question which has been raised which is much easier to dispose of people think that foreign aid is costing us too much this is of course in part a matter of judgment insofar as the facts are concerned there the foreign aid program today is and relative to our. National economic capacity is costing us less than half of what it did in the days of the Marshall Plan it is a diminishing burden not an increasing burden and a relatively small one less than ten percent of the amount that we put into defense each year for example. However it is a and in dollar terms a sizable psalm and we must obviously every judgment as to whether the advantages are worth the expenditure each year this is a in my opinion a very real and proper grounds for for controversy and for argument and different people will reach different judgments. But. I do not think it is a legitimate thing. That. Less than one percent of the gross national product is in some absolute sense too much to put into the effort to achieve national security around the world through economic and military aid. A third question which has been raised. Which was made a great deal of in the House debate was the question whether the foreign aid program contributed substantially to the balance of payments difficulties that the United States had been having in recent years this is I think simply a failure of the. On the part of the props on the part of the agency I had and certainly on the part of the. General understanding in the Congress to appreciate. To get across the fact that there has been a reversal of United States policies for dealing with foreign aid in relation to balance of payments a few years ago we provided dollars through foreign aid and the recipient countries purchased the goods that they use those dollars or wherever they could purchase the most cheaply that's not true today today. The dollars we provide are available for expenditure only in the United States we don't provide foreign aid in the form of dollars in other words but in the form of goods and services and in consequence. Only to a very minor extent. Does the foreign aid program result in an outflow of U.S. funds is it instead a foreign aid program is a is takes the form of financing the export of United States goods and services and indeed to a fairly substantial amount as the president emphasized yesterday at the export expansion conference in Washington. We. Foreign aid program if you include the public law for eighty surplus agricultural commodities was actually responsible for financing. Eleven percent of United States exports last year and that's fairly sizable proportion. Of ours. Certain products certain. Commodities are concerned. Foreign aid program was even larger We financed for example about a third of the exports of fertilizer from the United States last year twenty five percent of the export of locomotives and so on I say this not because this is a justification for the program it is not the program is justified insofar as it serves United States interest by influencing world events in ways that will benefit the United States. But we are conducting the program in such a way that it does not have a significant adverse effect on the United States balance of payments. A large. Question was raised by many people in the House as to why other nations don't do more themselves. Why the advanced countries of Europe and Japan when we were helping a few years ago are now very much on their own feet why they shouldn't be putting resources into foreign aid the basic answer is that they are last year calendar nine hundred sixty two of the resources that went from the advanced countries as a whole to the under developed countries some sixty percent came from the United States and forty percent from Europe and Japan and that's just about the right ratio in terms of our gross national product and there's. We think that the difficulty for the last year ourselves as a band that the resources made available by other advanced countries have been offered on harder terms higher interest rates shorter maturities and so on than ours this is a real difficulty we have been taking this up with other countries and with some substantial results some of you may have seen in this morning's Times if I may refer to the oppositions or. The news story and I'm sure it was in your paper as well from London a change in the united in the United Kingdom policy on loan on an aid terms under which interest rates are lowered and grace periods lengthened on the and maturities like and also on aid made available by the United Kingdom so that other countries are indeed doing a good deal and they are moving in the right direction we don't think they've gone far enough yet but they're moving in the right direction terms finally there's there was a lot of comments about waste and bad administration in the program. I can speak with some objectivity about this because I have been with the program very long when I went in and I. Had a considerable interest in. I do find out how much there is to these frequent comics and what I found by and large is that this is a pretty well administered program we have a lot of very able people running it wrong and most of the criticisms are not criticisms of bad administration they are criticisms of decisions that were taken you can argue about the decisions some look good and some don't look good looking back but that's the kind of issue that's involved for example there was in the newspaper recently a lot of comment about a plant I think was a chemical plant of some type which was built in Yugoslavia. In fact I can speak of this with complete. Disinterest in the sense because it was actually a loan to Yugoslavia which was made under the Eisenhower administration several years ago. And the comment was that the plant was put up it was a good plan an effective plan but there wasn't any plaque on it that said this is a gift of the United States or rather this is a result of a loan from the United States and this is a perfectly legitimate question do the Yugoslavs know that the United States has been helping the fact is the Yugoslav Duno far as my best information goes. The comment that was made when I asked this question was that every taxi driver in Yugoslavia knows how much the United States has contributed to the development of Yugoslavia in recent years and to the relative independence that Yugoslavia has mainly been able to maintain from the Soviet Union. That that your guest lobby isn't a communist country if not the Tito is not a communist but the purpose of the aid program was to assist in. Maintaining some degree of independence in Yugoslavia and that purpose by the accounts I have certainly was achieved so that that decision to build that plant seems to me to be a very sensible decision and not an indication of bad administration and I cited only as one example there are dozens of other. My conclusion from these things and it's not that I'm sure it won't come as a surprise to you is that what is involved in the basic question I raised at the outset is not the usual issues like those I have a dentist on. There they criticisms of this program. Are For the most part a reflection in my opinion. Not of inherent difficulties with the program itself but a reflection of the intransigence of the world situation in which we're trying to work I think they're an expression of the frustration that we are not able to make the world over in our image that people abroad. Unhappily I do not follow the policies in most cases in many cases that we would like them to to follow. I think that the. Concern about the foreign aid program is a focused version of the concern that the world is not as happy and painless a place as we would like to see it. And if this is true then it would seem to me that the proper conclusion. Is that it is and remains a reasonable decision for the United States to continue a strong positive effort including a strong positive economic and military assistance program. Using the best people we can get improving our methods and our efficiency all the time insofar as we can limiting our expenditures as much as we can possibly do. But trying to continue to at fact and influence world events in the directions we think are desirable I think that if you look at the world situation today yo