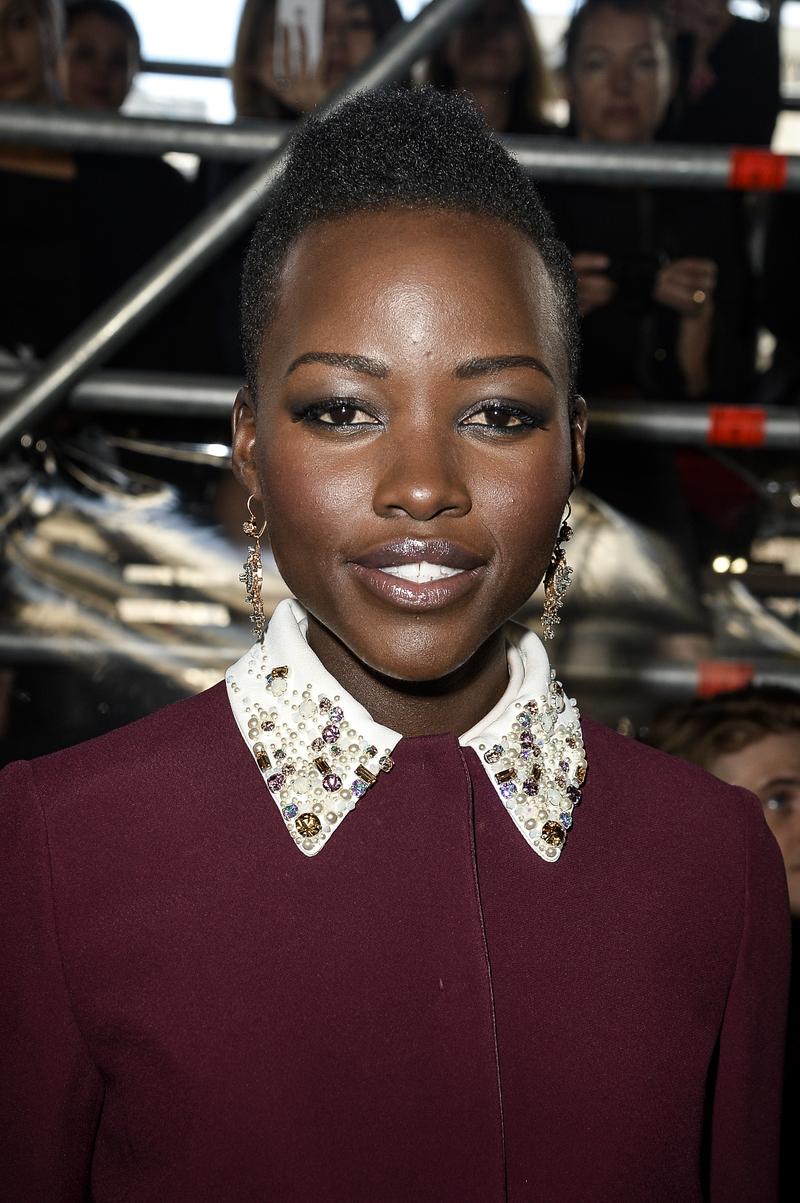 Oprah was in the house. And Kerry Washington.
Days before the Academy Awards, actress Lupita Nyong'o addressed the Black Women in Hollywood luncheon with a speech that has since gone viral. The Oscar-winning star of "12 Years A Slave" read a letter from a young fan, and entered into a conversation that has gone on for centuries.
"'Dear Lupita,' it reads, 'I think you're really lucky to be this Black but yet this successful in Hollywood overnight," she said. "I was just about to buy Dencia's Whitenicious cream to lighten my skin when you appeared on the world map and saved me."
The actress went on to address her own anguish growing up, at having dark skin and perhaps more importantly, how she eventually cast off "the seduction of inadequacy" and came to embrace darkness. The remarks especially endeared her to young women of color, who often grapple with that decision: whether to stay dark or go light.
Nyong'o wrote the latest chapter in a long story, says Nina Jablonski, the author of Living Color: The Biological and Social Meaning of Skin Color.
"Skin lighteners were created in reconstruction era United States," she said. "By former slaves who wanted to have lighter skin that they considered to be more socially acceptable, that would allow them to get better jobs and not be discriminated against as much as with dark skin."
Even as late as the mid-20th century, skin lightening held a sort of science-fiction appeal for some civil rights leaders. Walter White was the head of the NAACP and in 1949 he wrote, with great excitement that a newly-discovered chemical, hydroquinone, could "hit the structure of society with the impact of an atomic bomb."
Black people, he reasoned, could finally pass as white.
"It could, in fact, conquer the color line."
A $20 Billion Industry
That's not quite how things worked out. Skin lighteners started out in the U.S. but moved into sub-Saharan Africa, then East and South Asia. It's estimated that by 2018, global sales of lighteners will hit $20 billion.
Jablonski thinks the country with the biggest skin color fixation is South Africa, but India comes in second place. And all you need to do is walk into an Indian supermarket such as Patel Brothers in Queens to see the amazing selection of skin lighteners. 
On a recent morning, Dilshad Jiwani was leaving with some purchases, including a bottle of Fair and Lovely, the world's number one brand of skin lightener, according to the company, used by one in 10 women globally.
"It makes me feel younger," said Jiwani, who's been using the cream for 20 years, along with her mother and now, her daughter.
"People look at you differently if your skin color is different. Especially in America, because they're fair and we have dark skin, so we're treated badly. So I want to look fair too."
Jiwani said that in the past, people in the subway would get up and move away from her because she was darker.
"It feels like insult!" she said. "They did that to me, and I felt bad. Now, since I'm white, they don't do that."
The Dangers of Skin Lighteners
Numerous studies have documented the risks of skin lighteners, including mercury poisoning. (The FDA cites Stillman's Skin Bleach cream, a product found at Patel Brothers and other stores.)
"I go to certain stores, and I see African women buying skin lightening creams," said artist and Macarthur 'Genius' Carrie Mae Weems, whose retrospective is currently on view at the Guggenheim. "Really just butchering themselves, just destroying themselves because they're cheap creams with hydroquinone. I use it as a developing agent in photography for Christ's sake."
But she argued that the African-American community had made progress on the issue, in part because of the Civil Rights movement and the rallying cry of "Black is Beautiful."
Carrie Mae Weems
Skin Color in Popular Culture
That can be observed in different ways, including the evocation of skin color in popular music, from James Brown's "I'm Black and I'm Proud" to D'Angelo's "Brown Sugar" and Eric Benet's "Chocolate Legs." 
The same can't be said of India, however. Within the matrimonial ads in a newspaper or online, for instance, people regularly pitch themselves (or their daughter) on the basis of their "fair" skin. In the Indian skin-color hierarchy, fair beats wheatish, and wheatish trumps dusky.
Indian actress and activist Nandita Das is the spokesperson for Dark is Beautiful, a five-year-old campaign, and says the mass media constantly drives home the gospel of light skin.
"Every ad is telling you if you're not fair you can't get a job, you can't get a lover, you can't get a husband. You are just not good enough."
Bollywood stars like Shah Rukh Khan often play along, by endorsing Fair and Lovely and related products, often in ads that highlight the woes of an aspiring actor, struggling and pathetic until they undergo the transformative powers of a lightener. 
And in countless Bollywood songs, the favored term of endearment is "gori," which means fair-skinned girl. 
An Emerging Backlash
Although India is far from changing course on skin lighteners -- just watch this ad for a much-derided vaginal lightener — there are signs that some urban youth consider the cosmetics ridiculous and demeaning.
One hilarious video spoofs the country's light-skin commercials by proposing a lightener for men's testicles. Another, for a faux lightener called Fair and Lovely Inside, promises to go beyond regular lighteners by making people feel white on the inside.
Weems said it's time for people to recognize the "absurdity of color."
"How can you get serious work when you're stumbling around," argued Weems, "trying to figure out whether or not I'm light or I'm golden, yellow, red, what that means? I can't get anything done if I'm trying to second guess your ass on a regular basis on what you might feel when I walk in the room."