Studio 360
Danny McBride Isn't a Jerk, He Just Plays One on TV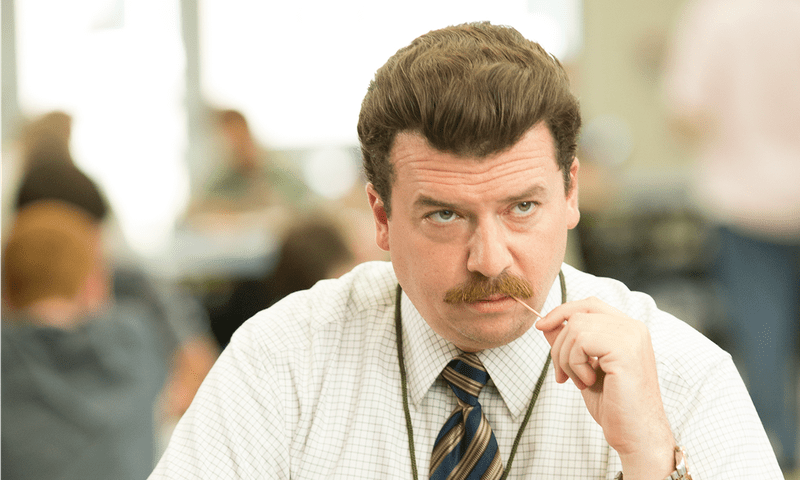 The actor and writer Danny McBride has made a career playing mean, egotistical, foul-mouthed leading characters… that you can't help but love anyway. He's played a washed up Taekwondo instructor in "The Foot Fist Way," a self-centered actor in "This Is the End," and a baseball player turned substitute teacher in the cult TV show "Eastbound and Down."
McBride started making films with his longtime collaborator Jody Hill when they were still students at North Carolina School of the Arts. They embrace their southern roots in the new HBO show, "Vice Principals," which stars McBride and Walton Goggins as high school vice principals battling for the top spot. Chaos and profanity ensue.
Danny McBride: I never thought I would be an actor. I really always imagined it would be behind the screen. It's just something I've been passionate about since I was a kid. We'd make home movies as soon as somebody got a video camera in our neighborhood. [Director] David [Gordon] Green graduated a year before us, so we all graduated from film school and then worked on [his film] "George Washington." It was a really great experience because it showed everybody, "Look, David's just like us and he just made a film." It really was the spark that was needed at a crucial moment to keep you invested in this dream.

Kurt Andersen: In your first feature film, "The Foot Fist Way," you play a martial arts guy who is clinging to his job as a teacher because that's the only place he gets respect. And then you and Jody Hill went on to create the HBO series "Eastbound and Down," in which you play the ultimate egomaniac, Kenny Powers. So why do you like writing and playing these characters who are terrible examples of American manhood?

I think it was a byproduct of living in Los Angeles and trying to write what we thought the studios wanted. And there would always be these notes about likability and what sort of qualities our main character had to have, and I think we took that as a battle cry. We think that people are open-minded enough where they don't need a checklist to invest in someone. If you can find that identifiable trait, even in the worst person, that's what makes this worth doing. So I think what we were trying to do is take characters that are unlike us, or unlike people we ever want to spend time with, and make them human beings.

You have already written and shot two full seasons of "Vice Principals."

We have. We wrote 18 episodes in 2014 and told a complete story, and spent the last year shooting it. That's the most exciting part about this project — to be able to have the amount of real estate to tell the full story and really be able to take people on a journey. For better or worse.

Your character has a lot of flaws, but he's nowhere near as awful and unlikable as Kenny Powers was. How come?

It's to make him identifiable, to make him a layered character. He really does think what he's doing is in the best interest of the school, and he's just very misguided. I think he's aware that he's not very likable and he compensates by trying to put up the wall of a tough guy. But it's masking great disappointment. That's what this whole show is about: when we find these shortcomings in our lives, it's very easy to make an enemy and say that person is responsible for it. But you need to take a look in the mirror a lot of times.

That's unusual for a comedy, isn't it?

I think it is. For us, we never look at this like it's a straight comedy. We approach it like it's a drama that his dick jokes in it. 
Music Playlist
Pumpin Irony

Artist: Blues Saraceno

Album: Garage Blues

Label: Various Artists

Mash the Pigeon

Artist: Magic Drum Orchestra

Album: MDO Sessions 2

Label: TRU THOUGHTS LTD. (TRT)