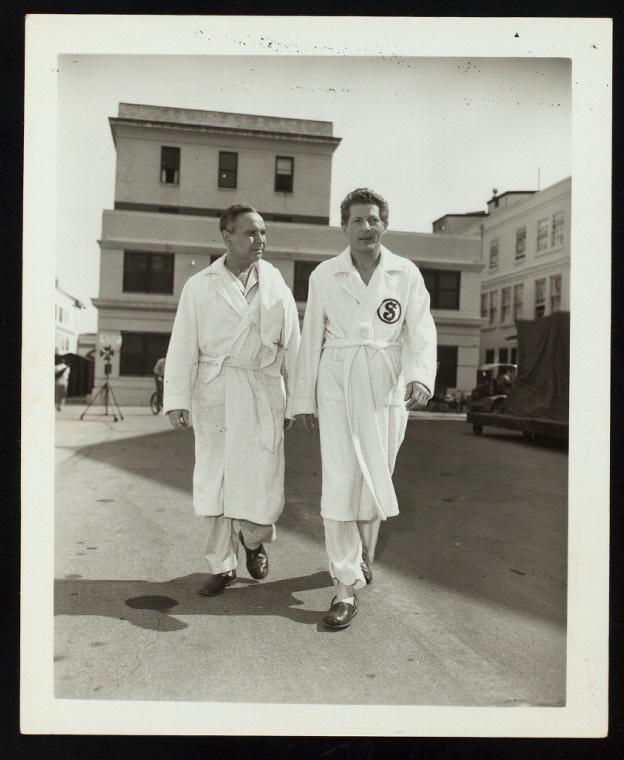 Summary
This episode is from the WNYC archives. It may contain language which is no longer politically or socially appropriate.
Danny Kaye's description of his East-Asian humanitarian tour as the first Goodwill Ambassador for UNICEF, and of the film that chronicled his experiences.
Audio courtesy of the NYC Municipal Archives WNYC Collection
WNYC archives id: 1888
Municipal archives id: LT4869
Transcript
This is a machine-generated transcript. Text is unformatted and may contain errors.
United Nations radio presents Danny Kaye and a first hand account of his special mission to Southeast Asia on behalf of the world's children. This is Danny Kaye. It's my privilege to give you a rather personal eyewitness account of my trip to Asia for UNICEF. There's been something that's happened on this trip that has given me a great deal of think about and a great deal to remember this whole operation is I think one of the most remarkable things I've ever seen it's staggering You know it encompasses such school it's kind of breathtaking. We know introducing Dan A K Not however as a stage and screen star but as a real life reporter and officially appointed ambassador at large for UNICEF the United Nations Children's Fund this is kind of a new role for me however one who's objective has held a great importance to me kids that well that's what they affectionately call children in my particular country anyway the United States they call them kid in India for instance they would say back in Burma Cali in Thailand that day. These countries I've just mentioned they're from the main places I went to because Southeast Asia is where the greatest child problem is and because the need is worldwide it's the business of the United Nations and its child care agency UNICEF maybe I think we better start at the beginning you know. This is exactly as it happened. I arrived at the United Nations headquarters in California and I walked through the revolving door of the Secretariat Building that's the tall one you know it's the United Nations headquarters in back of the fountain by the way did you know that fountain was built with the pennies contributed by thousands of boys and girls you know. You know where was at all yeah that evolving go sector driving in across the mama card. When I walk to the elevators. Twenty fourth drop. The offices of UNICEF. And that is doing I was going to be leaving for professional engagement in South Africa but after that was finished I was continue on my own to a great part of Asia. UNICEF invited me to visit its field installations in a part of the world and then tell the story to you a story of fifty million kids. Kalai deck deck. Very few minutes I was seated in a conference room with UNICEF officials say. I heard something about situation but I could hardly believe my ears when UNICEF chief Mr Morris paid told me just how big the problem really was. Several hundred million of the world's child leash and so for malnutrition and disease tuberculosis which is usually acquired in childhood heroes five million people a year malaria another three million in the crippling disfiguring crappie go disease known as yours why he. Has fifty million victims with all three taking their highest toll among children well there are many questions and many answers and an intensive briefing on UNICEF problems but I know these facts and figures could be translated to me into flesh and blood children when I had seen them for myself right now their own backyard so to speak and this is exactly what I plan to do but first I was looking forward to a. Special occasion. Speaking to you from the Trusteeship Council chamber at UN headquarters present the secretary general of the United Nations misdoubt how much on the executive director of the U.N. Children's Fund Mr Murray's pate. Mr Danny Kaye and the camera man who were film the start of the Motion Picture record of Mr K.'s UNICEF mission it was Mr Pate on the eve of your departure. With the authorization of the secretary general I am presenting you the scroll which makes you an ambassador at large for UNICEF. And we hope you will come back with a good realisation of our work and able to tell the story of what you seem to the world thank you very much Mr K.'s acceptance and I couldn't be more delighted pleased that I have been asked to do this I can tell you is that on this trip we'll try to get as good a record of what UNICEF is doing as we possibly can we'll try to make a record in film and had to come back and see that peoples of the world and so have a fuller and greater realisation of what UNICEF is doing very very happy to be able to do that the United Nations secretary general Mr Hamish old and I wish to music a very happy journey thank God Good luck I thank you again for a very generous contribution. I don't know in view of the queuing to see all these kids and we will be helping and helping some time with thank you thank you very much thank you. I was scheduled to catch a plane to London but there was one more important matter to be taken care of before we left there were some accusations in the UN clinic. The you. But the prospect of being jabbed with some needles I thought it would help my morale if I could banter a bit with the medical director and the U.N. reporter in a very charming French knows by the way it looks to me understanding they always are understanding when they're about to jab you with a needle. The doctor is now stepping over to the test tube and he's about to get the vaccine here he comes now he's approaching me there's a magazine in his eye I am now rolling up my sleeves he's now preparing my arm he is driving it without going home and here it comes Yes really. It's all over. Good bye how is it that a oh I better lay down someplace when need a transfusion or anything right now. If I might just. Write a lead to a dream Well that's fine added to drink of water and then would be OK Well Jeff that's about it I think we're on our way now although I don't why I don't catch a plane the next time I see you will probably be on my way back. Well here I was on my way practically to London and the first leg of a trip that I don't think I'll ever really forget. Some of the things that went through my mind might make you smile for instance I. I remember that one of the protests had mentioned that since I was an ambassador at large and I see I should be expect to be addressed as Your Excellency. That would be a new experience for me I thought this really ought to be reversed. I picture myself bowing low at all the words children and addressing them as your Excellency. Because when you get down to it strangely enough I think the children of the world are the hope of the world in the future and if the children of today aren't allowed to grow up to be decent healthy human beings I don't think we'll have any World. But after that kind of pleasant trip we arrived in London we had a press conference with the correspondents of Clete street what language. That we will try to do is to get as much from as we possibly can take it back to California then edit it and then I will narrated a name which after a narrated in English will probably work with the United Nations language if I've been and see if we can possibly narrate is in five or six different languages one thing I want to keep in here are going to be any remaining way of doing who will help you choose your company at all on then I'm sure there will be women engage in this work wherever we go you know it would be very hard to think of children without women somewhere and I mean we know. The masses the many children I think the ages of children the same the world that children may grow up with different customs perhaps different ideas about life but basically when you take the new year away from all the peoples in the world they are basically the same emotionally and in the. I guess you're going back to the string the high I guess. Most of the newspaper people actually were deeply interested in what this job was and what UNICEF was and the fact that some of the children had slanted eyes around eyes are brown skinned white skin blue skin it really didn't matter because I think children are extremely touching when they're ill in any part of the world. And then I actually started on the other staff trip when we left South Africa and I arrived in India and I think. It was one of the most fascinating facets of this whole trip in the sense that I was dealing with a great many children who couldn't speak their language all right I couldn't speak their language. And it struck me that the language of children is universal all over the world. A grotesque gesture or a funny face or simply the fact that you make up all of this and clown idea newsmen of children tends to break down any kind of reserve on their part it this was one of the really great experiences in this culture at the fact that I was able to communicate with children without even being able to talk to them. We are in India I think village called beat Boston and a few miles outside of Denver it is one hundred nine in this shooting. For the past nine honors a B.C.D. team has been an action. As you know this is a campaign against tuberculosis being fought by UNICEF the World Health Organization and the government of Southeast Asia but there is something different about the scene before me movie cameras have been photographing the entire action. Whole I don't log on to it yeah. That's right. In the sun in the sun I'll give you instructions like that but that's right so the nice guy. Said I'm not in love you know I know what that is. What's happening here is unique in history as the doctors can tell you a large number of children in this part of the world today in their very first year. At least half of them die in the first five years in the east and we're all crowding and malnourishment almost static We have got to rely on the emergency medical not that. We are of course as you will probably all you know doing it will be less busy do the explanation in the hope that temporary unity is going to be given to the young people until they can get our petition and unity but the basic problems are malnourished mental carding and they'll have to protect us from that are later but that time is a long way off to get the local people to cooperate the doctors also have to tell them why it's necessary and Jack that strange looking little soul into the arms of their child. Or to your doctor if they allow them to get on and go on I like a good. Danny he doesn't explain English to his cameraman how he wants to film the next scene of the village children getting their B.C.D. Oh no no no no that was where we had the woman comes to the village and she explains to the people that the there's a team of UNICEF people coming in to inject people to bring their children to the village square. So actually what has to be done is we first have to get permission from the elders of the village and the people of it then the woman goes out and addresses the women of the village explains to them what has to be done what this project is and to bring their children and so forth to the village square and then that's where we shoot vaccinating the kids. Testing a million children a month in one country alone is quite a challenge. At times are frustrating. To have to explain to the villages why when when all you want is to save lives. But when the missions succeed as one of our team members put it we don't know who is the happier the patients are the doctor recently I was inside a roster of one of the Indian states in a very remote rural village in the morning the team went there and there was absolutely no response from the public they actually threw stones at the COS and the team said to go away again now the doctor came to me and report and say we can't do anything about it I said shouldn't try another time no he said they're absolutely stopping we can't do well I said let's go over the phone so we did that there was nobody at eight o'clock regularly the men came looking around to call us they said down in the village square very morose they didn't say anything we started showing them film that started smiling and all of a sudden I saw around behind the stalls that the women for peeping out to now the village headmen had told me we never allowed women fall to come to the village square but all of a Sufi they gradually came you know and it's spite of the opposition from the men thought they simply came and sat down in front of the screen. When we showed about two three films I can tell you that these people a lot of heartily laughed and the village headmen came spontaneously and said This is the first time in the history of this witness that women and men have been together in the and laughing heartily as if they had no glory whatsoever. And when we drove away they were shouting the village headmen came again to this never happened before in the history of this. After we finished up which we shot a New Delhi and then either lent till Burma Rangle where we did the malaria programme and the child the maternal welfare. To begin with the malaria program is just phenomenal on the rice paddies where people were being laid low like flies you know they were clearing up all the malarial patches. We'll see what happens to that there's a lot of fertile ground you know that can't be cultivated because people can't live there on account of being ill the minute they do away with the malaria and most of these places they'll have that much more land to be able to debate the provide food for themselves. This is a new kind of year a war against disease poverty ignorance and this is a new kind of gun one that's free not bullets but D.D.T. to kill the mosquitoes that carry malaria the disease that every year leaves no three hundred million people. And there's a new kind of war correspondent comes Danny T. recording on film this battle against the killers that take so many young lives that we are trying to do things as in this child and maternal welfare center in Rangoon. All children look at that one just like a skeleton. DOCTOR What happens in this part of the clinic. A woman gets pregnant and she comes to the center the first place she comes to is this please. Examine how. And she comes on here. And why she's making the public health class give her like Jack on how to feed them during her pregnancy. Yeah I'm just I'm a big. Maybe and I'm an impolite just as the baby in front of everybody you know that is the question is baby I have ever seen in my life. I think that his doing more good to more people as he is now than he would if he had taken up on the doctoring his word gives more people more pleasure or a. Lot more money. Than I love I hope you know that as ever they get that out every day of my deputy in the. Bathroom. If I had ten million rupees to get cracking on I would get every child said the proper We give them all they need in the way of milk and that to me from the that they were clothed the proper way that they were housed properly. Anyway after burner we went to Thailand where we did the yards program they've been having spectacular success with that. Well that's in the film we had a rather dramatic thing happen we had one of our boys go ahead and photograph a couple of kids that had yards they had the. In lesions it's a crippling and maiming disease and a great deal of the population suffers from it anyway on this particular fantasy this little boy with these great big open so that kind of. Make a little bit ill in the first look at it they gave him a couple shots of penicillin and two weeks later we got there the boy baffled before and after section got there a couple weeks later and the boy was completely cured completely the two shots of penicillin. Name sounds like a bell ringing bonking he is seven years old and as we see him now in this pile and then age sixty kilometers from Bangkok it is hard to believe that only a short time ago he was a very sad looking victim off your. No one was touched him except the doctor. Well you know as in this area most of the cases are in Indonesia probably eighty percent of them and most of the remainder are in Thailand where we're talking now in India they share a lone examining about thirty thousand cases a day and it needs to be remembered that this work is being done almost entirely by indignations and almost entirely by technicians with only a very few doctors supervising the job this has to be done because there's only one doctor to about one hundred thousand people and most of them are in the city and the R.'s are in the country. The deep scary UN medical teams everywhere but sometimes they get stuck on the back row. Like what happened to Danny thing. Only in this case Mr Danny made a movie off it. But you know it was a long. Life but. Then. Oh oh oh. Yeah. Oh yeah it sucks oh I go that fast. I don't know what and I don't know. Bengal's manager Mr and your car is a very busy man on the trip but never talk busy to appreciate an interesting sidelight while they make movies Arjuna is there in action. A lovely shot of the man with a face framed against the mask. Is prices just unbelievable. Have a strange mixture of problems with the very shy and then secondly once they move away and direct them to they turn around again mass right into the camera. So I can see where Danny undertook Karam in the facing a real gun today we have to do it as we see it you know we can stage it with much the same sense as you would stage a scene in the film so we actually have to shoot it we see. Once we get these establishing shots down any I think what will happen is that we'll be able to go in and get the expressions and the close actually seeing get the actual you know kind of the things that are the same always one head close up then you can by shooting a lot of film you know. Then you pays a visit here give one of the doctors a wonderful idea he says that to speed their progress and to speak your They're happy Corp of the villagers are U.N. medical team should have among the staff a resident comedienne even though I had. A verdict. Oh oh. Oh. LOL are you will you. The show. We went from Thailand to Hong Kong where I did the UNICEF equipment in hospitals. In Hong Kong we went to Tokyo. We did a film on some kids who were brought up and also in a just that were run by UNICEF or on the supervision of UNICEF in Tokyo we went to Korea. The Korea we did some. Emergency milk feeding. Quite a contrast we were there a couple years ago during the war. And I had taken some of my own from a visit of children running a half to death and completely homeless. And to see these kids who have been under the care UNICEF that I was there for years is a remarkable change indeed they look healthy they look vital they look vibrant they look like they will grow up to be Adams and most of the children you do see in these countries don't even look like they're Levasseur by the next six months. So I started a new year and made a complete circle around the world by way. Of Mississippi what I've mentioned here is actually just a small fraction of what UNICEF is doing for the children all over the world as it has been my personal good fortune to see firsthand part of the UNICEF true story that includes over ninety million children tested and thirty six million and Nucky laid against tuberculosis over two and a half billion cupfuls of milk for children and mothers over fourteen million mothers and children protected against malaria to mention just a few items the whole thing was very dramatic the trip from its inception and from the minute I said an Asiatic So I the whole idea of that trip the whole idea of this so I'm going to station is very dramatic it was very touching as far as I was concerned I'm delighted I didn't. To get this message of UNICEF to the people of the world I think it's a very very important one. And now. The friends of children or wherever you may be. Thanks so much for receiving my report respectfully submitted Danny Kaye. This has been a firsthand account of the worldwide field operations of UNICEF the United Nations Children's Fund as seen by UNICEF ambassador Adlard Danny Kaye UNICEF wishes to express appreciation to Mr K.'s and the Paramount Pictures for producing and distributing the special UNICEF film assignment children. Thanks also go to the entire motion picture industry and all those throughout the world who lent their assistance on behalf of the world's children. Actuality radio recordings heard during the program were made on the journey by Rene cuts both of the B.B.C.. This broadcast was produced by Jeff sparks of United Nations radio.