Soundcheck
Danny Brown: A Motor City Hip-Hop Original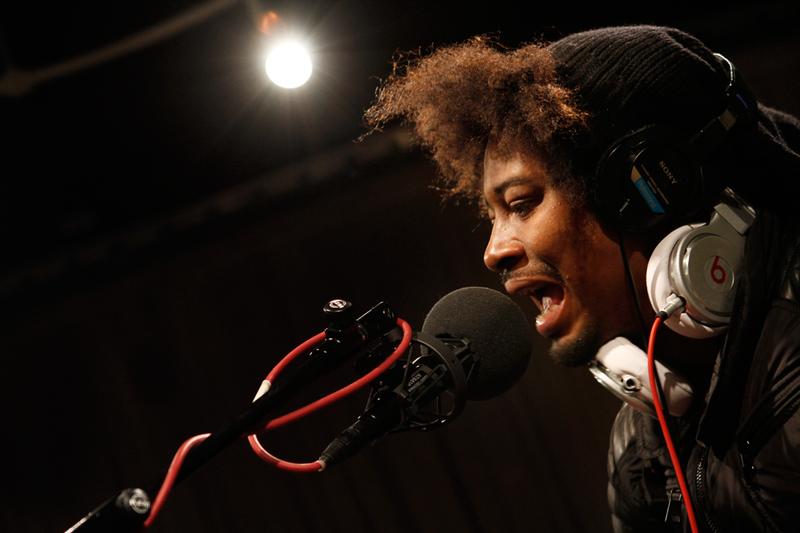 Even in a crowded field of hip-hop megastars, there's no denying Danny Brown is a straight-up original. Recording since his teens, the dynamic young rapper burst out of Detroit's underground hip-hop scene -- first with his self-released 2010 record The Hybrid, and again with the highly-praised XXX in 2011, an album that pushed Brown to hip-hop's top shelf thanks to his skillfully concise lyrical voice, a hypnotic flow, and sharp humor. 
Now with Old -- his just-released new record named because people kept asking for "that old Danny Brown" sound -- Brown continues his upward trajectory. His songs are raw and grimy, detailing painful childhood memories, family struggle, and jail time. But with songs like "Clean Up" and "25 Bucks," -- which features melodic hooks from Purity Ring -- there's richer electronic music production sense. Then there's "Dip," a hard banger punctuated with choppy beats, gyrating synths, and heavy rumbling bass.
Simply put, Old is another bold statement proving why Danny Brown is one of the most exciting emerging stars of hip-hop: There's no one out there who sounds quite like him.
Interview Highlights:
Danny Brown, on his hometown of Detroit:
Detroit is in me, in general. As much as I want to escape it, I'm still Detroit to the heart, to the fullest. That's the scenery, that's the environment, that's where everything takes place in this album.
On where he finds inspiration for his songs:
All of my songs, I'm writing about myself. And talking about what I've been through and where I'm trying to go in life. But then I also make songs where I'm just trying to have fun. Sometimes I just want to flex my lyrical muscle on somebody, and sometimes I would like to see a girl dance to some of my music. It all plays its part… When I make these albums, I do want to make them like a time capsule for that point in my life, but I still want to have fun too.

 
On his latest album, Old:
As many projects as I've made and put out for free, I looked at this [album] like it was my first one. All those were demos, or just me making songs in the basement. This was my first time where I knew there would be a lot of people hearing this album that probably never heard of me.
On whether it's difficult to censor his lyrics while performing on the radio:
I like to cuss…. There's nothing worse than going to Best Buy and buying a CD and buying the clean version by mistake. It makes me want to slip in the bathtub on purpose or something.
On participating in the new interactive "Like A Rolling Stone" video:
Bob Dylan… he was like the first guy rapping, to me. The way I took [Like A Rolling Stone], it was like, he's rapping! He's not really singing, you know? To me, his songs… you can hear it, you can take it for what it is… but there's nothing like reading it. When I read it, it was like, I get it. He's a real songwriter's songwriter.
For more photos, visit Soundcheck's Tumblr page.
Set List:
"Dope Song"
"Lonely"
"Dip"