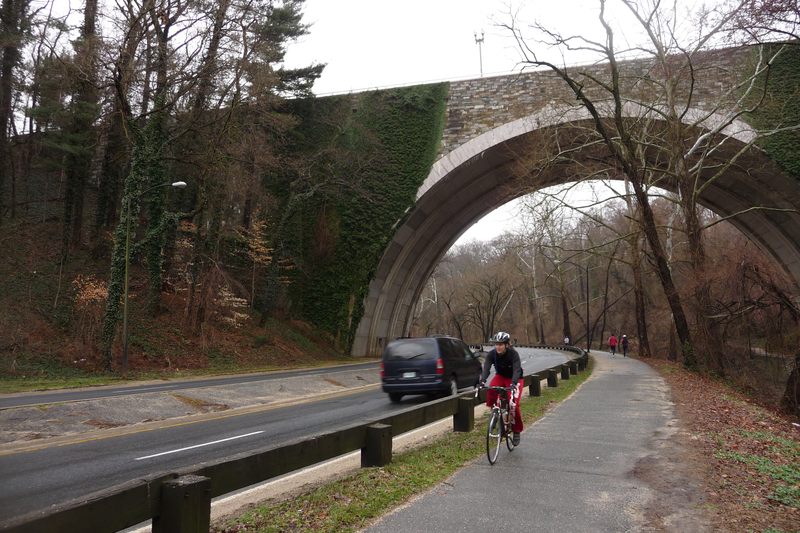 More than 2,200 bicycling enthusiasts and advocates have signed a petition designed to pressure the National Park Service and District Department of Transportation to finish repaving and upgrading the popular but crumbling Rock Creek Park walking and biking trail.
The last public meeting on the trail took place more than two years ago—but the final environmental approvals still are pending, according to the Washington Area Bicyclist Association, the advocacy group behind the petition.
"It's in such bad condition that people have stopped using it. The trees have rooted up the asphalt. It floods when it rains. The bridges are in terrible condition, and there is still the issue of access around the zoo," said WABA's Greg Billing.
"We have been waiting since December 2011 for the final environmental documents to come out and our requests for meetings have been postponed. There has been no public progress on this project in more than two years," he added.
Bicycling advocates will be pleased to learn there is some progress to report, but they will have to be patient while waiting for work on the trail to be finished.
"The current status is a [environmental] decision will be issued in the near future, this calendar year. And DDOT has budgeted for a trail reconstruction in fiscal year 2015," said Rock Creek Park spokeswoman Rebecca Karcher of the National Park Service.
Karcher said although the agency realized the trail needed to be repaired ten years ago, funding for a final environmental assessment only became available in 2009. Plans to widen the trail from eight to ten feet resulted in a long environmental impact review.
At the District Department of Transportation, planner Jim Sebastian said construction could take about a year to complete and may require temporarily closing segments of Rock Creek Trail during the work.
"These things take time, everything from environmental compliance to working out all the design issues," he said.
Bicyclists are used to waiting on drawn out processes to complete seemingly simple projects. Land issues, environmental reviews, and the crawl of multiple bureaucracies have delayed completion of the Metropolitan Branch Trail for years.
"Now that the issue of widening the trail has been solved, we still have the issue of finishing all the environmental planning work. That is not done and we can't move on to any design or construction of the [Rock Creek Park] trail until the final environmental documents are finished," Billing said.
Follow Martin Di Caro on Twitter.