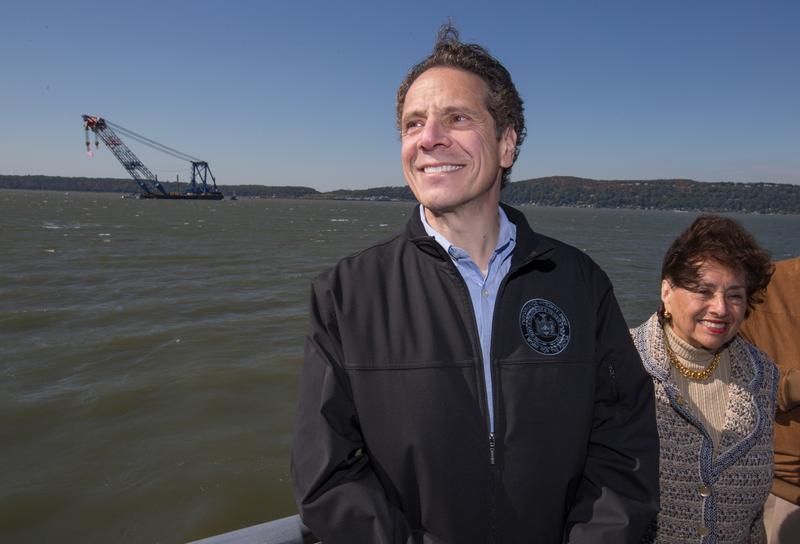 Governor Cuomo is characterizing a yawning gap in the MTA's five-year capital project plan by dismissing it as part of the budgetary process.
Some background: the transit agency's proposed 2015-2019 capital budget is $32 billion — $15 billion more than it has identified funding for. Neither MTA nor state officials are shedding much light on how to close that shortfall; at a City Council hearing Monday, City Council member Mark Weprin called the gap "the elephant sitting in the state capital right now."
And Cuomo didn't provide much clarity on Tuesday. When asked about it by NY1's Zach Fink, he said it's all part of the back-and-forth.
"They propose a budget," he said of the MTA, "and first we have to look at what the proposed budget is, what are the comments on their proposed budget, then we'll come up with an accepted budget. Once we come up with an accepted budget, then it's how do you fund it, federal resources, etc."
Transit advocates and lawmakers have long sought to establish another stable source of funding for the MTA. (Remember then-Mayor Michael Bloomberg's failed congestion pricing plan?) But when pressed on Tuesday by Capital New York's Jimmy Vielkind, Cuomo — who is up for re-election next month — smacked that idea down. "We have a phenomenal surplus," he said. "The last thing we need to be looking at, at this point, is revenue enhancements. Because we have revenue."
The reporter pointed out that the surplus was $4 billion, and the MTA's budget gap was $15 billion.
"The first budget from every agency always calls for $15 billion extra," said Cuomo. "That's part of the dance that we go through. That's why I say it's the initial, proposed budget. The DOT budget is going to ask for $15 billion. The second floor budget is going to ask for $15 billion. That's just how it works. We'll then look at that budget and go through it, and we'll come up with a realistic number. But we have a very real $4 billion surplus, and we have a 2 percent spending cap that I still follow. So that's the discipline that's in the process."
No tolls? No new revenue?
"No!" said Cuomo. "There's no need for it. We have a surplus. Look, we had a $10 billion deficit, and we didn't do tolls." He teasingly accused NY1's Zach Fink of swallowing the MTA's capital plan without asking tough questions about it. "He didn't do his job and ask the question 'What here do you really need, and isn't this just the bloated initial first request that you send to the second floor?'"
The MTA declined to comment on the governor's remarks.
With reporting from Karen Rouse