Cuomo's Friend and Former Aide Charged With Corruption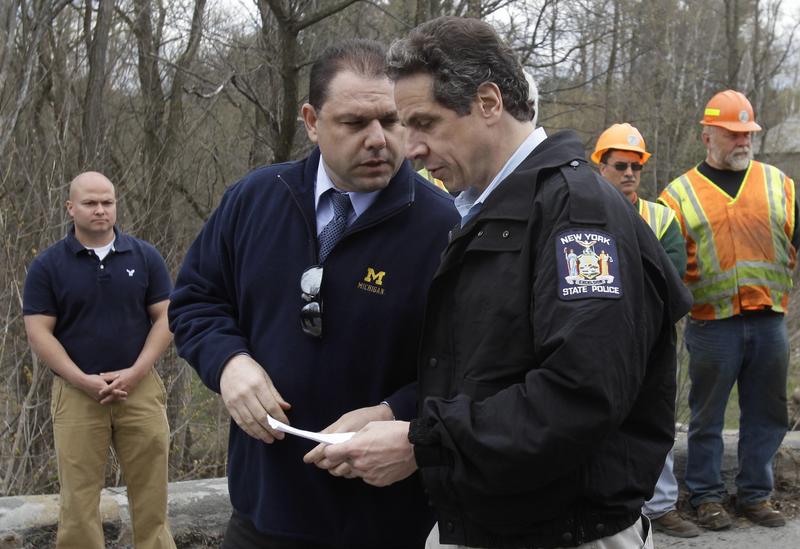 One of Governor Andrew Cuomo's closest confidantes who had served as a top aide until early this year is facing federal corruption charges. Joseph Percoco is one of eight people accused of bribery and corruption in a sweeping 79-page complaint unsealed today in federal court in the Southern District of New York.
A ninth man, Todd Howe, a lobbyist who also once served as an advisor to Cuomo, already pleaded guilty and is cooperating with prosecutors.
U.S. Attorney Preet Bharara said the charges of corruption against those inside and outside government having to do with multi-million contracts reveal systemic problems in state government.
"This is big time stuff and it goes to the core of how I think state government operates and it's distressing and disconcerting," Bharara said at a press conference Thursday to announce the charges.
And he almost dared the defendants to fight the case.
"I really do hope that there's a trial in this case so that all New Yorkers can see in gory detail what their state government has been up to," Bharara said.
Among the allegations, Percoco allegedly shook down an energy company, Competitive Power Ventures and a Syracuse developer called COR Development for more than $300,000 over four years. That includes a sham job for Percoco's wife, which Bharara described as "low-show." She worked as little as two to three hours a month for an annual salary of $90,000, according to the complaint.
Howe acted as a middle-man. The two men borrowed a phrase from the hit mob show "The Sopranos," calling money ziti. That led to emails such as one where Howe wrote that Percoco needed to hold an official's feet to the fire "to keep the ziti flowing."
In exchange, Percoco allegedly helped with a variety of so-called "official acts" — like getting the state to drop a costly union-friendly requirement on one of the developer's projects, and helping the energy company get low-cost emissions credits.
In a second and related scheme, two developers — COR Development and LPCiminelli — allegedly paid hundreds of thousands of dollars in bribes to Howe. In exchange, Howe and Alain Kaloyeros, president of the SUNY Polytechnic Institute, allegedly rigged the bidding on hundreds of millions of dollars in contracts awarded as part of the Buffalo Billion initiative to revitalize western New York.
Kaloyeros and executives of Competitive Power Ventures, COR Development and LPCiminelli are also facing federal charges. In a separate but related case, State Attorney General Eric Schneiderman also announced Thursday that he's charging Kaloyeros and the president of Columbia Development in state court with similar alleged bid-rigging on a project in Albany.  
At a press conference announcing the federal charges, Adam Cohen, the special agent in charge of the FBI's Buffalo Office, spoke in unusually personal terms talking about his New York roots and the economic hardships parts of the state have faced.
"The new construction and its promises of increased economic development and jobs have now been tainted by the acts of people who held positions of power," Cohen said.
Percoco's attorney, Barry A. Bohrer, released a statement defending his client.
"It is an overreach of classic proportions. Mr. Percoco performed services honestly and within the bounds of the law at all times. He will enter a plea of not guilty because he is not guilty. We are confident that a jury that fairly considers the facts and correctly applies the law will find him not guilty."
He also cited a recent Supreme Court decision to vacate the conviction of former-Virginia governor Bob McDonnell. In that decision the court found that there has to be a clear official action taken — more than just setting up a meeting or making a phone call — for an official's actions to be criminal.
"This prosecution, based on information provided by someone of utterly unreliable credibility, seeks to criminalize conduct that the Supreme Court of the United States recently found to be not unlawful," Bohrer wrote.
Bharara said the complaint spells out specific, concrete actions that are outside the scope of what the Supreme Court narrowed.
Cuomo, in a statement, said he was saddened and disappointed by the case.