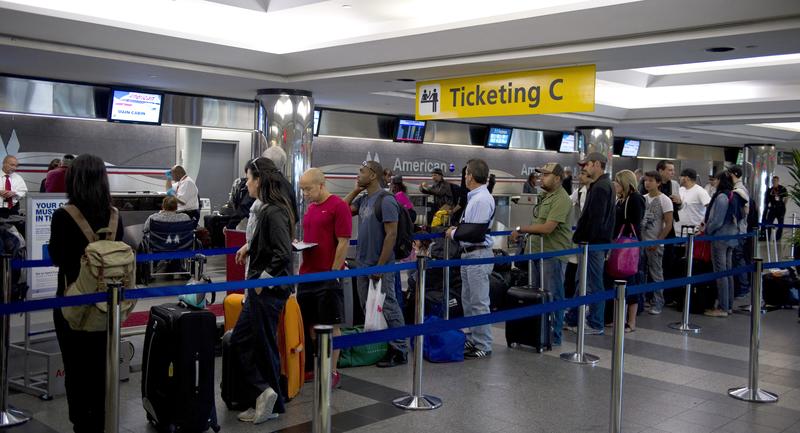 It's no secret that JFK and LaGuardia Airports are limping along, despite delivering some 50 million people a year to the city. Even the the Port Authority, which operates both airports, concedes they both desperately need to be modernized. In 2012, the Port called LaGuardia's main terminal "functionally inefficient" and said some of its utilities infrastructure dates back to the "original 1939 Works Projects Administration construction."
An upgrade for both is on the books, but work isn't going as quickly as New York Gov. Cuomo would like. So this week in his State of the State address, Cuomo signaled he was ready to give the city's airports the Tappan Zee Bridge treatment—meaning he was throwing his political weight behind expeditiously fixing them up.
"We need to modernize JFK and LaGuardia," Cuomo said. "We have talked about it for too long. We will assume management responsibility from the Port Authority for construction at JFK and LaGuardia airports. We will do what we did with the Tappan Zee Bridge; we are going to step in (and) stop talking about it."
This is a major sea change for an agency that has had control of the region's airports since 1948. (And—even though the Port Authority's jurisdiction was originally limited to a roughly 25-mile radius from the Statue of Liberty—its reach now extends north to the Newburgh and Atlantic City airports.)
According to administration officials, Cuomo will appoint a committee, composed of outside experts and some Port staffers, that will report directly to the governor, bypassing the usual Port bureaucracy. And even though the budget to modernize the airports will still come from the Port Authority's coffers, the committee will oversee the work. 
The news has been hailed in the transportation and business communities with relief.
LaGuardia has been "treated with neglect for 30 to 40 years," said Mitchell Moss, who runs New York University's Rudin Transportation Center. "Now the governor of New York has said, 'these are important to me, I'm going to have my people monitoring and managing this,' and I think this is putting Port Authority staff on high alert."
Moss said in the past, New York's previous governors had allowed New Jersey to "have a very prominent role. And now the governor of New York is recognizing we can't let New Jersey be responsible for New York airports."
Cuomo staffers say the timing of the governor's plan is coincidental, and that the Port had signed off before this week's revelations that aides to New Jersey Gov. Christie had used their positions to turn the George Washington Bridge—a Port Authority asset—into an instrument of political retribution.
While the exact timeline for the renovations of JFK and LaGuardia is unclear—and unlikely to differ all that much from the Port's current plans—a Cuomo administration official said "the goal is full modernization."
How did the governor get the Port to take its hands off the reins, even just a little? The airports, after all, provide it with a big piece of its revenue.
A source told TN that Port Authority executive director Pat Foye and key New York appointees to the Port were on board with the plan.
The Port Authority confirmed the new relationship was in place in an emailed statement:
"JFK and LaGuardia Airports are unrivaled as regional economic engines and job creators; however as Governor Cuomo noted in his State of the State speech, these aging facilities are in dire need of modernization and redevelopment. We welcome the Governor's leadership and we are confident that his efforts will expedite major projects such as a new Central Terminal Building at LaGuardia Airport and ensure that New York's airports meet the demands of 21st century air travel."