Cuomo Mixes Progressive Push With Focus on Middle Class in Annual Address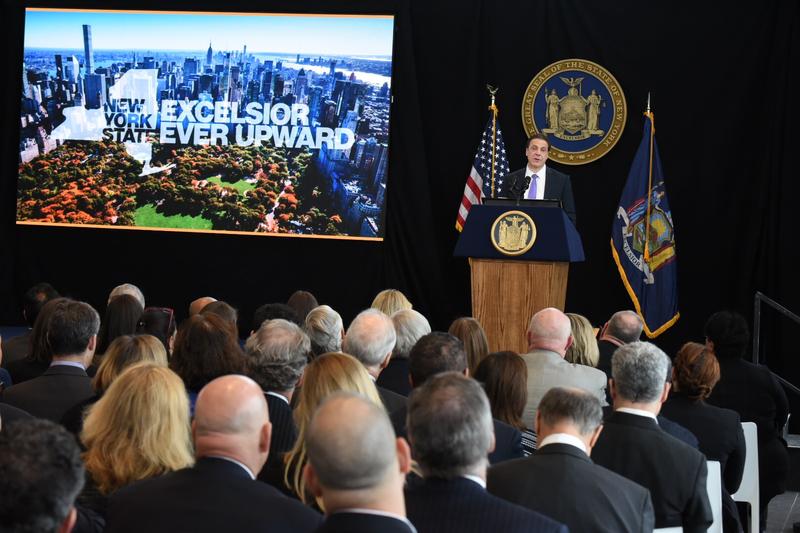 With a striking Manhattan skyline to his left, New York State Governor Andrew Cuomo delivered his first in series of State of the State speeches on Monday from the 64th floor of One World Trade Center.
In the nearly hour-long address, Cuomo sought to burnish his progressive bona fides to an audience of New York City's top elected officials and leaders. Framing his remarks in response to the presidential election, Cuomo offered a combination of rhetoric and policy.
"We all heard the roar on Election Day. And we must respond," said Cuomo, never mentioning the president-elect by name.
That response, Cuomo said, needs to address the recovery that's not being felt by the middle class, without losing sight of progressive ideals.
"We must follow two paths forward. First, to admit, acknowledge and address the very real economic problems of our struggling middle class and second, to prevent misdirected anger from doing damage to our country's core values," said Cuomo.
His speech included more than a dozen proposals — from major infrastructure projects to policy changes, some of which the administration has been pushing out for some time. But it was the first time the governor sought to knit together his view of social progress and support for the economic growth of the middle class.
"New York knows that our progressive principles of acceptance and diversity are not the enemy of our middle class and we know that the middle class success is not the enemy of our progressive beliefs," said Cuomo. He added, "In fact, it was the progressive policies that created the nation's middle class in the first place. President Roosevelt put people back to work, while he regulated banks, establishing a minimum wage, creating labor rights that built labor unions, social security, and building infrastructure, all at the same time."
He proposed a Middle Class Economic Recovery Act made up of plans for job growth and infrastructure, education and lower taxes. To seed the state's job growth, he talked about improving transit and free tuition at City and State Universities for middle class families.
He offered economic proposals for New York City, like a $650 million initiative to help fuel the new life sciences economy that includes partnerships with companies like Johnson and Johnson and the Genome Center, money for the Kingsbridge Armory in the Bronx, and permanent toll reductions for residents of Staten Island.
The governor also wants an increase in the child care tax credit for middle class families.
Cuomo said the state had reached an agreement to shut down Indian Point Nuclear Power Plant in 4 years, "14 years ahead of schedule — at no cost to the state."
"This agreement eliminates a major risk and provides welcome relief. New Yorkers can sleep a little better," said Cuomo.
The details for how Cuomo will pay for these plans are scant because the governor hasn't released his budget yet. And it's not clear how his ideas will be welcomed by the legislature. Senate Democrats are a fractured coalition that Cuomo has not been able to unite. He's also dealing with Republicans who feel alienated over the lack of a special session that could have brought them a pay raise.
"We will balance our budget and pay for our priorities just as we have for the last 6 years," said Dani Lever, the governor's press secretary.
Cuomo also made electoral reform a priority in his speech. He called for early voting, as well as automatic and same-day voter registration. Those were among the proposals in a report from the state Attorney General's office late last year. The governor made passing mention of some of these electoral reforms in last year's speech. Several have cleared the Assembly but are often stymied by the Republican-controlled Senate.
Schneiderman said he's pleased the governor is making electoral reform a priority.
"The lines, the lack of early voting, we're decades behind a modern voting system in New York and it's one of our top priorities for the year," said Schneiderman after the speech.
There were no Republican lawmakers at Cuomo's speech in Manhattan on Monday. The legislature was in session in Albany at the time. But state Republican Chairman Ed Cox said he's traveling to all of Cuomo's speeches to "protest" the governor. He said he was objecting to the governor's decision not to deliver his annual speech directly to state lawmakers in Albany. But Cox said even if the governor had, some lawmakers would have boycotted the speech anyway.
Cox said Cuomo's decision to unveil his state of the state speech in a series of messages across the state means he's positioning himself for his next run for governor in 2018 or president in 2020.
Mayor de Blasio offered his own cautious assessment of the Monday morning speech. While he praised some of the items the governor was proposing, he reserved making a final judgment until he'd seen all the details.
"I like some things I hear for sure," said de Blasio, "but I got to see the details."