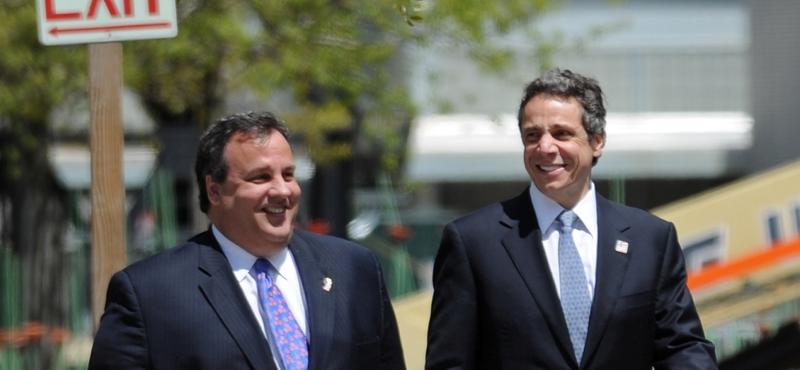 For as long as anyone can remember the Port Authority of New York and New Jersey has worked like this: Two governors divide up the board and staff appointments, and the contracts that flow from that. No one blows the whistle on anyone else, because that might jeopardize one's own spoils.
On Monday, the whistle blew as long and loud as a foghorn by the shoals of the Hudson River.
The setting was a hearing room in Trenton, where State Assembly member John Wisniewksi decided to exercise a rare authority – using his subpoena power to summon officials to explain why three lanes onto the George Washington Bridge had been abruptly closed in September, causing a week's worth of traffic and sending the Port Authority's Executive Director, Cuomo appointee Pat Foye, into a rage.
Back in September, Foye charged in a heated email that the closures were made without proper public notice, in possible violation of the law, and, in fact, without his knowledge. He immediately reversed the closures.
But Democrats were swift to raise the possibility the lane closures had been made as political retribution against the Mayor of Fort Lee, a Democrat, who, unlike some Democrats, had not endorsed Christie for reelection. There was a lot of whispering during Christie's re-election campaign that he had a "naughty and nice list" but no one had been able to prove it. Now, there was talk, there might be some evidence.
The closures, according to some terrific reporting by the Wall Street Journal, had been ordered by David Wildstein, second in command on the New Jersey side to Bill Baroni, the Port Authority Deputy Executive Director.
Wildstein was once a Mayor himself, of Livingston, NJ.  But he was rather notorious for something else – for years he blogged under the non de plume of Wally Edge, aka NJ Politicker, dishing dirt about state politicians. Keeping secrets, as we learned Monday, was a special trait of his.
First up to testify was Cedrick Fulton, the Director of Tunnels, Bridges and Terminals who said he had received a call from Wildstein, whom everyone in the Port Authority understands is just a leap frog hop down from Governor Christie himself. In fact, the two were high school buddies.
Wildstein called him on a Friday, Fulton said, to inform him that the lanes would be closed starting on a Monday. Had he told Foye and officials in Fort Lee? "His response was, don't worry about that. We will take care of that."
In fact, Wildstein did not take care of that. He did just the opposite, according to sworn testimony. Robert Durando, the General Manager of the George Washington Bridge, a 35-year employee of the Port Authority, put it like this: "Mr. Wildstein instructed me 'do not speak to anyone in Fort Lee.'"
Wildstein and Baroni, it turned out, hid the entire operation from Foye, even though it was quite obvious to Fulton and the whole bridge crew that it would be impossible to close three lanes without people noticing. A lot of people noticed. 
Now, when that hit the media the Port Authority's press office (which is controlled by Christie) spun it thus: there had been a traffic study. Yes! That's right, Christie appointee and Deputy Director Baroni told lawmakers a few weeks back, there was a traffic study. 
On Monday, it became clear there was no traffic study, not one of the sort anyone had seen ever before. 
"Do you agree that using lane closures for political purposes is the wrong thing to do?" Foye was asked. "The use of any of our facilities other than in the public interest is improper," Foye said, adding that the closures broke laws and "thankfully" did not result in the loss of life from an emergency vehicle caught in traffic. 
When asked about all this last week, Christie himself didn't have anything more to offer than a flippant joke "I worked the cones actually," he told NJPR's Matt Katz when asked about knowledge of his appointees closing the bridge lanes.  "Unbeknownst to anyone, I was actually the guy out there, in overalls and a hat. You are not really serious with that question."
But yesterday's 6 hour proceedings were deadly serious, with Wisniewski threatening to take the Port Authority to court to get documents and to call more witnesses under oath.
For his part, as enraged as Foye was, he testified Monday, there was nothing he could do. Wildstein, who resigned Friday for being a "distraction,"gets to stay on for several more weeks in what Wisniewski called a "no show job."
"If he were a New York appointee, would you have called him into your office and said 'why'd you do this?'" Wisniewski asked.
Foye: Yes and shortly thereafter fired him.
Wisniewski: But he was a New Jersey appointee.
Foye: Yessir.
Wisniewski: And so you did not follow that course.
Meanwhile, for employees like Fulton and Durando, who together have more than half a century's worth of service in the Port Authority, all of this battling between appointees of New York and New Jersey is more than worrisome. 
"Your testimony tells me there is a culture of fear – is there a culture of fear?" Wisniewski asked Durando. 
There was a very long pause. Ten seconds. An eternity.  
"I think your answer speaks for itself."