SchoolBook
CUNY Protesters Take Their Budget Fight to the Governor's Door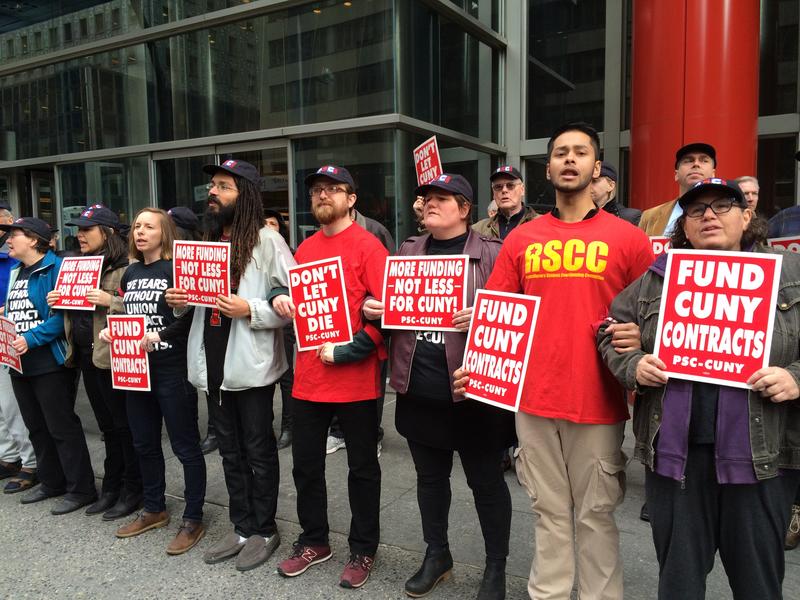 More than 40 people were arrested outside Gov. Cuomo's Manhattan office on Thursday, as part of a larger protest of hundreds of faculty, staff members and students calling for increased funding for the City University of New York. 
Protesters said funding for CUNY has stagnated over the years, even while the state budget grew. They point to a decline in per pupil spending in recent years, while student tuition increased. Faculty members and professional staff have been working without raises and a new contract. Their old contract expired in 2010.  
"Over the last many years, the state has steadily disinvested in CUNY, and that means disinvesting in the chances for a good life for the people for whom CUNY represents that one chance," said Barbara Bowen, president of the Professional Staff Congress, the union that represents faculty and professional staff.
Anger around funding to CUNY kicked up in January after Cuomo proposed to cut $485 million in state aid to the university system in his budget, wanting instead to shift those costs to New York City. 
In the ever-opaque process of budget negotiations, the governor's office has since said that CUNY would receive its entire share of state aid, at $1.6 billion, through streamlining overhead and administrative costs. The city would not have to shoulder any additional burden.
In response to the protest Thursday, a spokeswoman for the governor, Dani Lever, said protesters were ignoring reality.
"It is appalling that the faculty union and for-hire political advocacy groups are knowingly misleading their members and the public to score cheap political points," said Lever in a statement. 
She added, "Rather than using unfounded and untruthful scare tactics to lie to the public, they should support the governor's fight to direct more funding to students instead of administrative costs."
But for protesters, the issue at hand was not just the budget due April 1. They contend that CUNY is starved of resources and has not recovered from a decline in funds after the 2008 recession.
So, at about 5:00 p.m., 40 protesters linked arms in front of the governor's office at 633 Third Avenue. They laid down on the ground to block entry to the building, and were subsequently arrested and charged with disorderly conduct.
The governor was in Albany.