CUNY Faculty to Begin Voting on Possible Strike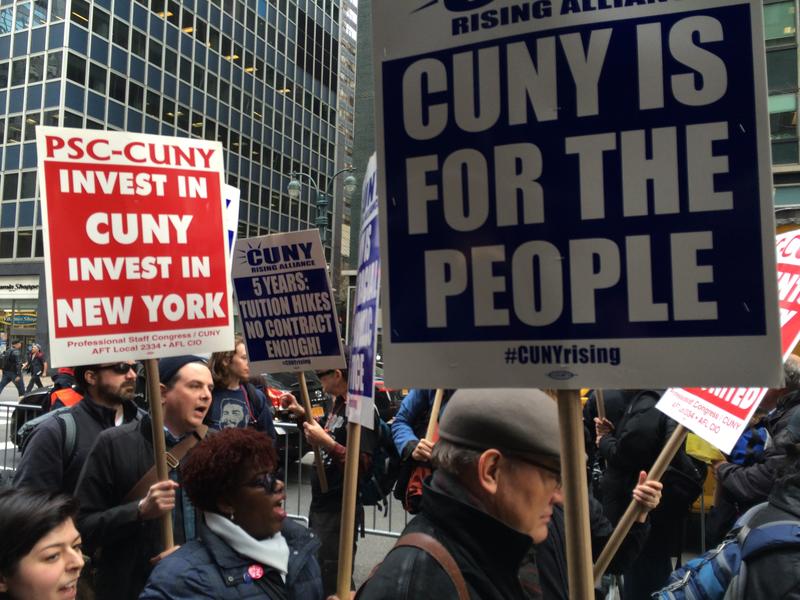 After more than six years without a raise, City University of New York faculty will start voting Monday on whether to authorize a strike.
The Professional Staff Congress/CUNY represents 25,000 faculty and staff. Its members have been working without a contract since 2010. Late last year, the system offered what amounted to a six percent raise over six years.
But the union said that wouldn't keep pace with the city's skyrocketing cost of living.
"We cannot be expected to go on subsidizing the university and the state by taking salaries that every year lose value relative to inflation," said Barbara Bowen, the union's president and an English professor at Queens College and the Graduate Center.
Bowen said the system relies heavily on adjunct professors to teach courses. These instructors aren't on salary and are instead paid by the course.
"They're living on $27,000-$26,000 a year in New York City. Some of them are people with PhD's. That's a really exploitative situation," she said.
Union members can vote through May 11. A 'yes' vote doesn't mean an automatic strike. Instead, it authorizes the union to call for a walk-out if contract talks fail. Bowen said there won't be a strike before the end of the semester.
University officials have said they hope the state and city will provide more funds to solve the labor dispute.
"Both sides are meeting and actively participating in an ongoing mediation process. The University is continuing to work with state and city officials to secure a fair and equitable contract settlement," according to a statement CUNY spokesman Michael Arena provided to WNYC.
After the state budget was approved last month, CUNY Chancellor James Milliken released a statement that said he was concerned the spending plan provided no funding to settle the six-year-old contract dispute. But he noted the state budget director indicated more funding would be available when there was a contract deal.
"We are hopeful we can reach a fair settlement soon and that the state and city will provide funding to resolve these long outstanding contracts," Milliken said.
New York law effectively makes it illegal for state public employees to strike.  A transit union president served three days in jail in 2006 after leading city bus and subway workers in a strike.