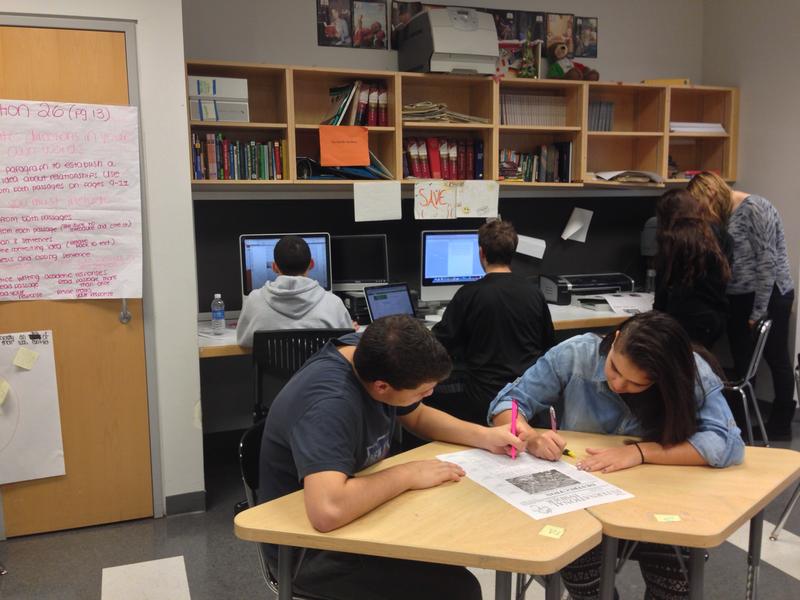 The city's high school newspapers tackled some big topics this fall. From failed Regents grading to the city's evaluation system, student reporters didn't shy away from uncovering systematic failures that left them wondering if the adults were alright.
Scandals and Protests
The Curtis Log reported on a leak of answers for the Measure of Learning exam, a requirement for all twelfth graders. Intrepid reporters Dinah Nahid and Caroline Gottlieb used an application called Wayback Machine to find the rubric, scoring guide and sample essays for the two-day baseline assessment used to evaluate students and teachers posted on Bridges for Learning Network. After a student found the answer earlier in the fall, by mid-November the leaks were removed from the website. Department of Education Deputy Network Leader Joan Mosely didn't respond to the paper's request for comments.
Sean Cogan, an English teacher at Curtis High School, told the paper, "It must be invalidated, if its not, the city has no credibility, and the adverse scores the following year can cause lawsuits."
Benjamin N. Cardozo High School supporters took to the streets with a demonstration against budget cuts that were based on student enrollment being the lowest in 10 years. The Verdict reported that hundreds of students showed for the protest which "received much support from the school faculty, local politicians and media." The budget reduction led to teachers, Advance Placement classes and electives being cut. In addition, the paper reported, the school had to pay the DOE back $400,000 after "successive years of under enrollment."
Students at Midwood High School are still reeling from last year's English Regents grading fiasco, Amy Donovan reported in Argus. After McGraw-Hill won a $9.6 million contract from the city to develop a new grading system that did not have teachers grading their own students, tests pieces were lost and grades were incorrectly low. The grading system has since been revised but that doesn't help students with their college application process.
"I have to send in a statement saying I didn't fail because I didn't know the answers but because they made a mistake," junior Karina Yushchenko told Donovan.
The Stuyvesant Spectator is considering filing a request under the Freedom of Information Law after being denied access to the budgets of the school and of the student union in a call for transparency.
Further exercising their Constitutional rights, two Stuyvesant High School students wrote about why they plan to turn in blank English Language Arts exams, which is part of the city's new teacher evaluation.
"We do so because the Danielson Framework, though well-intentioned, is fundamentally flawed in its execution. The consequence of a deliberation process with little transparency or input from key stakeholders (students and parents), the new evaluation system is arbitrary, confusing, and subjective," David Cahn and Jack Cahn wrote in an opinion piece.
Smoke and Eid
Ever changing school policies were made more clear thanks to cub reporters who took the time to explain why
….there is no locker use after 3rd period at Robert F. Kennedy Community High School (to clear hallway congestion)
….freshman are no longer required to take the PSAT at Townsend Harris High School (too stressful following the ELA Assessment)
….the student lounge at Frank McCourt High School is still closed (needed the space for new classes)
….6th and 7th graders granted a separate entrance at World Journalism Preparatory School (to ease double parking congestion in the front of the school).
Something that might be changing for the better are the academic ethics at Bard High School Early College. According to a survey in the Bardvark, 16 percent fewer students cheated - or admitted to cheating - this year compared to last.
Student opinion in the Argus took two paths on cultural issues: Saba Mehdi and Sophia Liao implore the DOE meal program to go Kosher and Halal while Daniel Gorchlik disagreed with mayor-elect Bill de Blasio's campaign promise to add the Muslim observance of Eid to the DOE calendar as a school holiday. An unsigned staff editorial in the Spectator was on de Blasio's side.
Security and Privacy
School newspapers reported no injuries from a burnt out light ballast caused by "smoke condition" on a second floor room at World Journalism and a student-instigated sixth floor bathroom fire at Brooklyn Tech. The fires had students thankful for regular drills that remind them how to evacuate the building quickly. 
The Survey reported on security breaches at Brooklyn Technical High School. Two breaks-in by the same man the week before school began led to $12,000 in missing equipment. Although the robber was convicted materials, including iPods, radios and computers, hadn't been returned by the time the article was published.
In a digital breach, hackers sent emails with song lyrics, profanities and fake announcements to parents and students in October, Daniel Brumer and Richawna Cassie reported. So while security at Brooklyn Tech may need some attention, the paper seems to believe in individual privacy: no mention of the school's most famous son, Dante de Blasio, son of mayor-elect, could be found in the paper.
Finally, principles and parents collided for No Shave November at Bronx High School of Science. Demetrios Stratis chronicled his razor protest in a five-part, 14-day series to "show that it is not physical appeal that matters, but it is the quality of a person's character and moral compass" that should come through in class portraits.
Alas, the parental force was too strong for Stratis. He was clean faced and suited on picture day.