Crowds Grow at Dominican Consulate, Amid Confusion Over Immigration Policies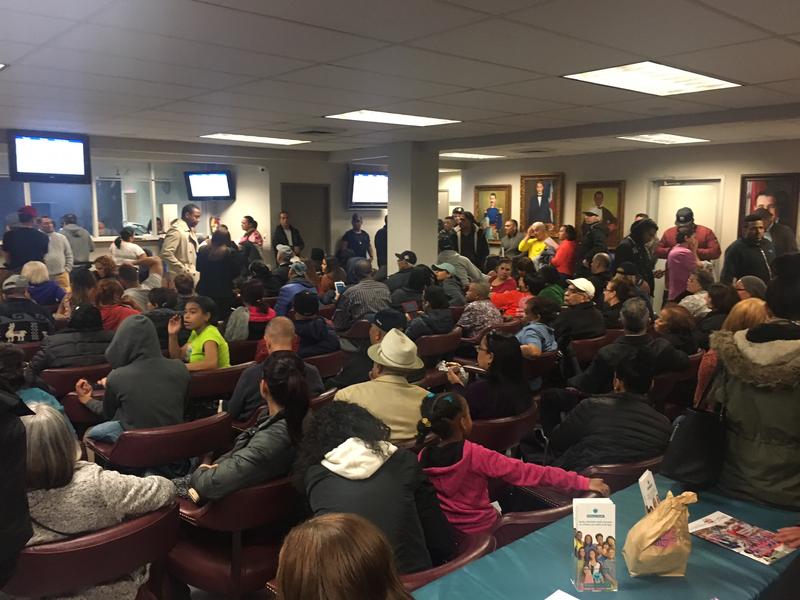 Lines at the Dominican consulate in Times Square have been long. Staff there say in average years, there's usually about 200 people a day. But in the past month, that's more than doubled. By mid-morning this week, hundreds of people crowded into the consulate in lines snaking through the hallways.
Patricia Sanchez from Washington Heights was waiting to get her Dominican I.D. She says she's not too worried, even though fear and confusion continue to grip many immigrant communities across the city as the Trump administration rolls out new policies. Still, she wanted to make sure her papers are in order. 
"I know my rights as a U.S. citizen, and even though I was born in the Dominican Republican, I'm a good citizen in the United States, so I don't think I will have any problems," she said. 
Getting papers in order is exactly what the staff at the consulate recommends. But there are still questions about the polices and what they mean for families. Rep. Adriano Espaillat, who represents New York's heavily-Dominican 13th district, said he's been hearing questions like, "What will happen to my kids if I get deported?" or "Will a minor infraction, like jumping a subway turnstile, get me in trouble now?"
Espaillat was born in the Dominican Republic, and these issues resonate with him.
"This will go down as probably one of the worst periods of our history, where fear was imposed to score political points, and where people are really afraid," he said. "There is an administration that's trying to change the course of what America is really about, which is a country of opportunities and aspirations."
Espaillat is advising constituents to reach out to his office, or the consulate so that they can be directed to the right resources. 
With additional reporting by Mariah Brown