Studio 360
Creative New Year's Resolutions: A Recital Realized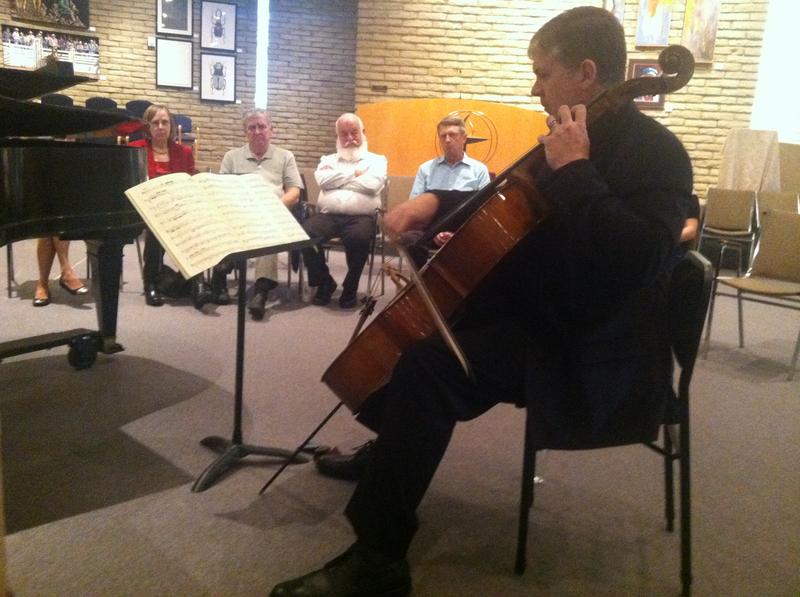 Michael Relland teaches music at an elementary school near Phoenix, but a year ago, he decided that 2013 would be his year to learn. He resolved to play his first public cello recital — a concert for friends, family, and his community — that would run the gamut from Bach to Shostakovich.
On December 1, Michael completed his challenge. "My hands were doing things they didn't know how to do eight months ago," he tells Kurt Andersen. "The playing of it just happens on its own because you've trained your muscles." Michael says that in the process of preparing for the concert, he became a better student and perhaps a better teacher. "It really humbles me to hear those masterpieces and me trying to attack them," he says. "In the future, I'm going to take lessons, and accept guidance."
Special thanks to KJZZ's Peter O'Dowd
Bonus Track: Michael Relland, Beethoven's "Cello Sonata No. 4 in C major"
Michael Relland (cello) with Lynne Haessler (piano).
---
What's your creative New Year's Resolution for 2014?
Finishing your novel? Learning how to play an instrument? Or maybe it's more of a creative challenge: writing 365 poems. Tell us and we may follow you through the year.
---