SchoolBook
School Counselor Relies on Message That Worked for Him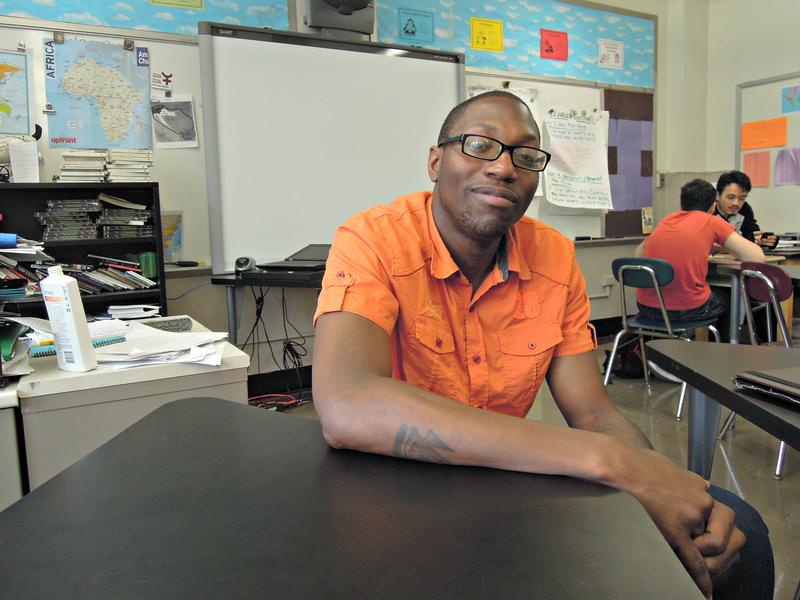 Bernard Greene is an advocate counselor at West Brooklyn Community High School, a school co-founded by Good Shepherd Services and New York City's Department of Education. What sets him apart from his peers is his own experience of falling behind in high school. Greene recalled how he attended a transfer high school, now called Bushwick Community High School.
I got a lot of support there that I didn't have at home. Around my high school time, my family just gave up on me. They were tired. They were done. They said I had emotional problems. I spoke with my fists, so I would get in a lot of fights. I would get suspended a lot. The thing is, I would pass my classes. Like, I had most of my Regents down. I just wasn't going to class.
I always looked at my family and wondered why they were different from other families.My family wasn't doing well financially. They were not well-educated. So, when I looked at it economically, I didn't want to be like that. My mother was a drug addict growing up. So was my father. So, you know, when you grow up in those types of environments you do one of two things — either you fall victim to it or you get smart enough to understand that this is not what I want to do, this is not what I want to be. And you do something different.
But, Greene said, staying focused in school only came after repeated conversations with his mentor and other adults. And now he is having those same talks with students at West Brooklyn about staying on track to graduate.
The same conversation had to be had with me multiple times. It's not just a one-day thing. I have a lot of students who are like that, so what I keep doing is reiterating, "This is something you can change. So get on your grind and go hard. You're here for a second chance. Take your second chance not lightly, but take it as 'this is my last chance.'"
I ask them, what do you see for yourself in five to 10 years? A lot of them can't tell me that. And that's when I tell them, "You need to start thinking about it. Start out slow: Where do you see yourself at tomorrow, or next month?"
They're not going to change overnight. I didn't change overnight. It took me a long time and for a lot of people to keep drilling it in my head that I had potential.
Listen in on one of Bernard's talks with a group of students in the advocate counselor's office at West Brooklyn.
Greene started at West Brooklyn just over a year ago. In that time, he said, he's learned more about how to adapt his experiences to be helpful to students who have stories and setbacks of their own.
I've learned that I have way more patience than I thought I had. I've learned to tap into that because it gets tiring at times. It's frustrating when you gotta keep telling somebody something a hundred times over and it's like, "Why don't you get it?" But then you have to realize at that age, I didn't get it either.
I'm less aggressive. I've taken a few steps back. I've learned more empathy.
Bernard Greene will pursue a master's in social work in the fall, while continuing to counsel students at West Brooklyn Community High School.
The series is part of American Graduate, a public media initiative addressing the dropout crisis, supported by the Corporation for Public Broadcasting.