SchoolBook
More School Counselors, in a Bid to Help Graduation Rates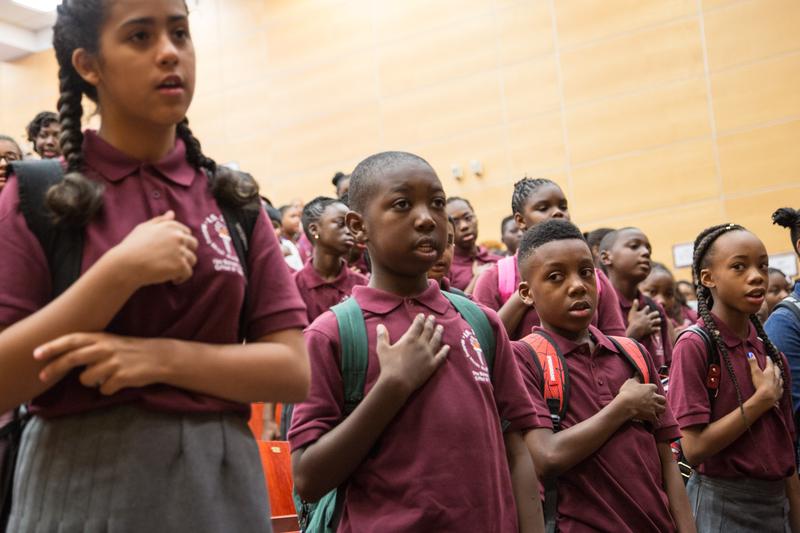 Starting this fall, some 16,000 New York City middle and high school students will get extra support from a school counselor or social worker. It is an effort to pay close attention to the emotional and academic well-being of students in two high-poverty districts, which Mayor Bill de Blasio's administration hopes will keep students on a path to graduation.
The city rolled out the program, called Singled Shepherd, by hiring 120 counselors or social workers and placing them in schools in District 7 in the South Bronx and Brooklyn's District 23, which encompasses the neighborhoods of East New York and Brownsville.
The counselors will have a caseload of no more than 100 students, which is low. The American School Counselor Association recommends a counselor-student ratio of 1:250. But the students are in impoverished districts, and many have been affected by the trauma that comes with living in neighborhoods with high crime rates, gang activity or unstable housing situations. 
While it may seem like a no-brainer that these students would need extra social-emotional support, it is rare for schools to be able to provide it. 
"I've always felt that if we really want to support students and support families in supporting students, then we need to be where students spend most of their time — which are the schools," said Tina Pack, a social worker just hired for the program. 
Pack said that in her role she will be meeting with students both individually and in groups, collaborating with teachers and talking to parents. 
Pack was placed at P.S. 151 Lou Gherig in the Bronx. Although Single Shepherd counselors are meant to be a part of a school's staff, school principals do not directly hire or supervise them.
P.S. 151's principal, Socorro Rivera, said the school has a significant population of students in temporary housing or in foster homes. But her school had only one counselor last year for approximately 270 students. 
"I think this will make magic at the school," she said.
The city received 1,000 applications for the program, which will cost $15 million annually. City education officials said they surveyed principals to gauge a school's needs before placing counselors.
Brandon Cardet-Hernandez, principal of Urban Assembly Bronx Academy of Letters in the South Bronx, said last year his school of 600 students had three counselors: one for middle school grades, one for high school grades, plus a college counselor for high school seniors. Counselors were only able to see students who had individual education plans mandating counseling services.
This year, his school will have eight counselors who will move up with students from year to year.
"We have someone every year of the way through high school who's going to be able to make sure a kid is tuned in and focused on the academic prowess that's going to allow them to access college and careers," said Cardet-Hernandez. "And that just hasn't happened before. That to me is what happens at a private school."