Council Speaker Mark-Viverito Rewards Rival With Top Spot
Wednesday, January 22, 2014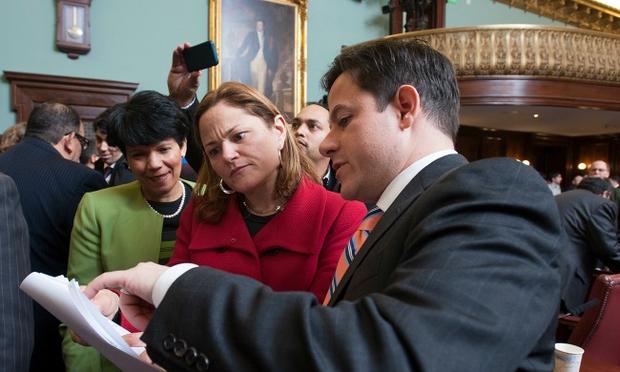 (William Alatriste/New York City Council)
Council Speaker Melissa Mark-Viverito picked one-time rival Dan Garodnick for a top leadership post making him one of her seven top deputies and naming him head of the economic development committee.
Naming the Council's committee chairs was one of the first opportunities for the new Speaker to exert her power based on who she gave – or passed over – for the most influential positions. By and large, Speaker Mark-Viverito punished few and rewarded many.
"We were able to come up with assignments that were reflective of the beautiful diversity that is New York City and lays out really the extensive scope of work and the agenda we need to build to make New York City a better place," Mark-Viverito said when thanking the Rules Committee, led by Council member Brad Lander. The Rules Committee puts together the full roster of committee assignments.
The Council approved the leadership and committee assignments at the full Council meeting Wednesday with only Bronx Council members Maria del Carmen Arroyo and Annabel Palma voting against the assignments.
Committee leadership posts come with an additional allowance, often referred to by critics as a "lulu." While the majority of committee chairs will make an $8,000 stipend, those in top positions will make more. The allowances come on top of a council member's base salary of $112,500.
Several members have pledged to refuse the additional stipends, while others plan to donate that money to organizations in their district.
Here's the list of top Council leadership positions and their assigned allowances.
| | | |
| --- | --- | --- |
| Title / Committee Chair | Member | Allowance |
| Speaker | Melissa Mark Viverito | $25,000 |
| Majority Leader / Cultural Affairs | Jimmy Van Bramer | $20,000 |
| Minority Leader | Vincent Ignizio | $15,000 |
| Deputy Leader / Economic Development | Dan Garodnick | $15,000 |
| Deputy Leader / Oversight and Investigation | Vincent Ignizio | $15,000 |
| Deputy Leader / Waterfronts | Debi Rose | $15,000 |
| Deputy Leader / Public Housing | Ritchie Torres | $15,000 |
| Deputy Leader / Technology | James Vacca | $15,000 |
| Deputy Leader / Housing and Buildings | Jumaane Williams | $15,000 |
| Deputy Leader / Rules, Privileges and Elections | Brad Lander | $15,000 |
| Finance | Julissa Ferraras | $15,000 |
| Land Use | David Greenfield | $15,000 |
Click the audio player to listen to host Amy Eddings interview WNYC's Brigid Bergin about the changing power dynamics in the Council.
More in:
Brigid Bergin is the City Hall and politics reporter for WNYC.